Josh Allen vs Jalen Hurts: Who To Start In Fantasy Football? NFL Week 14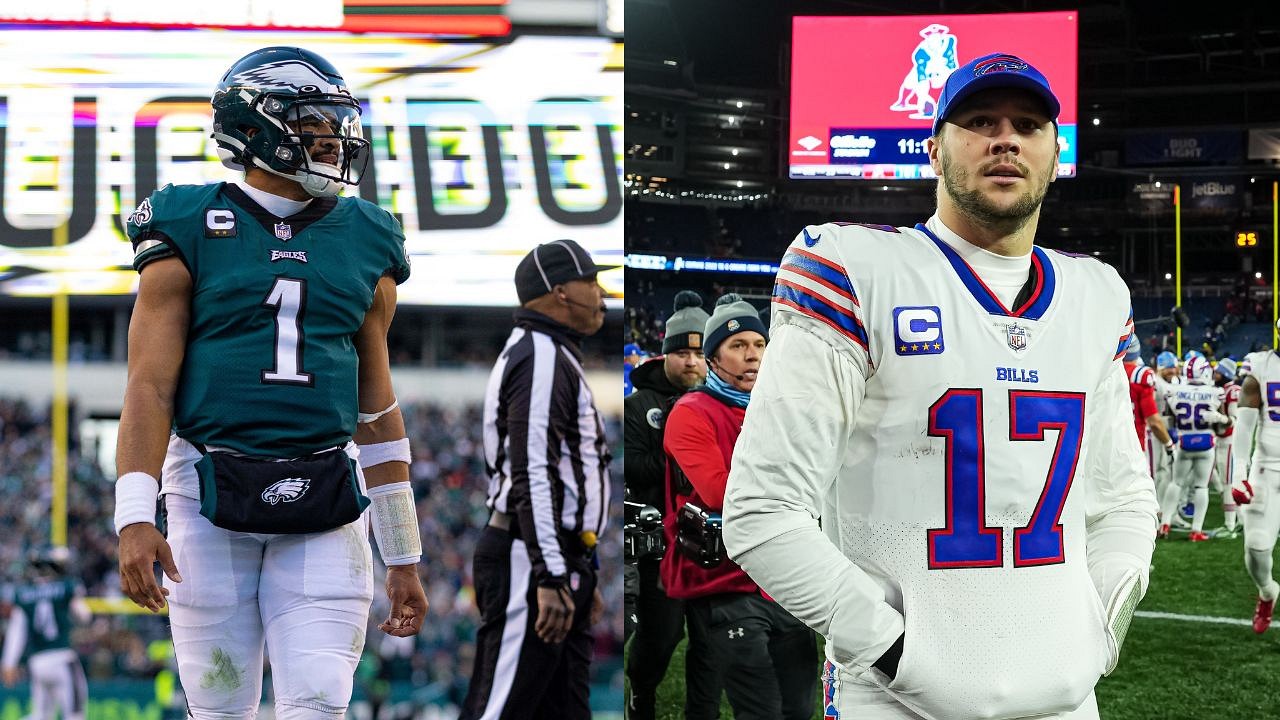 Josh Allen is coming off of a convincing victory against the New England Patriots where he had a decent game for his standards. Allen threw for 223 yards and 2 touchdowns while also fumbling the ball once. This resulted in a 16.92 point performance.
JOSH ALLEN. WOW. 😱

(via @nfl)pic.twitter.com/H7uvuH44H0

— Bleacher Report (@BleacherReport) December 2, 2022
However, this week, Allen faces the same New York Jets defense he faced in Week 9. That week, Allen threw for 205 yards and 2 touchdowns while also rushing for 86 yards and 2 touchdowns.
Allen was attacking the Jets defense with his arm and legs, something he has not been doing too much of late. Over the last 4 games, Allen has only 1 rushing touchdown.
Josh Allen's favorite target, Stefon Diggs, is the best fantasy wide receiver and is something that should continue to happen. Diggs and Allen are beneficiaries off of each other's spectacular play.
Also Read: Tom Brady Finally Reveals Why He Absolutely 'Hates' The 49ers
Jalen Hurts' MVP campaign continues
Hurts and the Eagles' miraculous season continues against the New York Giants, who have fizzled out after a hot start to the season. The Eagles sit at 11-1 and are slated to face the 7-4-1 Giants who are coming off of a tie against the Washington Commanders.
The Giants defense has been a pleasant surprise to the season, helping out the offense that sometimes is very lethargic. However, they will have their hands full game planning for Jalen Hurts and the multitude of weapons they have on offense.
AJ Brown, Devonta Smith, and Miles Sanders are all weapons that Hurts has regularly used this season. With this supporting cast and an amazing offensive line, Hurts is putting together an MVP campaign, only second to Patrick Mahomes.
No arguing, just a detailed discussion on why Jalen Hurts must currently be the NFL MVP. #FlyEaglesFly @Eagles

— Emmanuel Acho (@EmmanuelAcho) December 9, 2022
Hurts offers a dimension of scoring that is not found too frequently in Josh Allen. Hurts loves to vulture touchdowns when the offense is at the goal line by calling his own number. In addition, when the defense drops back, Hurts loves to the run the ball himself.
Even though both quarterbacks are stars, the start of the week goes to Jalen Hurts. Hurts has been looking like an MVP, sometimes carrying the Eagles by himself, and there is no reason to doubt him now.
Also Read: "Helmetless Head-Butter" Baker Mayfield Strikes Again After Guiding Rams To One Of The Most Astonishing Come-From-Behind Victories
---
Share this article