Kansas City Chiefs Training Camp 2021: Start Date, Location, Roster Battles, and Fan Policy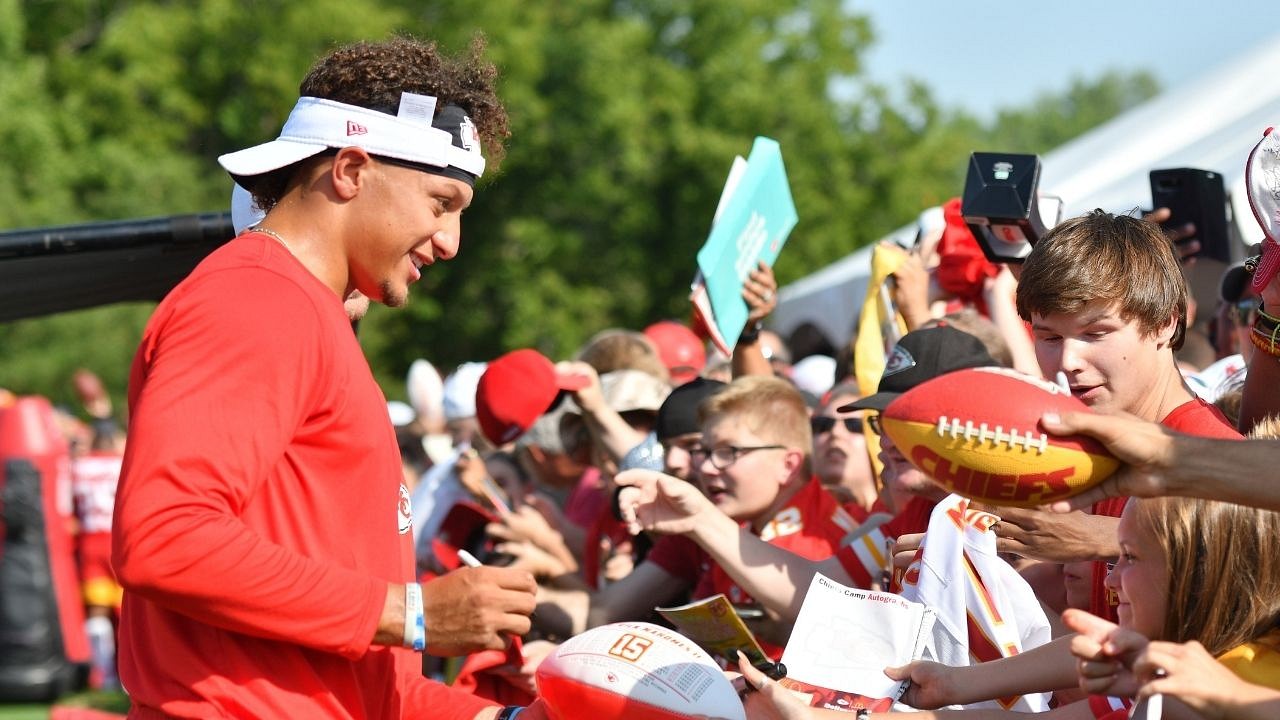 The Kansas City Chiefs will be hoping to prep a Super Bowl revenge season at training camp. When does it start, where will it be held, and are fans allowed to attend?
With phase 3 of the 2021 NFL offseason set to wrap up on June 18th, teams are already looking forward to training camp. It is by far the most grueling and pivotal part of a team's preparations.
Training camps often include busy days for players and coaches, sometimes with 2 practices a day, weight training, team meetings, and film sessions.
Per the league's Collective Bargaining Agreement (CBA), no contact is permitted during the first 3 days of camp. Days 4 and 5 will see players at full speed in light equipment called "spiders and shells", day 6 is a mandatory day off, and finally fully-padded practices start on the 7th day.
Along with the strenuous schedule, full-speed practices mean that both contact and non-contact injuries are very common. Regardless, training camp is mandatory for all players, unlike OTAs which are voluntary. If a player doesn't show up, they risk getting cut by their team.
When Does Training Camp Start for the Kansas City Chiefs?
For the first time in NFL history, there will be a unified start for training camp. 29 franchises, including the Chiefs, will kick off their training camps on Tuesday, July 27th. The Chiefs are expected to hit the field for the first time the next day, July 28th.
However, the Cowboys and Steelers, who will play in the preseason Hall of Fame game, reported to training camp on the 21st. The Buccaneers were also allowed to start training camp 3 days earlier on the 24th, as they play the season opener against Dallas on a Thursday night.
The #Cowboys and #Steelers can report as early as July 21 because of the hall of fame game. The #Bucs can report July 24 because of a Thursday opener. Players from the other 29 teams are required to report July 27, per the CBA.

— Tom Pelissero (@TomPelissero) May 25, 2021
Where is the Chiefs Training Camp Being Held?
Normally, NFL teams are permitted to hold training camp at outside facilities to improve accessibility for fans, However last year, due to the uncertainty caused by the COVID pandemic, teams were instructed to conduct camp at their own training facilities.
This year, the rules have been eased, a good sign that things are getting back to normal. The Chiefs will hold training camp at their facility in Missouri Western State College in St, Joseph, Missouri.
Also Read: Los Angeles Chargers Training Camp 2021: Start Date, Location, Roster Battles, and Fan Policy
Kansa City Chiefs Training Camp Roster: Key Position Battles to Watch
As usual, teams will start camp with 90-man rosters. They must cut down to 85 players by August 17th and to 80 by August 24th, before settling on a final 53-man roster by August 31st.
The Chiefs had a major overhaul at the offensive line this offseason after being beaten up by the Tampa Bay Buccaneers in the Super Bowl. They traded for Orlando Brown, signed Joe Thuney and Kyle Long in an effort to rebuild the line.
The Chiefs will have to experiment a little when it comes to figuring out exactly which players will line up at what position on the o-line, but things are looking positive there.
Additionally, the Chiefs will also need to figure out who plays WR2. The position is wide open, and the departure of Sammy Watkins only makes things more competitve. Mecole Hardman, Demarcus Robinson, Byron Pringle, and Cornell Powell all could stake their name to the position.
Following Frank Clark's arrest, the Chiefs may also have to make a decision on who plays at the EDGE position. Clark may not be suspended to Kansas City, and so surely he'll take that position if he does play.
However, in the event he doesn't, who lines up there for the Chiefs? Chris Jones is more elite at the interior defensive line position, and the Chiefs didn't sign or draft any outside rushers.
That leaves Taco Charlton, Mike Danna, Joshua Kaindoh, and Tim Ward to fight for the starting role as the Chiefs will face a battle to build a name for themselves on the outside edge.
Will Fans Be Allowed to Attend Chiefs Training Camp?
After a year without fans at training camp, NFL teams have done their best to give their fans a good experience. The Chiefs will have fans at a whopping 16 practices.
Out of these, fans are allowed at all sessions except for two of these which are reserved as Season Ticket Member days on July 28th and August 10th.
The Chiefs will also hold Family Fun Day on August 8th with a $5 entry fee. All practices are free except two on July 30th and July 31st.
Also Read: New England Patriots Training Camp 2021: Start Date, Location, Roster Battles, and Fan Policy
---
Share this article