Madden Cover History : List Of Every Madden Cover Athlete Since 1998 As Madden 22 Set To Feature Tom Brady & Patrick Mahomes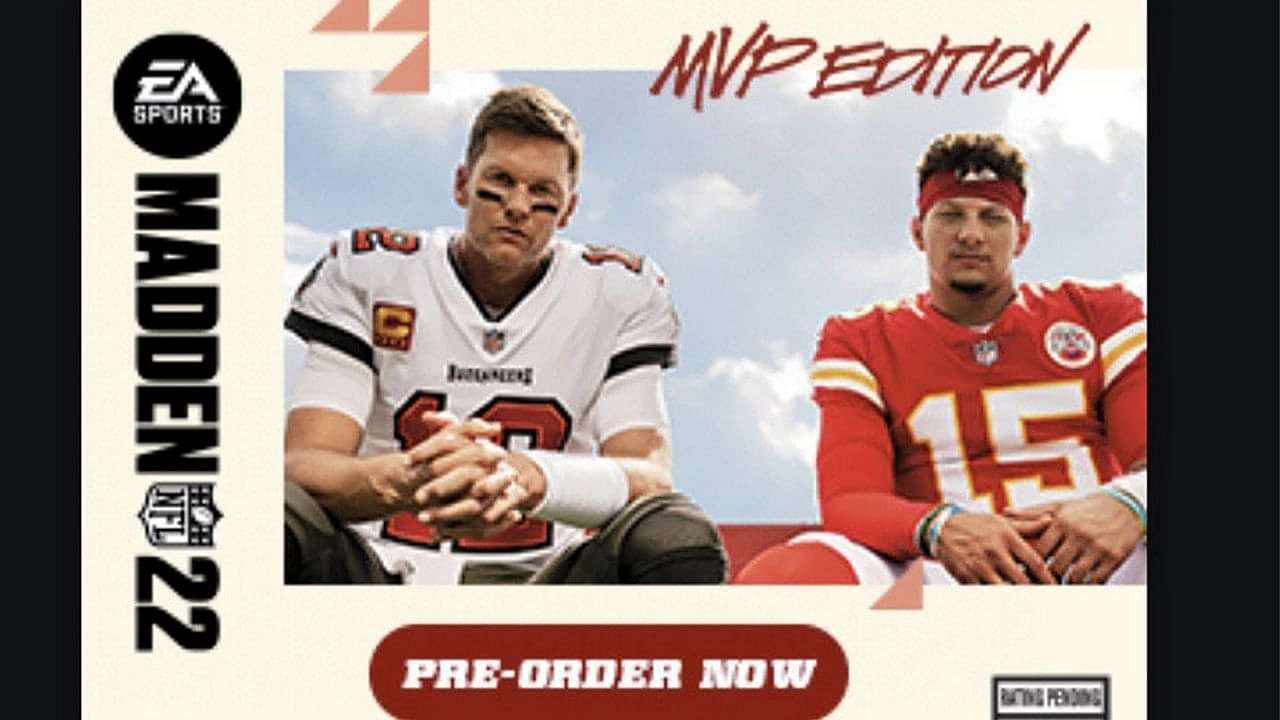 Madden Cover History: Tom Brady and Patrick Mahomes will don the Madden 22 cover, but who were their predecessors in the history of Madden?
The cover athlete of Madden is usually one of the top performers from the previous year. Occasionally, Madden likes to switch it up and feature two athletes like they did in Madden 10 and now Madden 22 too.
Loading embed tweet https://twitter.com/137pm/status/1405527730846765065?ref_src=twsrc%5Etfw
The extensive list of Madden cover athletes goes back to 1988 when Madden released its first title. John Madden was the cover "athlete" all the way up till 1998 when he shared the cover with San Francisco 49ers running back Garrison Hearst.
Hearst was the first official athlete to be featured on a Madden game. Who has followed up Hearst up till now? Read more to find out.
Also Read: Madden 22 Graphics: First Look at the Madden 22 visuals and pictures
Madden Cover History: List Of Every Madden Cover Athlete
Madden NFL 2001: Eddie George, Tennessee Titans
Eddie George was a staple running back for the Tennessee Titans where he built up his legacy. He finished his career being only the second NFL player to rush for 10,000 yards while never missing a start,
Madden NFL 2002: Daunte Culpepper, Minnesota Vikings
Culpepper had an extremely successful season in 2000 as he led the Minnesota Vikings to an NFC Championship spot while building a dynamic connection with Randy Moss.
Madden NFL 2003: Marshall Faulk, St. Louis Rams
While fans love to attribute the success of the Rams in the early 2000's to Kurt Warner, overlooking Faulk's achievements in the ground game would be a sin. At the time, he held the record for most scrimmage yards with 2,429.
Madden NFL 2004: Michael Vick, Atlanta Falcons
Vick may be the most popular Madden cover athlete of all time as fans continue to reminisce about his speed and electric playmaking. Vick was the first instance of a dominant dual threat quarterback and his appearance on Madden commemorated that.
Madden NFL 2005: Ray Lewis, Baltimore Ravens
Famous for his electric pre-game dance and hard hits, Lewis was in the prime of his career, on the path to becoming a Hall of Fame linebacker. His dominance fueled the Ravens' gritty defenses as he anchored some of the stingiest units in the 2000's.
Madden NFL 06: Donovan McNabb, Philadelphia Eagles
McNabb was by and far the face of the franchise for the Eagles in the 2000's. He had led them to a Super Bowl appearance, and he consistently kept them in playoff contention during his time as a starter.
Madden NFL 07: Shaun Alexander, Seattle Seahawks
Alexander was the face of the Seahawks rushing attack before Marshawn Lynch, and he was very effective. In the 2005-06 season, Alexander set the record for most rushing touchdowns in a year with 28 while running away with the rushing title with 1,880 rushing yards, winning the NFL MVP that year.
Madden NFL 08: Vince Young, Tennessee Titans
Young is often overlooked as a great quarterback, but he took the Titans to heights they would have never seen otherwise including a Super Bowl appearance which ended with a heart wrenching loss.
Madden NFL 09: Brett Favre, Green Bay Packers/New York Jets
Yeah, so EA had a little bit of trouble with this cover as Favre was traded to the Jets after they released a cover of him in a Packers uniform. They did offer both versions of the game, however, and well for a legend like Favre, it doesn't really matter.
Madden NFL 10: Troy Polamalu, Pittsburgh Steelers & Larry Fitzgerald, Arizona Cardinals
This is the last cover EA featured with two cover athletes and it had some serious superstars on it. The Steelers and Cardinals had just faced off in the Super Bowl and Fitzgerald and Polamalu were both the respective faces of their teams.
Loading embed tweet https://twitter.com/Steelersdepot/status/1405545808141844481?ref_src=twsrc%5Etfw
Madden NFL 11: Drew Brees, New Orleans Saints
Fresh off a Super Bowl win, the Saints legend Drew Brees made an appearance on Madden. His introduction in that game still might be one of the best speeches all time from any sporting game.
Madden NFL 12: Peyton Hillis, Cleveland Browns
Hillis was the definition of a one year wonder. His 2010 season saw him go for 1,177 yards and 11 touchdowns as he led the Browns with a powerful, downhill running approach.
Madden NFL 13: Calvin Johnson Jr., Detroit Lions
Calvin Johnson aka Megatron shattered the "Madden Curse" as after featuring on the cover of Madden 13, he proceeded to break the record for receiving yards in a season with 1,964 yards.
Madden NFL 25: Barry Sanders, Detroit Lions
EA threw it back for this Madden release as they looked to celebrate 25 years of the franchise. Barry Sanders, the Detroit Lions legend, was chosen for this special edition of Madden.
Madden NFL 15: Richard Sherman, Seattle Seahawks
Sherman was the best cornerback in the league at the time of this Madden release, playing a pivotal role on the Seahawks vaunted Legion of Boom which won them the title against Peyton Manning's #1 led offense with the Denver Broncos.
Madden NFL 16: Odell Beckham Jr., Cleveland Browns
OBJ was coming into his own as a superstar receiver at the time of the release of Madden 16. This was also just shortly after one of the greatest catches in NFL history:
Loading embed tweet https://twitter.com/nflthrowback/status/1405199441779298308?ref_src=twsrc%5Etfw
Madden NFL 17: Rob Gronkowski, New England Patriots
The greatest tight end of all time is also the only tight end to ever feature on Madden. Gronk was in the prime of his career, serving as the perfect running mate to Tom Brady as the duo continued to build the Patriots dynasty in the late 2010's.
Madden NFL 18: Tom Brady, New England Patriots
After perhaps the greatest revenge season in NFL history, and another MVP award, the greatest quarterback of all time made his first appearance on the cover.
Madden NFL 19: Antonio Brown, Pittsburgh Steelers
Before his antics started, Brown was by and far the best receiver of the 2010's. His combination of route running, speed, and catch radius was unlike anything anyone had ever seen before. He made the Steelers a threat year in and year out.
Madden NFL 20: Patrick Mahomes, Kansas City Chiefs
The young quarterback with a rocket for an arm made an appearance on Madden very early in his career. Mahomes had shook the league with 5,000 passing yards and 50 touchdowns (only the second player to do that) in his first season as a starter (which led to an MVP), and it paid off with an appearance on EA's Madden.
Madden NFL 21: Lamar Jackson, Baltimore Ravens
There is probably no player in NFL history who has the kind of dynamic speed and rushing ability that Jackson has. After breaking the record for most rushing yards by a quarterback, Jackson took home MVP honors, and a Madden cover.
Madden NFL 22: Tom Brady, Tampa Bay Buccaneers & Patrick Mahomes, Kansas City Chiefs
Brady and Mahomes are both back on the cover, making them the first pair to do so since Madden 10, and they're also the first repeat athletes in Madden Cover History. After a Super Bowl match up last year, EA made the decision to feature these GOAT's together.
Loading embed tweet https://twitter.com/EAMaddenNFL/status/1405529425093877770?ref_src=twsrc%5Etfw
Also Read: Madden 22 Pre Order Dates: When Can You Pre Order Madden 22 For Xbox & PS4 As Madden Releases Tom Brady And Patrick Mahomes As Cover Athletes
---