"Nahhh DK Metcalf just DIFFERENT": Seattle Seahawks Star Wide Receiver Throws Down Monstrous Dunk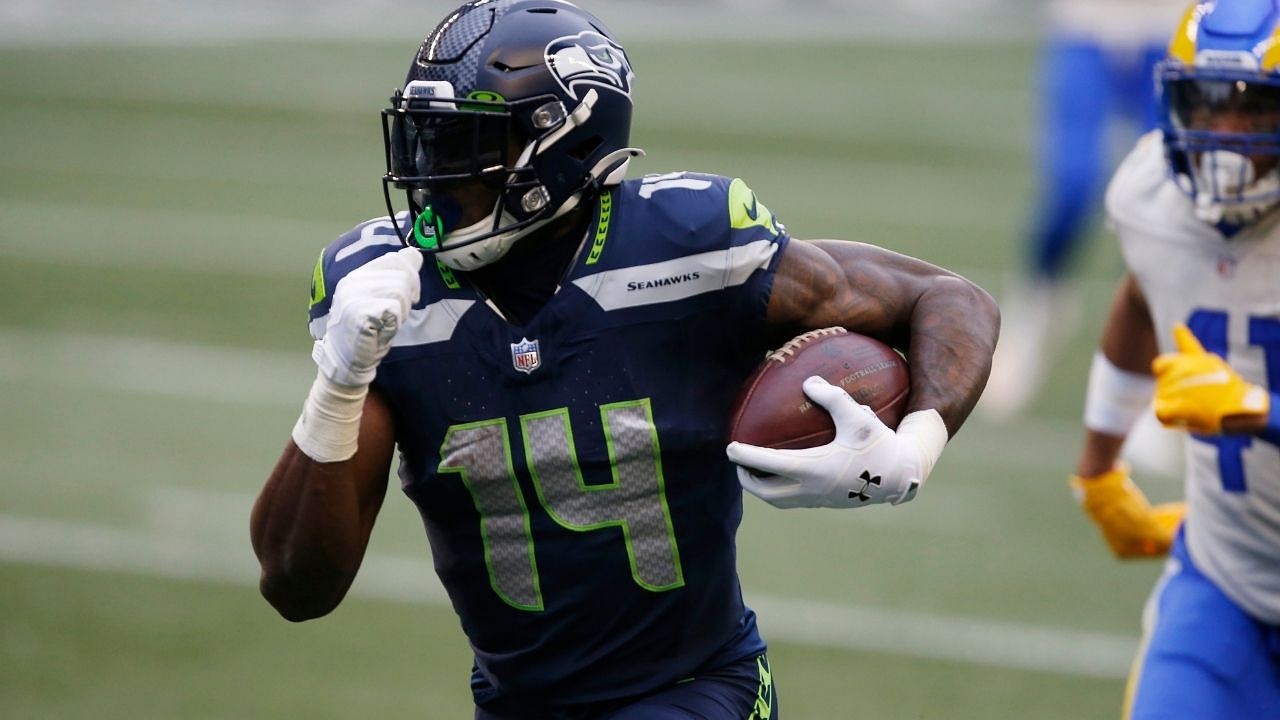 DK Metcalf is obviously a very talented wide receiver, but his talents might extend to other sports too:
Nahhh DK Metcalf just DIFFERENT 😯@dkm14 (via @whoisalbertlee) pic.twitter.com/390jG8GZ5R

— Overtime (@overtime) February 20, 2021
That was an absolutely vicious jam, and it was a very athletic one at that too. Metcalf cradled the basketball before slamming it in for an athletic one-hand jam.
Also read: Deshaun Watson to Panthers: QB Teddy Bridgewater Reacts To Rumors Connecting Watson & Carolina
DK Metcalf Brings Back High School Basketball Memories
While it might be surprising to see Metcalf dunk the ball like that, it wasn't his first experience with basketball. In high school, Metcalf used to be on the starting five for Oxford basketball.
He played for two years, in his junior and senior years, and had a decent run at it. He averaged  11.5 points, 1.2 assists, 6.3 rebounds, 1.4 steals and 1.6 blocks per game, starting in 31 games across the two years.
However, given Metcalf's body physique and his athletic ability, this should come as no surprise. Metcalf has only 1.9% body fat. Additionally, Metcalf wasn't just a basketball player either, as he competed in track and field events and, of course, played football too.
All around, Metcalf is just a stud of an athlete.
Seattle Seahawks & Basketball Tradition
Metcalf isn't the only Seahawks with a basketball background. Wide receiver Tyler Lockett and safety Bradley McDougald both used to play basketball in high school too.
In fact, Lockett even beat out Kevin Durant and Klay Thompson in a shooting competition twice. Linebacker Bobby Wagner also claims that he could have played basketball if it came down to it as he said his game in high school drew parallels to NBA Super Stars like Stephen Curry, LeBron James, Michael Jordan, and Kobe Bryant.
Russell Wilson also joined on the basketball train by creating his own starting five out of the Seahawks lineup:
Seattle Seahawks Basketball! 🏀

Coach: Russell Wilson

PG: Tyler Lockett
SG: Bobby Wagner
SF: DK Metcalf
PF: Poona Ford
C: Duane Brown

Esse time seria campeão, facilmente. #NBAFinals pic.twitter.com/gyxMdOliQH

— Blue Wave Brasil 🇧🇷 (@BlueWave_Brasil) October 1, 2020
Seattle loves basketball to put it simply. Inside their auditorium in Renton, the Seahawks have a basketball hoop installed where head coach Pete Carroll often competes with his team in free throw contests.
Also read: Could The Pittsburgh Steelers Do Away With Big Ben This NFL Offseason?
---