The 'Ant-Man' & Massive Chiefs Fan Paul Rudd Reveals His Favorite Football Moment of All Time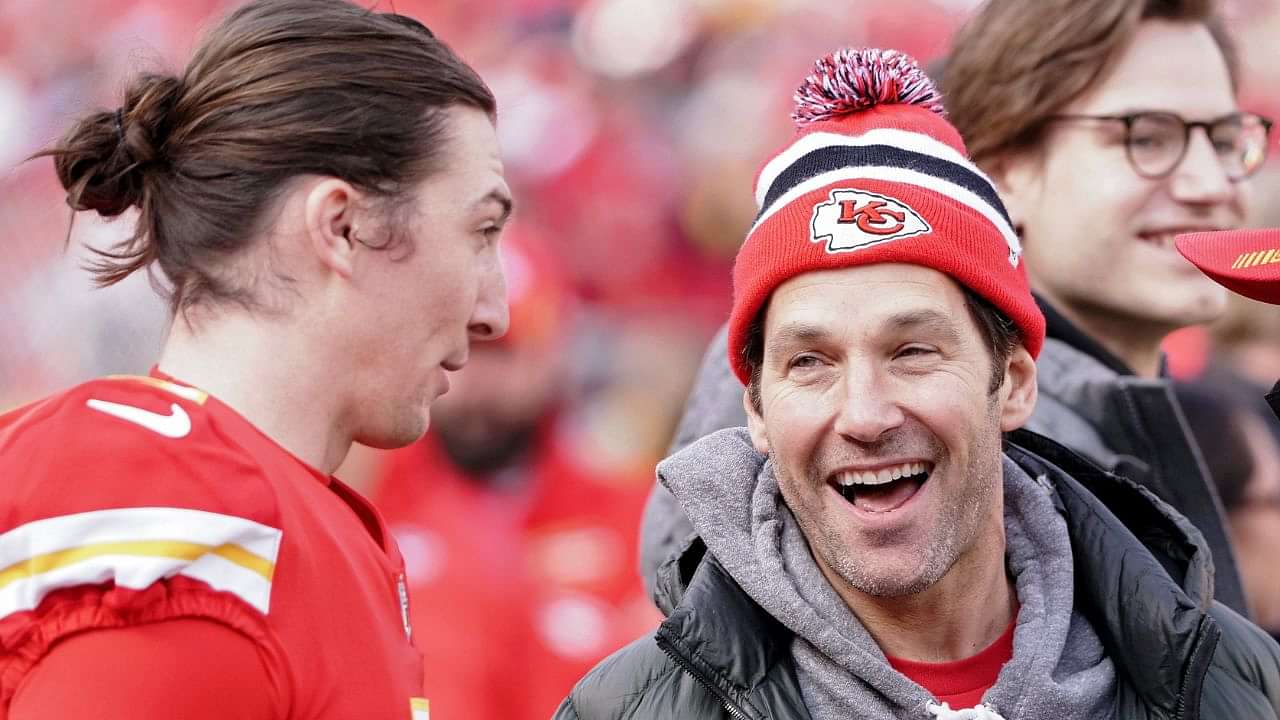 The Kansas City Chiefs are always giving their fans moments to cherish. And those moments don't necessarily have to be during high stake games. The Chiefs never fail to impress, always managing to bring a unique flair to the game. Like when Patrick Mahomes made an alley-oop touchdown pass against the Tampa Bay Buccaneers this season. Or when the offense makes deceiving plays to outsmart and outclass their opponents.
It's not just the Chiefs who have a stellar lineup, their fans also have stars among their ranks. Stars who are no less flair filled than their athletic counterparts. And one such Chiefs fan is Marvel superhero Paul Rudd, famous for his role as Ant-Man. Rudd hails from Kansas City. And is a hardcore fan of the Chiefs and the MLB team, the Kansas City Royals.
He recently appeared on the podcast 'New Heights' to surprise co-host and Chiefs star tight end, Travis Kelce, on his birthday. While on the show, Rudd goes on to talk about the greatest moment in his life. Unsurprisingly, that moment comes during Super Bowl 54. When the Chiefs triumphed over the San Francisco 49ers to win the coveted trophy.
Also Read: Chargers' 6-Year-Streak of "No Arrests" Finally Breaks As Cornerback J.C Jackson Gets Booked Over Family Issues
Super Bowl 54 was superhero Paul Rudd's greatest moment ever
Paul Rudd describes the moment when he knew the Chiefs had won the Super Bowl as his greatest moment. "It's honestly one of the greatest moments I've ever had in my life. It's nice when a moment can happen in your life, and you're aware that it's one of the greatest moments, and it was during the Super Bowl [54]," he said.
"I was with my kid. He and I were watching it. We watch every game, we follow everything in the off-season, his whole life, and every year… we were at that game and Damien Williams ran around the side… there's not enough time… and I knew it."
"And my son turned to me and burst into tears and I hugged him. I wouldn't let go, and I just said, 'We just won the Super Bowl'. He's crying for five minutes, like a lifetime of just pain and joy and everything like coming out. It was so amazing."
The win at Super Bowl 54 (2020) was their first since 1970 when the legendary Len Dawson led the Chiefs to their maiden Super Bowl trophy. And it seems highly likely that the Chiefs will be able to once again lift that trophy this year. Having already won the AFC West, and secured a playoff spot, they are en route to finishing as either the first or second seed in the AFC.
Their only obstacle in the path to the Super Bowl is the Buffalo Bills, who are mighty impressive themselves this season. Will the Chiefs pull out another memorable Super Bowl win and give their fans another moment to cherish for the rest of their lives?
Also Read: After Shannon Sharpe Beef, Skip Bayless Destroyed Yet Again By NFL Fans For Fat shaming Rams' QB Baker Mayfield
---