After Shannon Sharpe Beef, Skip Bayless Destroyed Yet Again By NFL Fans For Fat shaming Rams' QB Baker Mayfield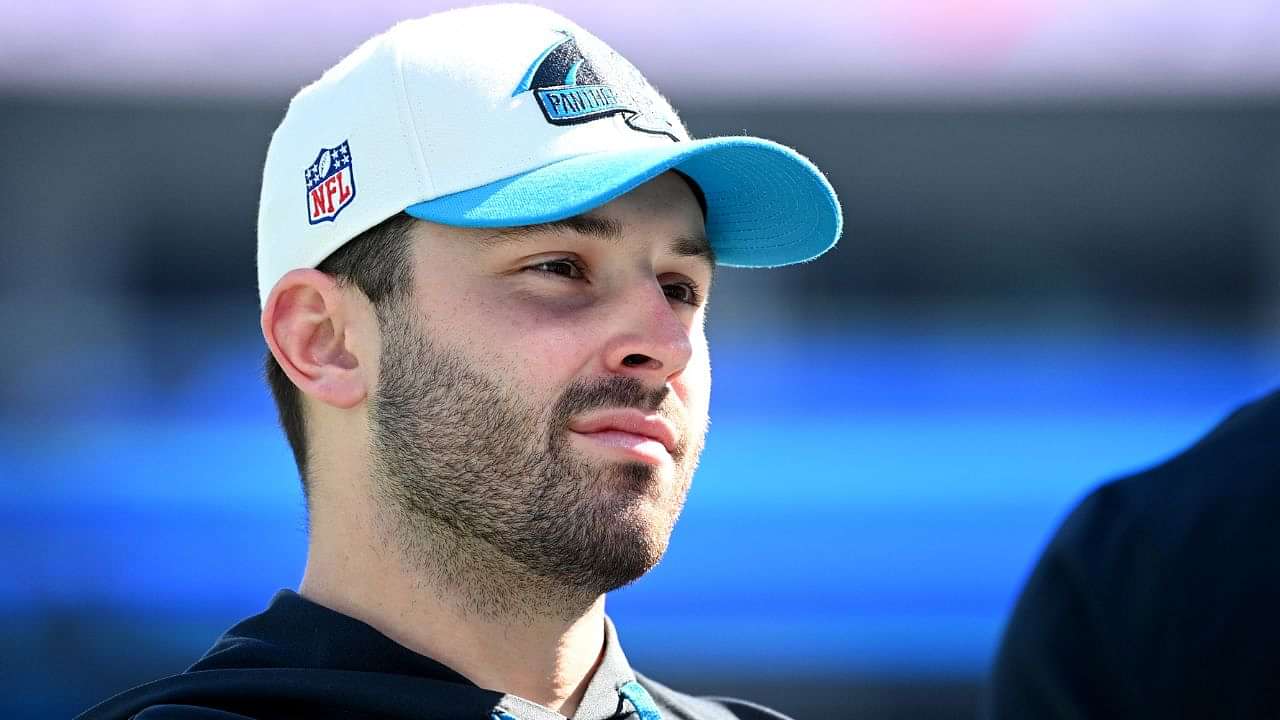 Not long after making the headlines for causing Shannon Sharpe to have a meltdown on air, Skip Bayless is back at it again. This time, his target is former Heismann award winner, and current Los Angeles Rams' QB, Baker Mayfield. But it seems, not everyone is happy about Bayless' comments.
It all started when Bayless took to Twitter to express his opinion about how Mayfield could become a better player. Mayfield has been struggling of late, and the loss to the Green Bay Packers in week 15 effectively ended the Rams' playoff hopes. While a lot of fans do call out Mayfield for various inconsistencies with his playstyle or skill, Bayless may have just taken it a bit too far.
Bayless, through his Twitter account, tweeted that Mayfield needed to lose weight in order to become better. While he did not say this in so many words, the intent was out there for all to see. "Baker Mayfield needs to lose a good 10 pounds." the tweet reads. Needless to say, the comment was viewed as highly insensitive and inappropriate by the NFL community, sparking backlash.
Also Read: "What the Hell Was That About?": NFL Analyst Rich Eisen Is Furious With The Referees For Making a Plethora of Bad Calls in Week 15
Fans unhappy with Skip Bayless fat shaming Baker Mayfield
The NFL community is an unforgiving beast. It does not hold back in burning someone for mistakes that they make. Especially players or analysts, important people in the NFL world. And this time was no different. Bayless' tweet drew the wrath of the community, calling him out for his deplorable words.
Loading embed tweet https://twitter.com/RealSkipBayless/status/1605059077809221632?ref_src=twsrc%5Etfw
Loading embed tweet https://twitter.com/StevenM28021817/status/1605067715508637696?ref_src=twsrc%5Etfw
Loading embed tweet https://twitter.com/therealnicky_g/status/1605059798138880001?ref_src=twsrc%5Etfw
Loading embed tweet https://twitter.com/djs0523/status/1605060716532310016?ref_src=twsrc%5Etfw
https://twitter.com/69Basketball69/status/1605187315541876737?s=20&t=V-1sBCBAxPi9IVQDW9f9xQ
Loading embed tweet https://twitter.com/Quagsir3/status/1605221643411808256?ref_src=twsrc%5Etfw
Loading embed tweet https://twitter.com/ra626/status/1605213857492144128?ref_src=twsrc%5Etfw
Loading embed tweet https://twitter.com/BaudrillardNow/status/1605074049595363328?ref_src=twsrc%5Etfw
This is not the first time Skip Bayless has been involved in a fat-shaming fiasco. Back in 2021, he was involved in a heated argument on air with presenter Jenny Taft, after calling the Dallas Cowboys head coach Mike McCarthy "heavy." Even with all the criticism he receives, Bayless is never shy of taking low shots at others. Just ask his co-host on 'Undisputed', Shannon Sharpe.
Sharpe is a beloved analyst in the NFL community and is a legend in his own right. With 3 Super Bowls to his name, and as part of the Hall of Fame, he is no doubt one of the best players in NFL history. But his caliber and his achievements were called into question last week, by none other than Skip Bayless.
Bayless, an ardent Tom Brady fan, got a bit too serious while defending his favorite player's dismal performance against the San Francisco 49ers. During the debate, he made a rather sour statement, calling Brady a better player than Sharpe, which understandably hurt Sharpe. "This man is playing at a high level at 45 when you had to stop at 35," Bayless said.
One could feel Sharpe's pain in his response. "That's what you do," Sharpe responded. "Every time I call something into question, I get it … I did what I did! You make it seem like I was a bum! I'm in the effin' Hall of Fame. I got three Super Bowls! You're willing to take a personal shot at me, to say he's better than me because I say he's playing bad this year?"
Shannon's bout with Sharpe did not go well with the rest of the NFL community. And to date, Bayless hasn't apologized to Sharpe, at least publicly, which has some fans angry. Will Bayless get around to making amends with his "friend"? Or will this be a ridge that drives this iconic duo apart?
Also Read: "Are Patrick Mahomes' Chiefs Collapsing?": NFL Analyst & Kansas City Supporter Nick Wright Is Seemingly 'Nervous' About His Team's Future
---