"We Blew the Opportunity To Start a Dynasty": Marshawn Lynch Gets Candid About Infamous Super Bowl Loss to Tom Brady's Patriots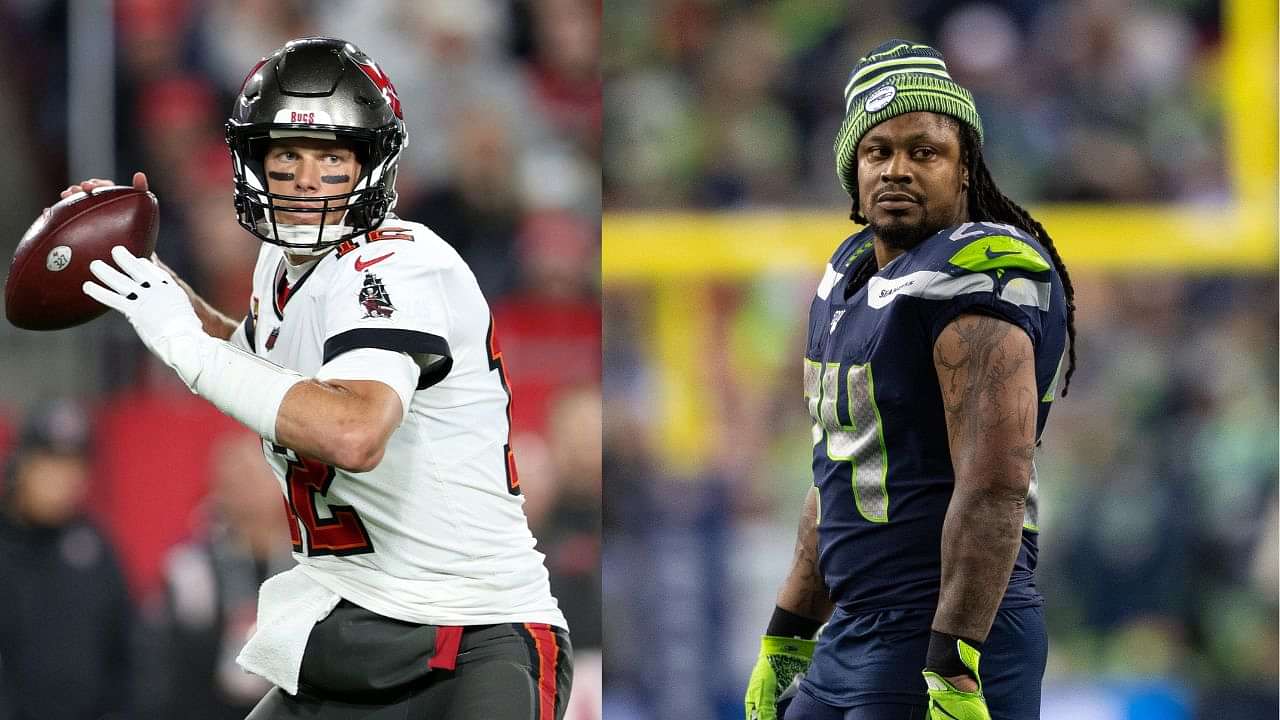 Marshawn Lynch for years had been a single powerhouse unit in the NFL. Having gained most of his fame in Seattle, Lynch was first drafted by the Buffalo Bills. The mighty running back spent three full seasons in Buffalo before moving to Seattle. Dominating the league with his 'beast mode', Marshawn Lynch was a fan favorite in Seattle. After twelve long years in the NFL, the running back retired in 2019, playing his final game for the Seahawks. In a recent conversation, Lynch got candid about the dynasty they had created in Seattle.
Having had only a single Super Bowl ring to his name, this stat doesn't do justice to the talent and physical presence Lynch had in the game. He featured in the 2014 and 2015 Super Bowls, unable to secure a repeat. Lynch took to the "I am athlete" podcast to discuss his infamous Super Bowl game against the Patriots.
Also Read: "Told people Marshawn Lynch would be the next big pitchman like Peyton Manning": When the legendary RB took an injury cart for a joyride in college 15 years ago
Marshawn Lynch has one regret from the 2015 Super Bowl
The 2014 Super Bowl final was between the Seahawks and Peyton Manning's Denver Broncos. A largely one-sided affair saw Russell Wilson and Marshawn Lynch take away from Peyton Manning's glory. Having one of the most dominant squads in the league, a lot was expected out of the Seahawks. They returned the next season with the same form and secured a spot in the Super Bowl. In a closely fought encounter, they lost to Tom Brady's Patriots.
The game ended 28-24 to the New England side. However, the Seahawks had the opportunity to go up in the dying seconds of the game. With just two yards of field to cover for the end zone, Russell Wilson decided to throw instead of rushing the pigskin. Malcolm Butler picked his throw and the rest is history. Lynch got candid about how he could have run the football and rewritten this part of football history."That was like the highest level of respect to the point where we at the peak of our careers, with the opportunity to go ahead and start a dynasty and then we fumbled a bag on the two-yard line," said Lynch.
Loading embed tweet https://twitter.com/NFL_DovKleiman/status/1627026837091000322?ref_src=twsrc%5Etfw
He recognized they were just margins away from starting something big. Two wins out of two Super Bowl appearances would have changed the narrative for them.
Slowly after that season, the band started falling off and teammates transferred out. The 2010-decade Seahawks team was arguably one of the best on paper teams in league history. Unfortunately, they managed only one Super Bowl win in their tenure.
Also Read: Tom Brady Once Told Erin Andrews That Super Bowl XLIX Win Over Seahawks Is His All-Time Favorite Football Moment
---