"Packers Got Tired of his BS": Shannon Sharpe Calls Out Aaron Rodgers For Being Utterly Unprofessional During His Stay at Green Bay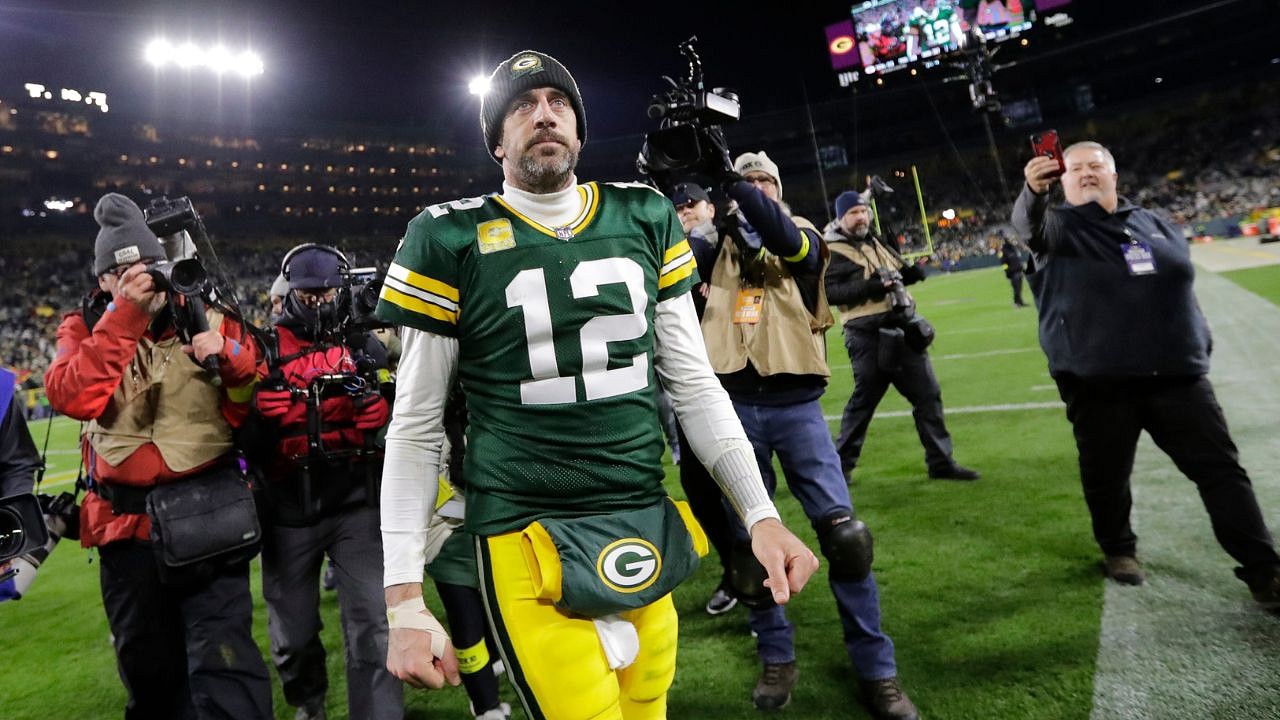 Aaron Rodgers has finally taken a call about his future in the NFL. After so many speculations, debates, and scoops from NFL insiders, we all finally know that Aaron is not retiring and will play at least for one more season.
Recently, Aaron made an appearance on the Pat McAfee Show to make it clear that he won't be returning in green and gold in the coming season. Moreover, he also made it clear that he wants to play for the Jets. While New York fans are already losing their minds, NFL analyst Shannon Sharpe reckons that Rodgers might have unwillingly taken all the leverage away from the New York-based franchise by being over expressive on his pal's show.
Also Read: NFL Combine 2023: Top 5 Most Impressive Offensive Linemen Who Sealed the Deal at Combine This Year
Shannon Sharpe destroys Aaron Rodgers for being unprofessional
In a recent episode of The Undisputed, Shannon claimed that there is a misconception that the Packers might have wronged Aaron. Whereas it is Aaron who forced them to get rid of him as they simply got tired of his bulljive. They got tired of Rodgers trying to control their organization.
"First he says he is not offended by the Packers' action in the last few years. Then he says, 'I decided to not retire as they wanted to move on.' Well it sounds like you might be offended. You want to play despite them," Shannon claimed. Sharpe further added that when Rodgers went to the retreat, he was 90% ready to retire. However, then he decided not to retire as Packers wanted to move on from him.
"If Aaron Rodgers behaved in a matter of professionalism, he could've had a Coach K career. The Packers didn't wrong him, they just got tired of his bulljive."

— @ShannonSharpe pic.twitter.com/l6dRzjOQWD

— UNDISPUTED (@undisputed) March 16, 2023
The analyst went on to claim that because he was so unprofessional over the last few years, as soon as Green Bay got the chance to move on, they did. Shannon also suggested that because Rodgers made it clear on that he wants to play for the Jets, he ended up gifting all the leverage to Green Bay.
The 3x Super Bowl champion stated that now Packers can ask for three first round picks from New York. Packers can push New York into a corner just because Aaron said that he has decided to play for the Jets.
Shannon Sharpe reckons Packers aren't hurting by letting Rodgers go
Shannon made it absolutely clear that the Packers never wronged Aaron. They brought in players which Aaron liked, they paid him heavily over the years. Although Green Bay had to move on from a few players that Aaron liked, the analyst said that the teams are not structured on the basis of closeness.
8x Pro Bowler Sharpe highlighted that Aaron might show he got back at the Packers, that's just not true. Rodgers wanted to move on and Green Bay gave him that chance. However, as soon as they did, Rodgers was like 'No I want to play.' Sharpe added that Green Bay aren't hurting by letting Aaron go as it was long overdue. Moreover, they have a player in Jordan Love who has the ability to lead the unit in the time to come.
Also Read: NFL Combine 2023: Top 5 Most Impressive Offensive Linemen Who Sealed the Deal at Combine This Year
---
Share this article