NFL Combine 2023: Top 5 Most Impressive Offensive Linemen Who Sealed the Deal at Combine This Year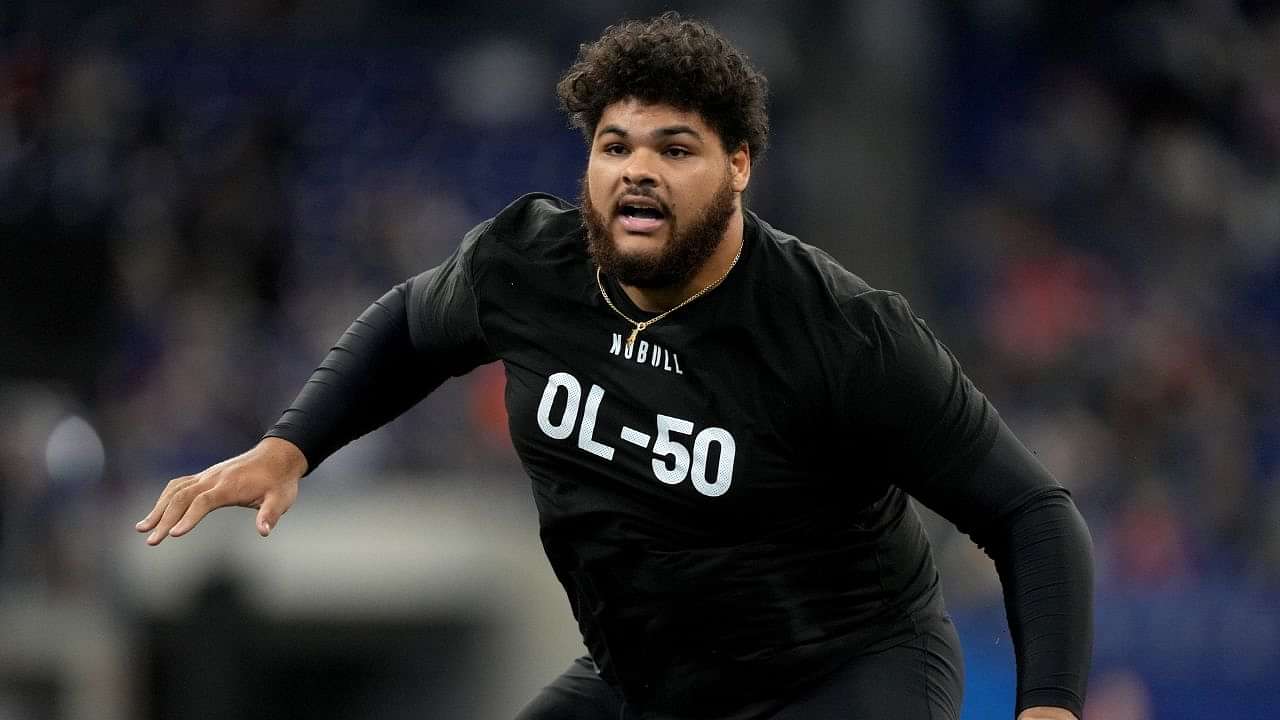 The NFL Combine is done and dusted, but things are not ever just yet. With the end of the Combine, comes the hardest part for fans and analysts: to judge who fared better than their peers. While some came into the Combine as favorites to shine through, there were others who made a name for themselves from these workouts.
The NFL Combine never fails to astonish those watching, whether it is in the positive or in the negative sense. Players who no one would have ever heard of, can come and blow their competitors away. On the other hand, it is also likely for a favorite to come and throw away this precious chance. After all, not everyone is invited to the Combine. So, which O-Linemen were at their best during their time to shine?
1. Darnell Washington – Tight End, Georgia Bulldogs
The tight-end group is perhaps one of the most competitive classes this year. In that bunch of players, Darnell Washington has definitely caught some attention towards himself. Having spent his time in Athens playing backup, he had a prime opportunity to display his otherworldly abilities. Watch out for this one during the Draft.
2. Jon Gaines – Offensive Guard, UCLA Bruins
Jon Gaines is one of those who have made a name for themselves through their workout performances. Clocking 5.01 seconds in the 40-yard dash, and 7.31 seconds at the three-cone, this man can run. The 6'4″ also had impressive vertical and broad jump stats. The question that remains, then, is whether he can jump his way to the top end of the Draft list.
Also Read: NFL Draft 2023: Potential Top 5 Picks Who Can Dominate Draft Day
3. Broderick Jones – Offensive Tackle, Georgia Bulldogs
Jones was already one to watch as he entered this year's Combine, owing to him keeping his QB safe all season. However, he added another feather to his hat with his Combine stats. The 6'5″ O-lineman set the fastest time of his group on the 40-yard dash, clocking 4.97 seconds. All this combined should give him a top 30 pick in the Draft at least, if not a top 10.
4. Blake Freeland – Offensive Tackle, BYU Cougars
Blake Freeland is a towering figure, standing at 6'8″, and has a 68-inch wingspan. What's more intimidating than his size, is his performance on the field. It almost feels as if a ballet dancer is at work when watching Freeland play. If he somehow manages to get a bit bulkier, there is no doubt a franchise will come swooping down to pick him.
5. Darnell Wright – Offensive Tackle, Tennessee Volunteers
The 6'5″ Wright is almost 333 pounds, but he does not let it affect his speed. On the 40-yard dash, he clocked an astonishing 5.01 seconds. In his time at Tenessee, he has established himself as a prime pass blocker, and it seems like he can just slot in anywhere and start performing at his best. Which team has its eyes on this prolific youngster?
Also Read: C.J Stroud vs Anthony Richardson NFL Combine Stats: Is the Ohio State QB a Better Draft Prospect Than Anthony?
---