"Are Patrick Mahomes' Chiefs Collapsing?": NFL Analyst & Kansas City Supporter Nick Wright Is Seemingly 'Nervous' About His Team's Future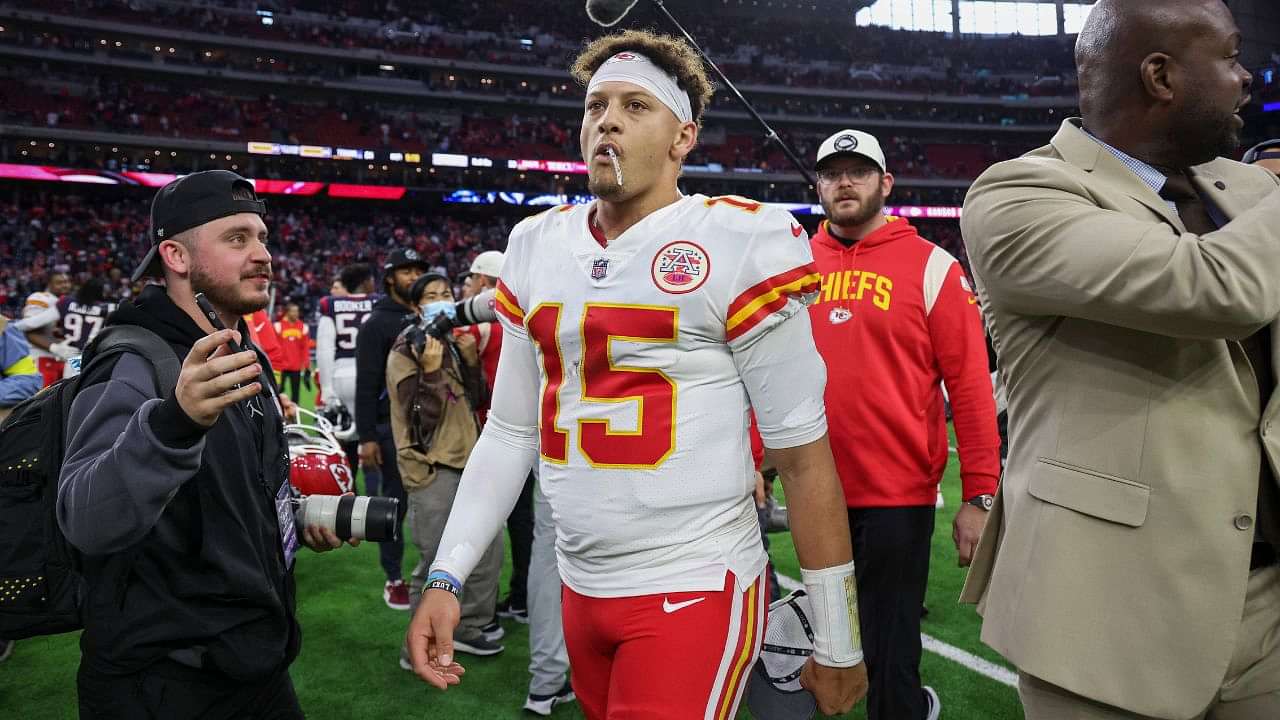 Sunday night's win against the Houston Texans helped the Kansas City Chiefs win the AFC West for the 7th consecutive season, securing them a playoff berth. But the manner in which they won against the Texans, is raising eyebrows all around. Even the most ardent of fans are shifting in their boots, and are slowly starting to agree that the Chiefs are not immune to problems. One such fan, is analyst Nick Wright.
On his show 'What's Wright?', Nick Wright acknowledges that his Chiefs might be suffering from some serious problems, especially in defense. But he still believes Chiefs' QB Patrick Mahomes is the single biggest reason for the Chiefs' win on Sunday. "Mahomes played a perfect football game. There's literally the highest completion percentage on a 40-pass game in NFL history."
He adds, "He threw 41 times, five were incomplete. He was 36 of 41. He threw two touchdowns, he ran for another touchdown. The Chiefs could not stop committing egregious defensive penalties. And guys not named Patrick Mahomes could not stop fumbling the football."
His reaction comes at the end of a dismal two-game performance by the Chiefs in the last two weeks. Although they won both these games, they were not the overwhelming, clean wins one would expect the Chiefs to get. As Wright says later on, the Chiefs' defense conceded 53 points in just over 6 quarters, including both games. Which is far from what one would expect from a team of their caliber.
Also Read: Tom Brady & Peyton Manning Once "Broke Into" Jim Nantz's House Just To Play Some Golf
Despite flaws, Nick Wright still backs the Chiefs to finish the season strong
Although Wright agrees that the Chiefs could do a lot better and improve their game, he still thinks the Chiefs are the ones to get behind. And he places the crown solely on Mahomes' head. Having Mahomes is the best thing for the team, according to Wright, and he seems content that the Chiefs overly depend on Mahomes to pull them out of dire situations.
He says, "I'm not gonna act like that's a good win [against Houston] by the team. And right now, once again, this seems to be, Patrick Mahomes has to do everything for this team. Or else they can't survive. Now, why I actually feel okay about that, is because he's the best player who's ever lived. So of anyone who has to do everything for a team in order for you to survive, I'd rather it be him than literally anyone else."
Wright's optimism is something most Chiefs fans share. With the playoffs only a few weeks away, Kansas City looks poised to snatch either the first or second seed in the AFC. While Wright expects the Chiefs to finish 14-3, that alone might not give them the top seed. Their arch-rivals this season, the Buffalo Bills, will be looking for any reason to spoil the Chiefs' party.
With the Bills' losing center Mitch Morris to a concussion, their offense will face a setback in their goal to grab the top seed in the AFC. Will Kansas City hold on? Will Mahomes lead his Chiefs to a much-anticipated Super Bowl win, and grab the MVP title for himself?
Also Read: Patrick Mahomes' Wife Brittany Mahomes Brutally Trolled For Accusing The Texans of Making "Dirty Plays"
---