Patrick Mahomes vs Joe Burrow: A Look at Their Head to Head Stats Before The QBs Contest For All The Marbles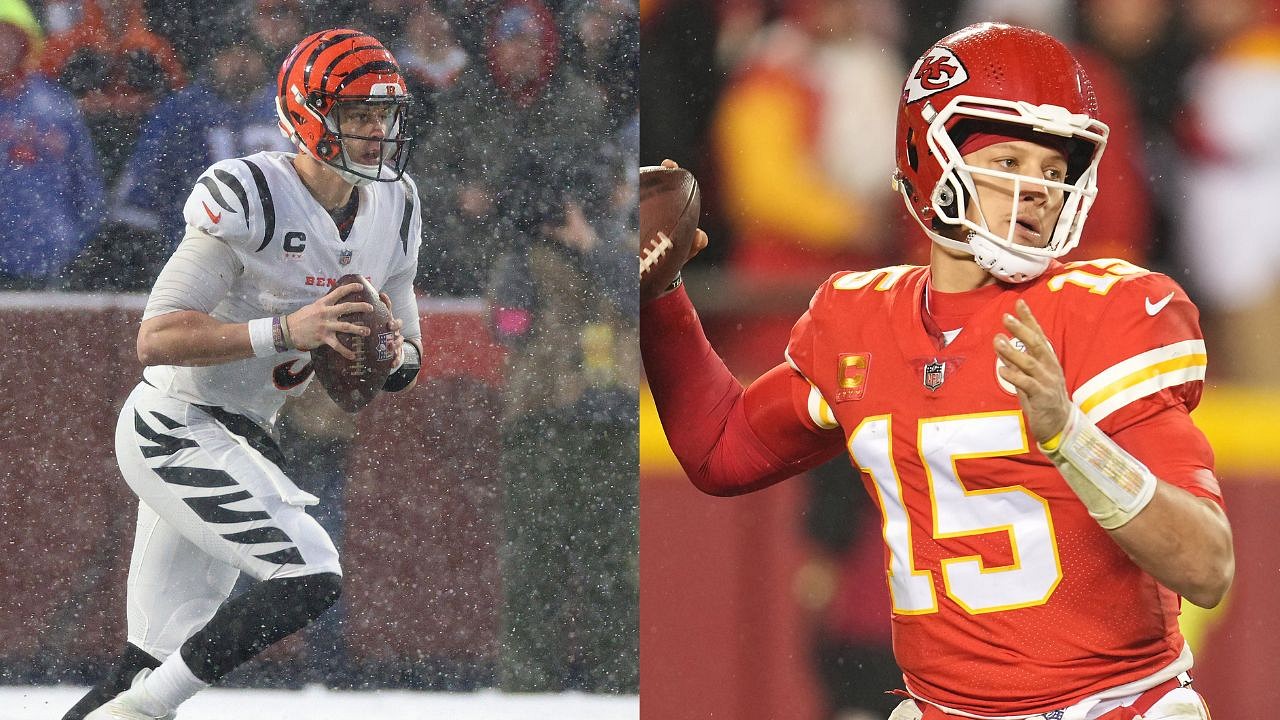 The Bengals drafted burrow in 2020Joe Burrow and Patrick Mahomes will take part in the AFC Championship game on Sunday. The duo has created a new-age rivalry in the NFL with their superior talents. As Tom Brady and Aaron Rodgers close in on retirement, the NFL is being prepared for another duo of quarterbacks to take the league by storm with their excellence. Mahomes and Burrow have been around for a few years and as things stand, this could be the rivalry to watch out for years to come.
Burrow has recently entered the NFL world in comparison to Mahomes. The Bengals drafted Burrow in 2020 while Mahomes has been in the league since 2017. Mahomes has one Superbowl ring already in his short stint in the NFL, while Burrow has brought back glory to Cincinnati. With Joe Burrow at the helm, the Bengals have overcome a long drought of playoff absence. In just his second season with the Bengals, he helped them qualify for the playoffs. He's done it consecutively this year too, as they prepare for the AFC Championship game. 
Also Read:"Better Send Them Refunds": Superstar Joe Burrow Has a Special Message For NFL After Incredible Win Against Buffalo
Joe Burrow vs Patrick Mahomes head to head
Joe Burrow guided the Bengals to the 3 seed while Mahomes' Chiefs secured the 1 seed. While Burrow may be having a season for the ages, Patrick Mahomes is most probably en route to his second MVP award. This Sunday's meeting will also mark the fourth time they go head-to-head. Joe Burrow has had the bragging rights in these matchups. Burrow has gone 3-0 against his counterpart Mahomes. 
Mahomes will have the home-field advantage as he will welcome Burrow and his squad to Arrowhead with open arms. While he has that going for him, Burrow will take the Arrowhead turf with ice in his veins, knowing he has come out on top every time they have faced each other. He not only is 3-0 against Mahomes, but his other numbers also favor him when it comes to playing the Chiefs.
Burrow has a better pass completion percentage at 72.2% compared to Mahomes' 67.3% Burrow even has the better-passing yards per game. He comfortably leads the Chiefs QB at 327.3, while Mahomes is at 252.3. Another Striking number is Burrow's throwing-to-interceptions ratio. At 8:1 Burrow has more going for his confidence than Mahomes' 6:2. 
While the numbers on Sunday will matter the most, these numbers have a lot going for Joe Burrow. If the Bengals' quarterback can go four for four against Patrick Mahomes, he could dethrone Mahomes for the MVP award. With a lot to fight for, this contest will be one for the ages for sure. 
Also Read: A 'Careless' Patrick Mahomes Falls Behind In Skip Bayless Ranking As He Slips To Fellow Compatriot
---