"Shane Steichen's Gonna Fall in Love With Anthony Richardson" : Dan Orlovsky Showers Praise on "Supernaturally Talented" Florida QB Ahead of 2023 Draft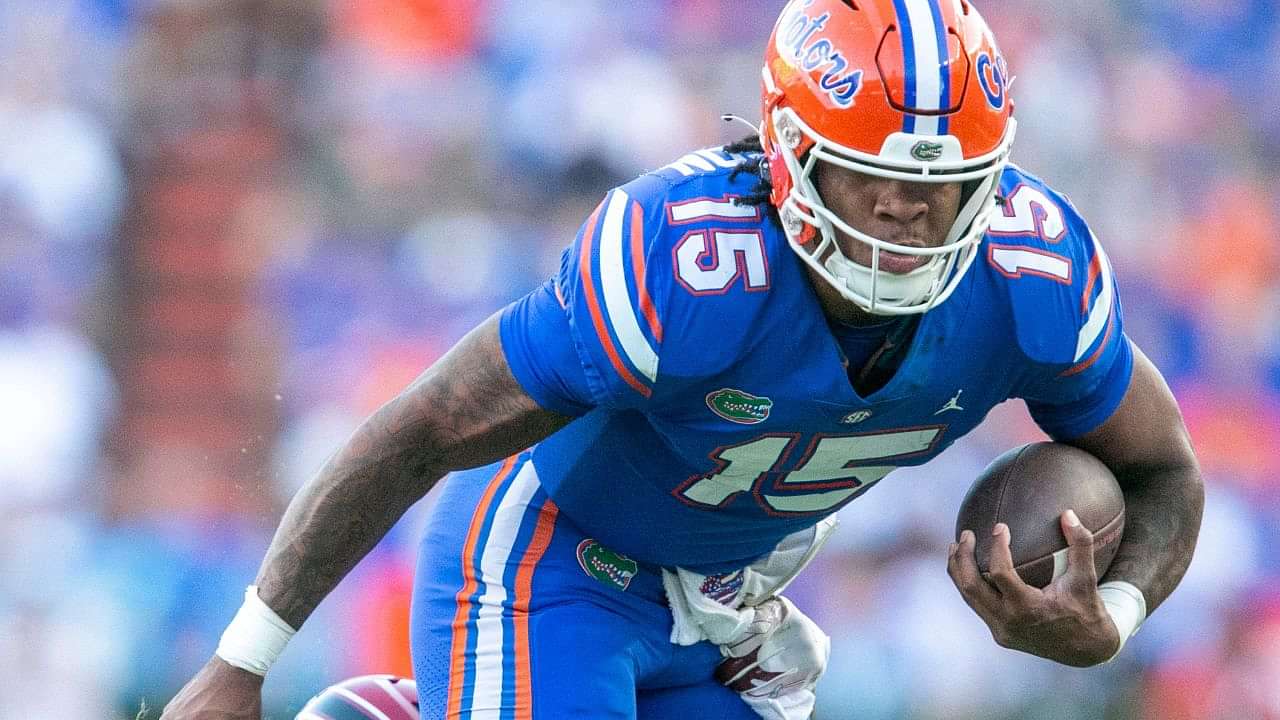 With the NFL Draft approaching swiftly, debates about the potential n0.1 pick are already reaching their zenith. Most fans and analysts agree on Alabam Crimson Tide's QB Bryce Young is the natural first pick. However, it seems Young may soon face some stiff competition at the top of the draft order. The newest contender is Florida Gators' signal caller, Anthony Richardson.
Richardson had a rather quiet start to the season, which prompted many to overlook him and gun for Younng. However, he has significantly improved as a passer through the season and has established himself as a top-5 pick prospect. However, NFL insider Dan Orlovsky seems to be giving him a lot more credit than he already has, claiming he could be a potential superstar in the making.
Dan Orlovsky heaps praise on Gators' QB Anthony Richardson
Speaking on 'The Pat McAfee Show', Orlovsky and Pat McAfee discuss Anthony Richardson's development through the season. McAfee seems hyped about the prospect of Richardson landing in Indianapolis, his former team. Indeed, Richardson's performance in his last season shows that he can throw the ball very well, something McAfee reiterated during his show.
Orlovsky, too, shared a similar opinion, though he had much more to say. He says, "I called the Utah-Florida game, his first game of the year. I rewatched that game and all I was thinking about watching him run and throw because he could absolutely throw it, was, 'Man, I wonder if Shane Steichen's gonna fall in love with this dude."
"I think he's super-naturally talented. Everything you hear about him: great dude, works his tail off, super smart… Now, is he ready to play? No, but he has got superstar potential, talent-wise… This kid has athleticism that will allow him to survive, that if he's grown the right way. Because he needs to get so much better mechanically in the pocket, but he can. Dude, he's got superstar potential," he adds.
Also Read: Peyton Manning Set to Build on His $250 Net Worth With Massive Investment in Kitchen United
Indianapolis Colts could benefit from a Steichen-Richardson partnership
The Indianapolis Colts signed Philadelphia Eagles offensive coordinator Shane Steichen as their newest head coach just a week ago. His success with the prolific Jalen Hurts should be evidence enough that he can work very well with a talented signal caller. The only thing that remains to be seen, is how the Colts can move up the draft order to sign Richardson.
Richardson's rise in the draft order will have other teams interested s well. Especially the Houston Texans, who currently hold the no.2 pick in the Draft. While it is rumored that the Chicago Bears will not draft Bryce Young with their first pick, nothing is concrete. This means the Texans will no doubt be looking into Richardson as their man to go for. Will the Colts find a way to one-up them and snatch the young QB?
Also Read: Russell Wilson Getting 'Abnormally Special' Treatment in the Facility Reportedly Annoyed Broncos Staff
---