Patrick Mahomes vs Joe Burrow Off-Field Numbers: Here's How the Leading NFL Quarterbacks' Balance Sheets Look Like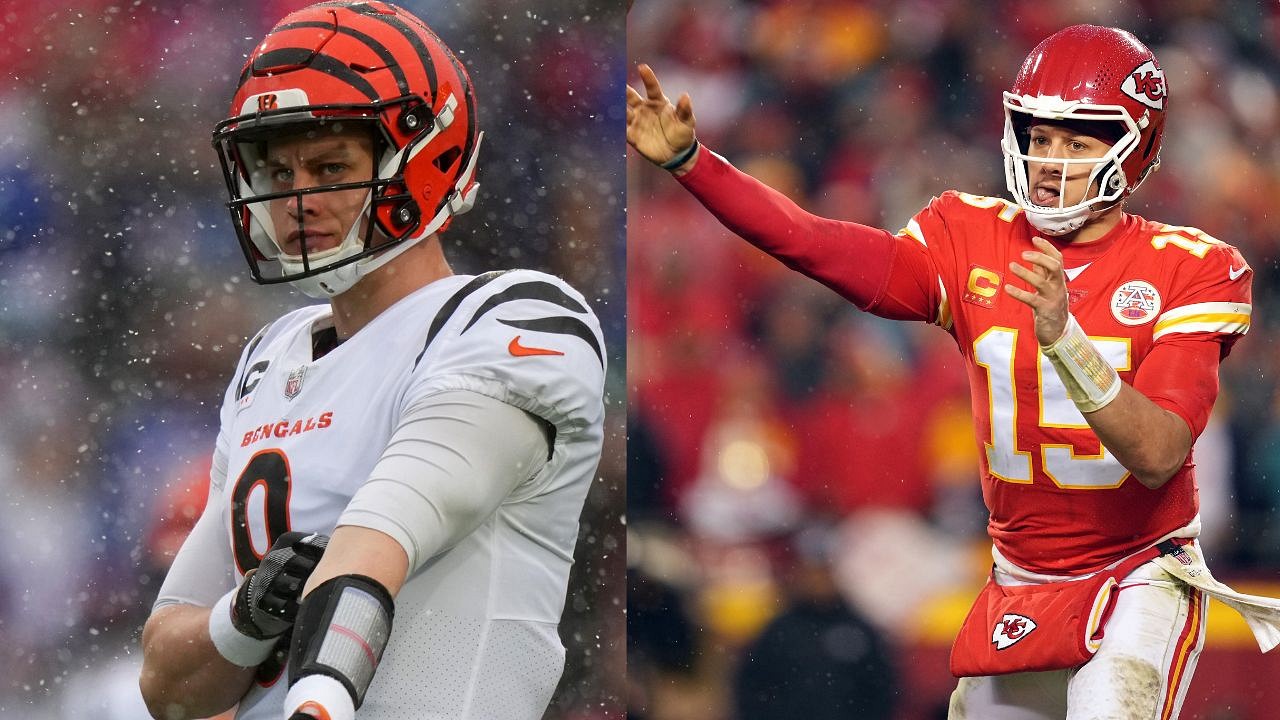 As curtains get drawn to the 2022 NFL season, only four teams remain in contention for the Vince Lombardi Trophy. The AFC has the Bengals and Chiefs fighting for the championship. Meanwhile, the Eagles and 49ers will battle it out for the NFC title. The AFC championship game will see the two best quarterbacks in the game currently go head to head as Kansas City prepares to set a spectacle for the NFL community. Joe Burrow and Patrick Mahomes will lock heads for the second time this season.
While this meeting has more on the line, Joe Burrow will walk out at Arrowhead with a lot of confidence. The Bengals quarterback has a perfect record against his counterpart Mahomes. He has gone 3-0 against Patrick Mahomes, a stat no quarterback in the league can boast about currently. While their on-field numbers matter the most, their off-field numbers are quite striking as well. 
Patrick Mahomes' net worth
Patrick Mahomes was drafted by the Chiefs at the end of his junior season at Texas Tech. He signed his rookie contract at $16.4 million, fully guaranteed and a $10 million signing bonus. Though these numbers weren't very extraordinary for the NFL, the Chiefs raised the bar in terms of contracts.
In 2020, they handed Mahomes a 10-year contract worth a whopping $450 million that keeps him in Kansas till 2031. Mahomes received a $10 million signing bonus and his contract also offers him around $140 million in guaranteed earnings. These numbers make his average annual salary $45 million. Some ridiculous numbers. While he is yet to receive most of this money penned down for him, he definitely is set for a wealthy future. 
Currently, Mahomes is worth $40 million. This comes from the salary the Chiefs pay him and also from the multiple brands he endorses. Patrick Mahomes is the brand ambassador of Hyperice and is also one of their biggest investors. He is also an investor in sporting franchises, Sporting Kansas City and Kansas City Royals baseball team. 
Also Read: $450 Million QB Patrick Mahomes' Insane Car Collection is Full of High-End Italian Behemoths
Joe Burrow's Net worth
On the other hand, Burrow signed a 4 year $36.2 million contract when the Bengals drafted him. He received a $23 million signing bonus and his entire contract value is guaranteed money. Though he has been around in the league for just a few years, he has proven to be one of the best bargains for the money he draws. Burrow will be a free agent in 2025. Currently, the Bengals quarterback is worth $12 million and this number will just keep growing exponentially.
While Mahomes has received his big career contract, Burrow is due of his renewal. His renewal could be as big as Mahomes or even bigger as he continues to impress on the field. Burrow has brought back the playoffs to Cincinnati after a long drought and has become a franchise favorite in no time. 
The duo will take the field in what will be a fireworks show. While their value keeps increasing by the minute, their numbers on the field on Sunday could determine a lot of how these off-field numbers look in the coming future. 
Also Read: Joe Burrow's Net Worth : How Much Has the Bengals Quarterback Earned While Playing in NFL?
---