Novak Djokovic : "My thoughts are only on Sunday's match"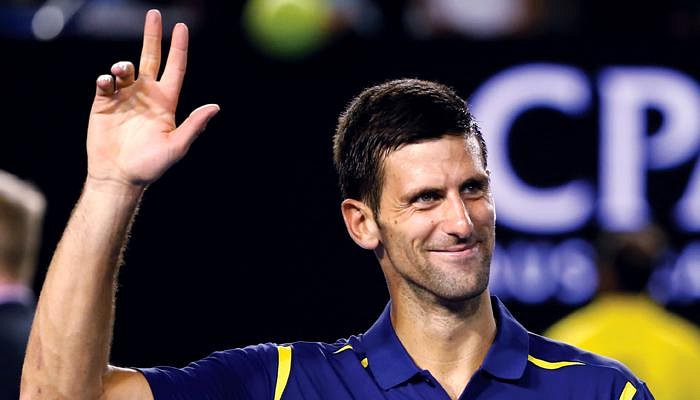 Its that time of the Grand Slam where the matches get more exciting and the action hots up. The semi-finals and the finals are upon us and many splendid matches are yet to follow. The women's lineup has already been decided with new world number 1 Angelique Kerber facing off against giant killer Karolina Pliskova, who knocked home favourite Serena Williams out of the tournament.
In the men's division, it was the match between Djokovic and Gael Monfils which was hugely awaited. Though there was a stiff resistance by the Frenchman, Novak won easily 6-3,6-2,3-6,6-2 to sail through to the finals of the U.S. Open. Looking forward to he finals, he said "My thoughts are only on Sunday's match."
In a slightly bizzare match which primarily Novak dominated, there was an instance where he ripped off his collar on allowing he Frenchman to spring back into life from a 0-40 deficit. He admitted that Monfils' playing style tends to get into one's head at times –  "As I said, it's not the first time that he comes out and just tries different shots and different splits and, you know, puts himself in a position to defend and come up with some intriguing points and entertaining points for the crowd." He also had high praise for him for his 3rd set play "He was 5-Love down with his game and he mixed it up. It seemed like it was a bit of a lack of effort, but then he started playing great. He started playing aggressive. He took chances. He came to the net."
Novak faces the 3rd seed Stansias Wawrinka in the final in quest of his 13th Grand Slam title. "Well, I haven't played Stan in some time now. He's a big match player. He loves to play in the big stage against big players, because that's when he, I think, elevates his level of performance in his game.
Just gets much better." He, however felt that his preparation and energy levels for the finals were 'ideal'. This is because it was the first time in the Open era that a man had advanced to the semifinal round having completed just two of his five matches.
The final calls for a cracker of a contest. Be tuned to The Sportsrush as you keep bringing you the news from the Djokovic-Wawrinka clash.
---