Pep Guardiola- Is he overhyped?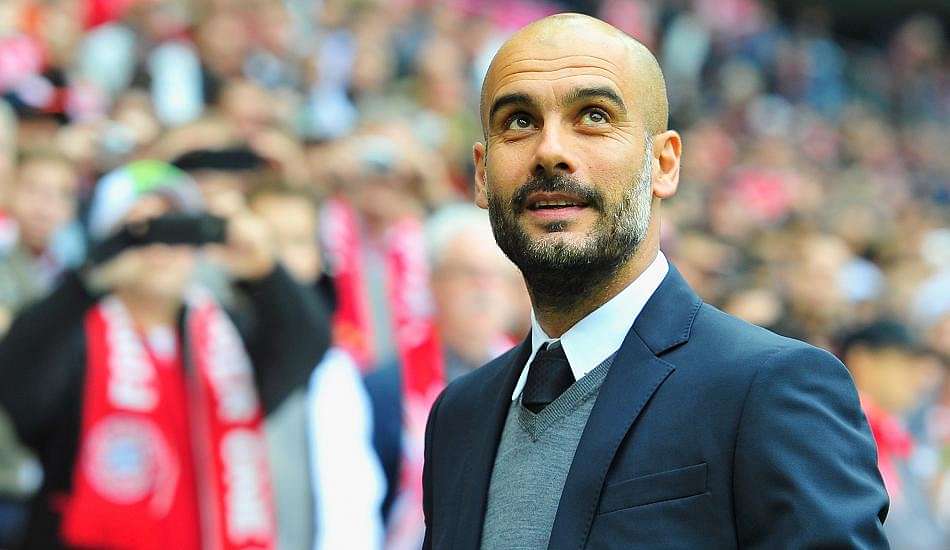 Let's make one thing clear, in no way shape or form am I saying that Pep Guardiola is not a good manager. The number of trophies that he has won already in a short managerial career ensures that he is known as one of the best football managers in the game today. Many even go as far as calling him one of the greatest coaches of all time, and that is where his critics have a problem.
So why is he regarded so highly?
Well firstly, he will always be remembered for his time in Barcelona. He brought tiki-taka, a modern day incarnation of Johan Cryuff's 'Total Football' philosophy, to the footballing world. His Barcelona team in 2009-12 was arguably the greatest football team ever seen reaching their zenith at Wembley against Manchester United in 2011. He is also credited for transforming Lionel Messi from a great player to an all-time great player. Taking all this into consideration, his time at Camp Nou was a spectacular success.
After a sabbatical for a year, he took over as head coach of FC Bayern. The hype was unbelievable. Everybody thought that Pep would take, what was an already brilliant Bayern team, and transform them into an unstoppable juggernaut that would dominate world football.
But did he? I think not.
It is said that one of the reasons why Jose Mourinho is successful, was because he always spent a lot of money to buy great players. Now while great players may not necessarily transform into a great team, you can't deny that it helps to have a few of those guys in your team. Which is why Arsene Wenger is still widely respected by his peers, because he refrains from buying superstars.
If you look at his time in Munich, Pep won three successive league titles in the most one sided league in the world. Bayern ripped the heart out of their closest challengers Dortmund buy buying Gotze and Lewandowski. Now they have added Hummels to their ranks. They spent millions on Thiago, Douglas Costa, Martinez, Vidal and Coman to strengthen a squad which already boasted the likes of Ribery, Robben, Muller, Kroos, Schweinsteiger, Neuer and Lahm.
So is it really an achievement to win the Bundesliga? Oliver Khan said that Pep had merely 'fulfilled the basic expectations' at Bayern. In Europe, they were humiliated by Real Madrid and Barcelona is successive semi-finals and then lost a closely fought affair against Atletico in this year's semi-final. From reaching three Champions League finals in four years prior to Pep's arrival, they have now exited the competition at the semifinal stage in the last three years. It won't be harsh to say that his Bayern team did not live up to expectations in Europe.
Another criticism of Guardiola is his ineptitude in the transfer market. At Barcelona he spent 250 million on Hleb, Chygrynnskiy, Keirrison, Villa, Sanchez, Fabregas and Ibrahimović out of which only David Villa could be classified as a true success. His transfer activity was also questionable with only Alonso, Costa and Lewandowski being true success.
Now that his time in Munich is over, the Pep party will be moving into Manchester City. Make no mistake about it, City is nothing like Bayern or Barcelona. This is a team that is coming to the end of its cycle. Yaya has already said that he is leaving. Silva and Kompnay may go as well. The likes of Nasri, Clichy, Koralov and Fernandinho must be wondering what is going to happen to them. So next year, other than Aguero, Hart and De Bruyne, there is no City player that will be safe from Guardiola.
Without question Manchester City is his toughest assignment. He needs to build a new team, just like he did at Barcelona, albeit with a Messi in this team. This is probably going to define Guardiola as a manager, because if he is honest with himself, he will admit that his time at Bayern did not quite live up expectations.
Also it would be great if Pep could do a Ranieri at City. It would be easy for Pep to ask the Sheikh to buy a Messi or Suarez for 100 million.  But a great manager does not need to spend 150 million to build a great team. He needs to figure out the strengths of his group of players and make the best out of them. When he reached Bayern, he demanded the transfer of Neymar. At Barcelona he demanded for Ibrahimovic. It does not always work out that way.
The Premier League may not have the best players in the world, but it certainly has the best managers, and Pep is a testament to that. He would certainly bring his philosophy and tactics to England, but it will be interesting to see if they will indeed work. And if a certain Jose does indeed get the top job at Old Trafford, then the Manchester Derby will be an interesting match to watch.
---