Player Battle to watch out: Rahane Vs Rohit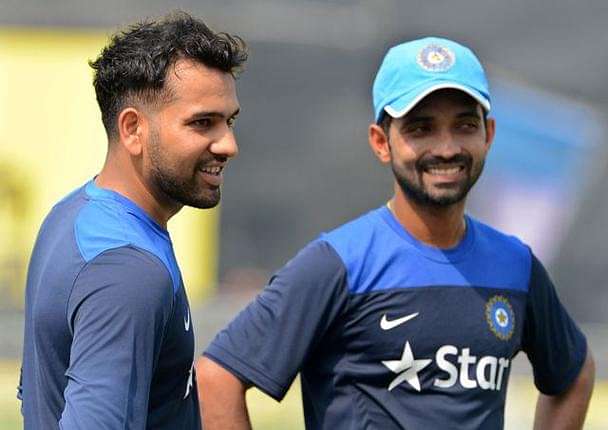 Team Dynamics
There was a time in Indian Cricket when batting was dominated by the likes of Sachin Tendulkar, Rahul Dravid, Saurav Ganguly, VVS Laxman and Virender Sehwag. Each of these batsman had the ability to win games for India on their respective day. Then came a phase in Indian cricket when these greats retired and made way for young talent who were waiting in the sidelines for an opportunity to showcase their talent. Players like Rohit Sharma, Ajinkya Rahane, Virat Kohli and Cheteshwar Pujara belong to this strata of players who made it into the cricket team around the same time.
Virat has now become indispensable part of this team. He is the backbone of the current batting lineup, irrespective of the format. Pujara too has been rock solid at number 3, since his induction into the test team. In spite of not performing up to his potential in 2015, he has been constantly amassing runs. Year 2016 has been phenomenal for him with 3 back to back centuries in games against New Zealand and England.
The test team under Kohli's leadership looks very balanced. There is intense competition for the opening slot. Murali Vijay has cemented his place in the team as an opener, leaving only one position up for grab. Players like Shikhar Dhawan, Gautam Gambhir, KL Rahul who all are match winners are all fighting for that one vacant spot. Such intense competition is healthy for Indian cricket as it brings out the best from the players.
The Dilemma
The middle order looks settled with the likes of Cheteshwar Pujara and Virat Kohli batting at number 3 and 4 respectively. Number 5 position is an area which the team management needs to ponder upon. In his brief stint as Captain, Kohli has made it amply clear that he is comfortable going into the game with 5 specialist bowler. This strategy gives him room for playing only 5 specialist batsmen with Wriddhiman Saha coming at number 6. Therefore when Rohit Sharma fully recovers from his injury it will be interesting to see whom does the team management repose faith on. Will it be Ajinkya Rahane or Rohit Sharma? It is a question that will be answered as time progress but we at the SportsRush analyze these two players for you to decide who should be given an opportunity.
Rohit Sharma
Rohit is an exceptional player in ODI's and T20's. He has proved to be an excellent opener in the shorter format of the game where he paces his game beautifully. He starts off cautiously but finishes the game with a flurry. However his record as a test batsman hasn't been great. He has been included in the team on multiple occasions. However he has not been able to cement his place in the team through his performances.
He has the talent and the class to play in the longer format but at times it feels that he lacks the temperament. It is seen that he battles it out during the initial part of his innings, gets a good start and then throws away his wicket playing a rash shot. In spite of this short comings he is one of the best players of short ball in this Indian side. He plays the pull shot and the hook shot well and has the time to adjust to the short pitched stuff quickly. Therefore investing in such a player might pay dividends to Kohli when India plays away from the subcontinent. Further his technique is quite apt against the rising ball. This makes batting easier for him in Australian and South African conditions where other batters face difficulty.
Ajinkya Rahane
Ajinkya Rahane has proved to be an exceptional test player who is trying hard to perform equally well in the one day format. The thing that Rahane brings on the table is consistency. After 10 Tests, Rahane had scored more centuries than what Tendulkar, Dravid or Laxman had at the same stage. He is the only player to have a score of 90 or more runs in eight consecutive Test series. He already has three centuries in Tests outside Asia at No 5 – the joint highest by an India batsman, alongside Umrigar, Azharuddin, Tendulkar and Ganguly.
One more thing that Rahane brings with him is fielding. He is an exceptional slip fielder. He also holds the record for most catches in an inning grabbing 8 catches in a single innings of a test.
However one of the weakness of Rahane has been his inability to rotate strike. There have been instances in games where opposition has been able to bog him own at one end, which considerably reduces scoring rate. This not only affects the run rate but also has an impact on the batsman who plays along with him. In the ongoing India vs England test, Rahane played with a strike rate in mid 30s.This was pretty low for a game when he run rate was around 4.
Both these players have qualities for which every captain in the world would like to have in their team. However considering the current dynamics it would be interesting to see whom does Kohli repose faith on. Rahane vs Rohit is an interesting battle to look forward to.
---