Pro Wrestling League : Jaipur Ninjas enter semis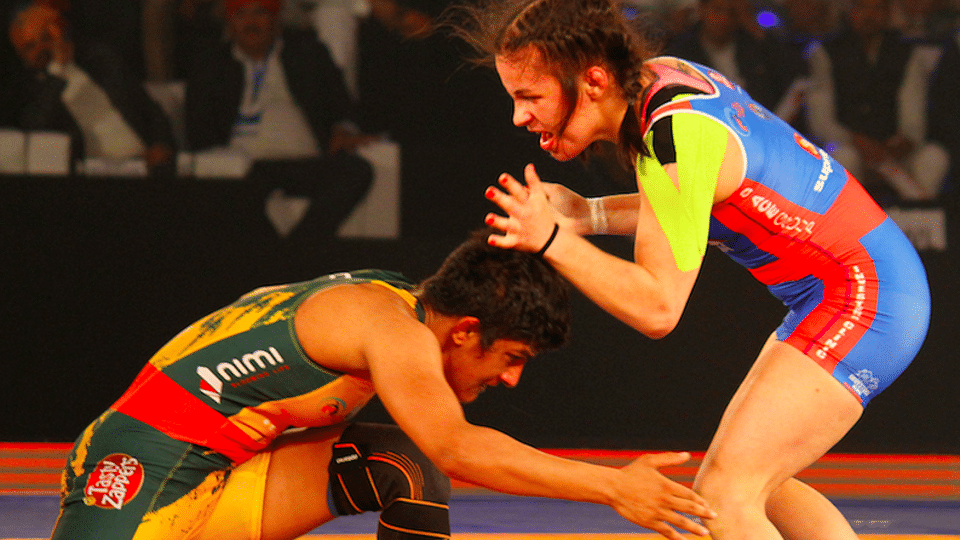 Jaipur Ninjas enter semis
The semi final line up of the Pro Wrestling League has been finalised. The Jaipur Ninjas, based on their win over UP Dangal storm into the next stage of the tournament. The Sportsrush reviews this fiercely contested match which Jaipur Ninjas won 4-3.
UP won the toss and decided to block the 57 kg category. This meant that last match's hero, Utkarsh Kale was forced to opt out of the competition. Similarly, Jaipur's key player, Jenny Fransson also had to sit out in the 75 kg category.
Geeta Phogat misses out again
Moreover, star player Geeta Phogat missed this game too under medical grounds. She is yet to feature in this years' Pro Wrestling season after several instances of being blocked and health concerns. Manisha replaced the 'Dangal' girl once again in the bout. She had lost her previous fight 1-9 to Mumbai Maharathi's Sarita.
Jaipur start off well
The first pitted two Georgian wrestlers against each other. UP's Tariel Gaphrindashvili fell to Jakob Makarashvili from Jaipur 6-4 in an intriguing bout. Next up it was Jaipur's Pooja Dhanda who floored Manisha with a dominant display. She eventually won 8-4 after foiling Manisha's repeated efforts to fight back.
UP made a comeback in the match as Andrey Kviatkovski triumphed over Jaipur's Rahul Mann. Rahul put up a spirited display but the Ukranian wrestler scored a takedown from a standing position to win 8-4. However, Jaipur retaliated as Venezuelan wrestler Betzabeth Arguello crushed UP's Pinki to go ahead by 3-1.
Captain Odikadze powers Jaipur to the semis
Jaipur was in no mood to lessen the pressure. Skipper Elizbar Odikadze drove the Ninjas into the semis with a spirited display. He defeated UP's Mausam Khatri 5-2 to extend his unbeaten run in this year's Pro Wrestling League.
Yankova's brilliance; UP pull back two
The bout of the day was between Jaipur's Ritu Phogat and UP Captain and Rio bronze medalist Elitsa Yankova. The Bulgarian wrestler prevailed over her Indian foe which saw Ritu some stiff resistance by effecting a couple of takedowns. Elitsa Yankova won the 'Player of the tie' for her efforts.
UP Dangal played for pride in the final inconsequential bout of the evening. Amit Dhankar overcame Jaipur's Vinod Kumar Omprakash 4-2 in the 70kg category to finish the bout 4-3 for Jaipur.
Beaming after the win and the qualification, Jaipur's coach said, " We are through to semifinals and our strategy will depend on who our opponents would be. Wishing for our team to win this season."
---