Pro Wrestling League : Mumbai Maharathis win with ease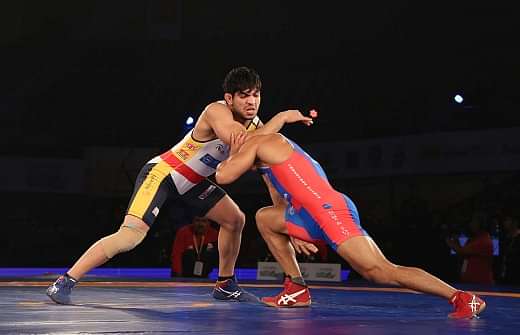 Finally a victory for Mumbai Maharathis
At last, some smiles on the faces of the Mumbai Maharathi fans! After two crushing defeats, they finally manage to notch up a victory, against UP Dangal. This also brought up the second successive defeat for the unit. Read on!
UP won the toss in this crucial encounter and blocked the 97 kg category thereby forcing Pavlo Olinyk out of the contest. Also, on the other side, Mumbai decided to block the 53 kg women's category. This meant that Babita Kumari was made to sit out.
Mumbai race ahead in first two bouts
An action-packed opening bout opened the proceedings that was fought between UP's Amit Dhankar and Mumbai's Pritam. Fortunes fluctuated like a pendulum in this fight contested in the 70 kg category. Even though Amit Dhankar dominated most of the bout, it was Pritam who dug deep to miraculously pull out three points at the end.
After Mumbai prevailed in the first bout 3-3 by virtue of Last Point Win, it was time for another showdown. This time between Rio medalist Maria Mamshuk and Mumbai skipper Erica Weibe. The captain was in her peak form as she defeated Maria 4-0, thereby giving Mumbai a 2-0 class.
A comeback by UP Dangal
The next bout saw a major upset with Colombian Carolina Castillo beating UP captain Elitsa Yankova 4-1. This victory in the women's 48 kg category meant that Mumbai raced to a 3-0 lead. However, UP Dangal forged a commendable feedback in the fourth bout through Andrey Kviatkovski. He notched up a victory over Vikas Kumar.
Thereafter, Mumbai responded with ferocity. Sarita overcame the challenge of UP wrestler Manisha by crushing her 9-1. Manisha was the replacement for star player Geeta Phogat, who was down with high fever. Mumbai won this tie and also took an unassailable 4-1 lead.
The bout ends 5-2 in favour of Mumbai Maharathis
Further extending UP Dangal's woes, Rio Bronze medalist Jabrayil Hasanov prevailed over Tariel Gaphrindashvili. He won 3-1 in this fight contested in the 74 kg category. Even though the contest was well and truly done, the intensity did not die down in the last bout. Amit Kumar Dahiya of UP defeated Rahul Aware in a thrilling encounter.
---