Ronaldinho speaks about this year's edition of Premier Futsal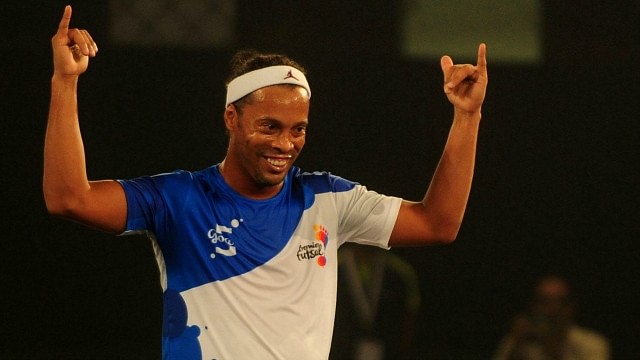 Brazilian legend Ronaldinho is in Indian for promotional activities ahead of the second season of the Premier Futsal.
The World Cup winner was one of the biggest stars in the competition last year, as the likes of Ryan Giggs, Paul Scholes and Hernan Crespo to name a few also took part in the action packed event.
This is what Ronaldinho had to say,
"I am happy to be here (in India). The very first season was a huge success that motivated everyone at the back here."
"This season is going to be a bigger success. I am very happy to be hear and receive the love of fans and people from India," said the 2005 Ballon d'Or winner said.
"I believe the improvement in FIFA ranking (in football) will help Futsal especially after the success of last year. It will also help other sports to grow," the football player, who won the 2002 World Cup for Brazil, added.
When asked about the difference in futsal and football, this is what he had to say.
"Yes, it did. Since the size of the ball in futsal is smaller, you have to think faster. You have to be more creative while controlling the ball."
"So all this helped me a lot when I stepped on the field."
Ronaldinho also praised the growth of Indian football over the last few years,
"I've been following Indian football closely, and I've seen it grow. Big names coming here to play is the right start. That way people get more passionate about the sport, kids get to fall in love seeing their idols play in front of their eyes."
"The more time they spend with the ball, the more they explore the magic of the game, the more it will grow."
"Especially after the success of Premier Futsal last year, I do believe it will draw youngsters in India towards football. It will also help other sports to grow in India."
---