"Shaquille O'Neal tried to posterize Charles Barkley and missed": Lakers legend tries to dunk over the Phoenix legend on the set on NBAonTNT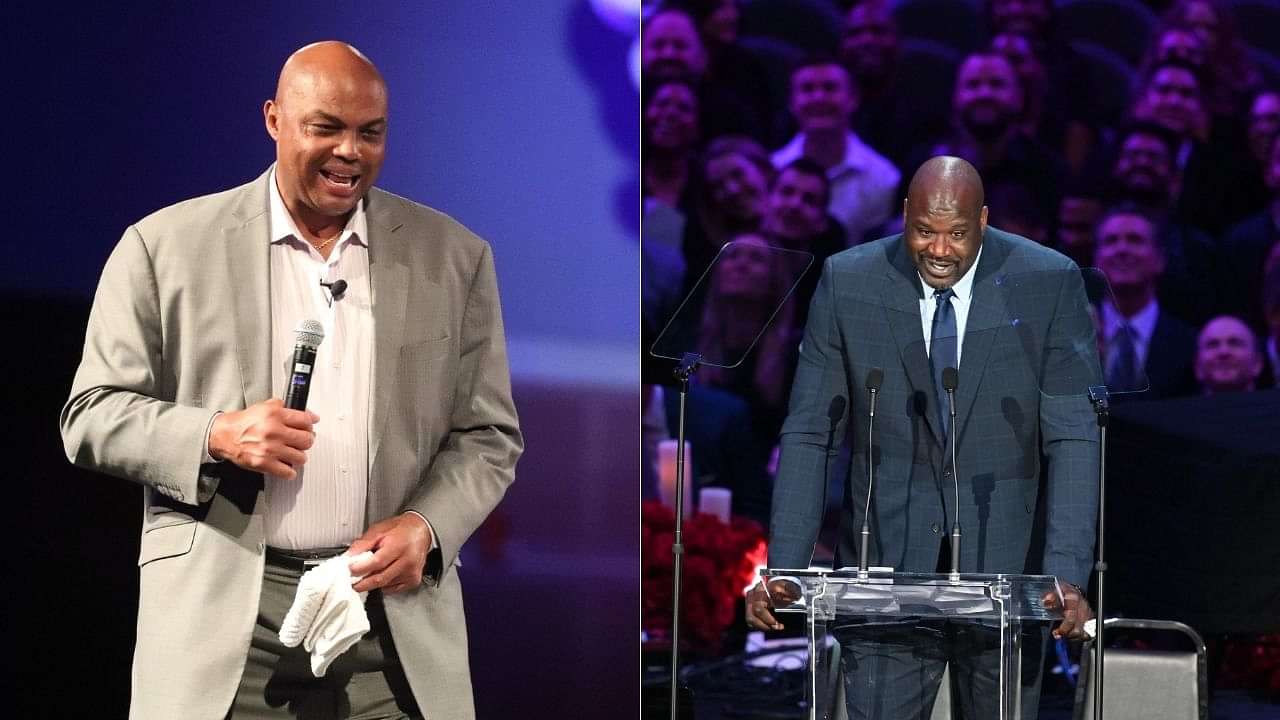 On the sets of NBAonTNT, Lakers legend Shaquille O'Neal tried to put his long time rival, Charles Barkley on a poster but missed.
Shaquille O'Neal is easily the most dominant force the NBA has ever seen. The 7-foot-1 325-pound beast overpowered all the players back in his era. Shaq lived in the paint and would cause havoc on both sides of the floor-scoring points at will, and preventing opponents from getting any easy buckets.
Being a 4-time champ, 15-time All-Star, 3-times Finals MVP, league MVP and Hall-Of Famer, Shaq's decorated resume proves to us why he is considered as the greatest centre of all time.
Also Read: Lakers legend reveals his newfound love for a healthy lifestyle in recent interview
In his illustrious 19-year NBA career, Shaq had 28,596 points and a whopping 11,330 field goals made. The majority of these field goals were O'Neal hammering it down on his opponents.
We've seen the Lakers legend shatter numerous backboards and posterise several players. Looks like Shaq's good old habit hasn't quite gone yet.
Shaq tried to dunk on Charles Barkley on the sets of NBAonTNT
The 'NBAonTNT' crew is well-known for having fun on their set. On Wednesday night, after the broadcasting of the Nuggets-Suns game, the cast decided to mess around with a mini-hoop on their set.
Of course, Shaq being Shaq, he couldn't curb his urge of wanting to dunk the ball over someone. And who better to posterise than his long time rival in Charles Barkley. Maybe he wanted to get back at Chuck for that one time, back in 1999, when Barkley threw a ball at Shaq during their Lakers-Rockets clash.
Loading embed tweet https://twitter.com/NBAonTNT/status/1402848999116136450?ref_src=twsrc%5Etfw
Also Read: Charles Barkley roasts Kings fans, says they don't really have anything to look forward to despite playoff drought
This isn't the first time these two big men have gone at it with each other. Both these Hall-Of-Famers have had their fair share of battles on the court as well as on the set.
Started their NBA careers as archenemies, the two have had developed a good and friendly relationship after their playing careers came to an end.
Even though Shaq had missed the dunk, knowing Sir Charles, he will surely be looking out for a perfect opportunity to get his revenge on the big man.
---