Are Roger Federer and Lionel Messi Similar? Rafael Nadal Ridicules Comparisons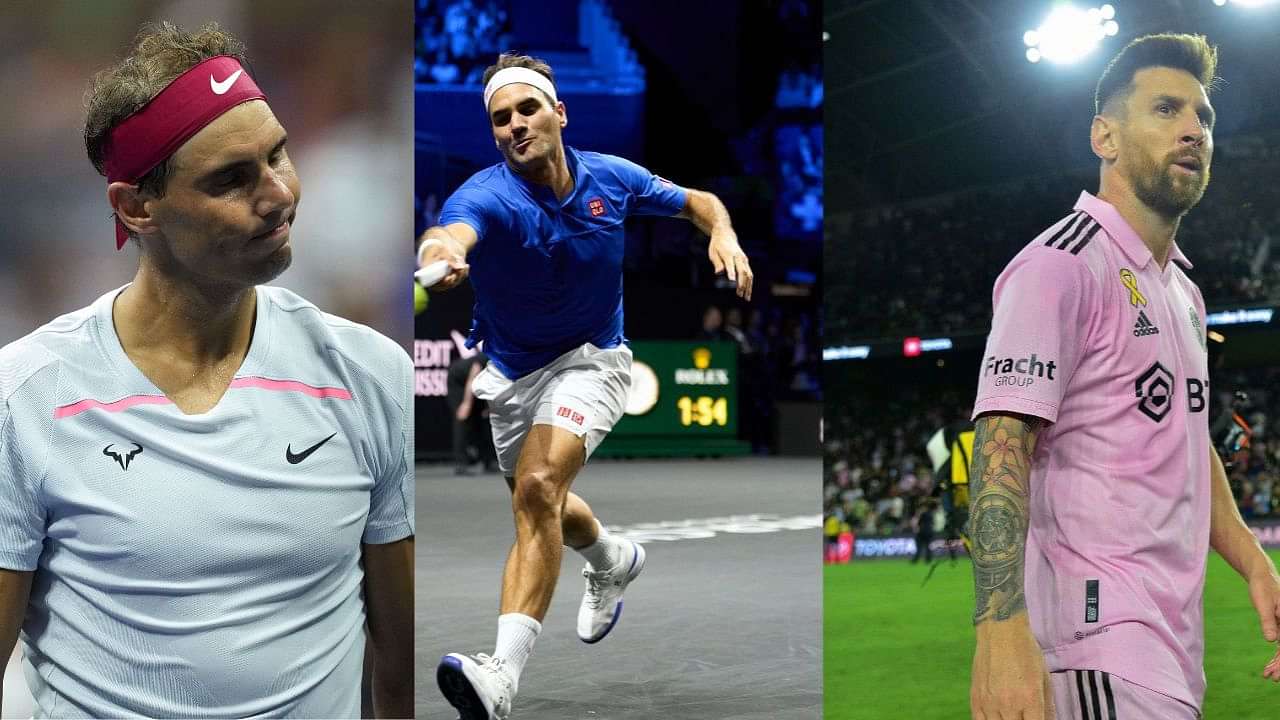 In an old interview via the Rafael Nadal Fans page on YouTube, tennis great Rafael Nadal was asked about the comparisons between his rival, Roger Federer and soccer superstar, Lionel Messi. Nadal rubbished them categorically with an answer which sounds good objectively, but polarised opinion in the sports world. It also must have perhaps come from a place of Rafael Nadal preferring Cristiano Ronaldo over Lionel Messi.
The comparisons have gained significance again recently after Federer took to TIME Magazine to pen a heartfelt tribute to Leo Messi. Federer's words, laden with praise, resonated with sports enthusiasts across the globe. In his tribute, Federer highlighted the profound impact Messi has had on soccer given the huge burden of expectations on his shoulder each time he enters the pitch.
Rafael Nadal on not believing in Federer-Messi comparisons
Rafael Nadal and Cristiano Ronaldo have often been considered similar in the sense of their relentlessness and ability to dig deep in adversity even if it means not looking great while doing it. Their graft and hard work is evident and visible. On the other hand, Roger Federer and Lionel Messi are often compared for their elegance and effortless ease, making their sports look way more easier to play than they actually are.
But Rafael Nadal was quick to brush off any such suggestions in an interview with Marca. He was quoted as saying –
"There is no comparison possible. They are two completely different sports and the characteristics of Messi are not those of Federer nor those of Cristiano are mine.
In fact, this year, Rafael Nadal had reiterated that he still prefers Cristiano Ronaldo over Lionel Messi. His views angered Lionel Messi fans, who in turn called Roger Federer better than him.
Roger Federer pays touching tribute to Lionel Messi
In his touching tribute to the Argentine soccer superstar, Roger Federer, who knows a thing or two about winning, acknowledged his longevity and consistency. Messi has been dominating world soccer for well over 15 years now and has multiple Ballon D'or trophies to show for it. Federer hailed Messi's ability to carry the hopes of an entire nation on his shoulder for so many years and still deliver clutch performances.
"What stands out to me about Messi, 35, is his consistent greatness over so many years. This is so difficult to achieve, and then maintain. My career has just come to an end and I have now realize how much weight we athletes carry. For a football player like Messi, that weight likely feels more massive, as he represents both a world-renowned club and a very passionate country."
Federer also touched upon Argentina's World Cup victory, describing it as a magnificent moment in sports history, witnessed by millions as jubilant fans took to the streets of Buenos Aires to celebrate. The Swiss legend then reminisced about his own sources of inspiration from Argentine soccer, citing Diego Maradona and Gabriel Batistuta as his childhood favorites. Now, he believes that Messi can inspire future generations, much as Maradona and Batistuta had inspired him.
"Argentina's World Cup victory was magnificent. Millions of fans' taking to the streets of Buenos Aires to celebrate was an amazing moment in sports, witnessed around the world. Growing up, Diego Maradona and Gabriel Batistuta were my favorite Argentine players. I was lucky enough to meet both of them. Now Messi can inspire future generations. I can only hope we get to see his unique creativity and artistry for a little bit longer. You may miss something incredible from the man of the moment. Thank you, Leo."
Currently, Lionel Messi is plying his trade in Major League Soccer (MLS) with Inter Miami, a move that garnered significant attention and shifted the soccer landscape in America to greater heights.
---