"Not Just Novak Djokovic": Former World No. 1 Insists Carlos Alcaraz Not Obsessed with Serb Despite Losing ATP 2023 Semifinal Clash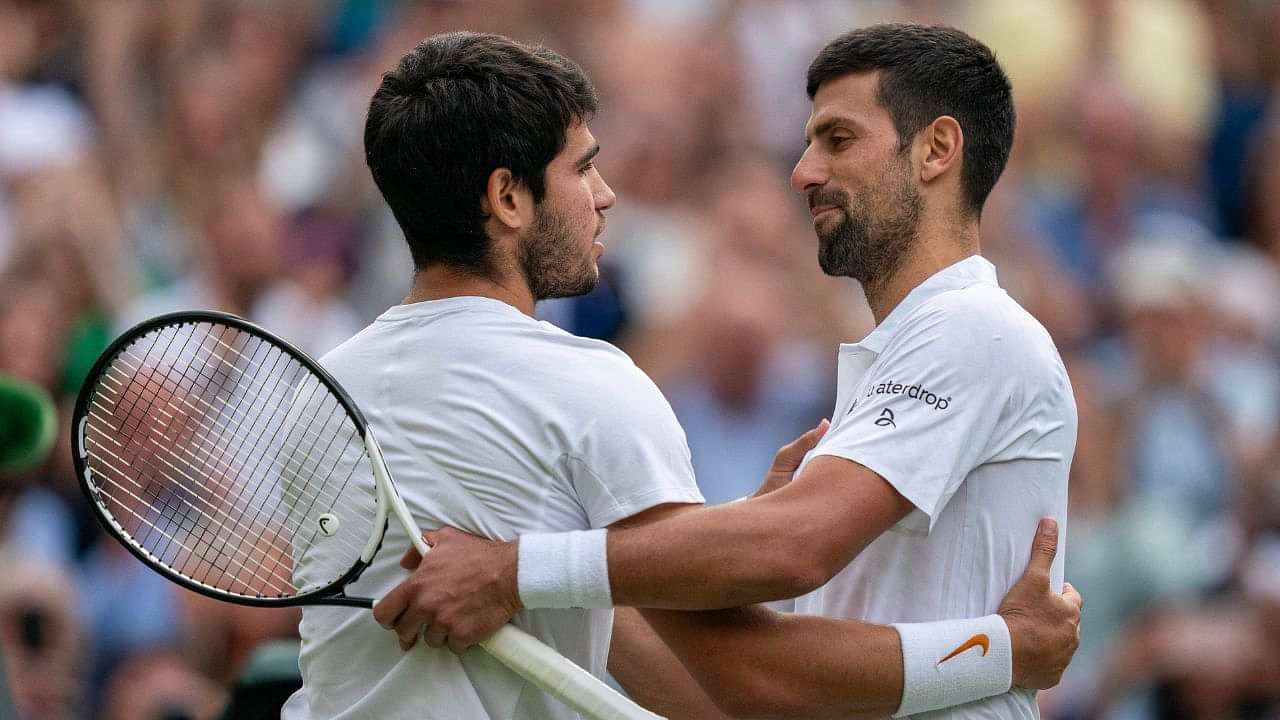 Carlos Alcaraz's coach, Juan Carlos Ferrero busted the perception that his protégé is obsessed with Novak Djokovic. Some of the young star's recent statements led many to believe he was fully engrossed only with catching up to the Serb. However, Ferrero quashed those claims, saying Carlos Alcaraz said what he said only because he wanted to be where Novak Djokovic is, i.e., the best in the world.
A few weeks ago, Alcaraz explicitly stated that Djokovic was on his mind during every practice session. He also added that he wished to play and give his 100 per cent every time as the World No.1 did. But Ferrero, a former World No.1 himself, claimed his ward tries to play like the veteran and beat him, hinting that Alcaraz has been misinterpreted.
Ferrero said they do not focus singularly on Djokovic during training (via Tennis365). He said it is, however, understandable that the Serb crossed Alcaraz's mind because they are the top two and both are fighting to be the best.
"We don't usually talk about 'we're going for Djokovic, we're going to play everything thinking about that. But it is normal that it comes to mind because when there are two of you, what you think about is fighting to be one."
He concluded by saying that Novak Djokovic is not the only player Carlos Alcaraz will face on the path to becoming the best. The two-time Grand Slam will come up against many challengers and he is equally prepared for all of them.
"In the end, you play against a lot of people, not just Novak. To get there you have to beat many others first."
Carlos Alcaraz and Novak Djokovic were in a league of their own this season, separate from the rest of the pack. They exchanged the top two positions multiple times before the latter pulled clear and finished as the Year-End No.1.
Carlos Alcaraz faltered due to fatigue caused by extra expectations, says coach
Carlos Alcaraz's season faltered in the final stretch. He endured an inconsistent run after a semi-final finish at the US Open. His debut ATP Finals campaign also got off to a poor start with a loss. However, he bounced back to advance to the semifinals there as well, but was dismantled by Djokovic in straight sets.
Ferrero believed the fatigue of a long season had taken a toll on the young Spaniard. He said while all players are worn out by the end of the season, the top players are more tired because they face more pressure and expectations.
"All players arrive with excess kilometres at the end of the year, there are many weeks in which tournaments are played. The best take on more games, more pressure, almost the obligation of having to win in almost every tournament."
The Spanish coach said this extra burden is affecting Alcaraz's performances. He said the Wimbledon champion needs to train his body to adjust to the season and take breaks accordingly. He stated that the Tour will never stop so you have to treat it like a job and get back to it.
"That excess luggage can weigh more some weeks and Carlos is having a bit of an effect. I think that professionally he has to start learning that the world of tennis is from January to November. He has to take his breaks, but this is a wheel, which continues, and it is a job and it is what you have to be at."
Carlos Alcaraz missed this leg of the season last year due to injury. He struggled with fatigue, leading to a drop in results late in the season. He will hope to be better prepared when the 2024 season rolls around.
---