"100 Million in the Bank Babbbyyyy": Latest Pictures of Conor McGregor and Jake Gyllenhaal From Roadhouse Set Sends Fans Into Frenzy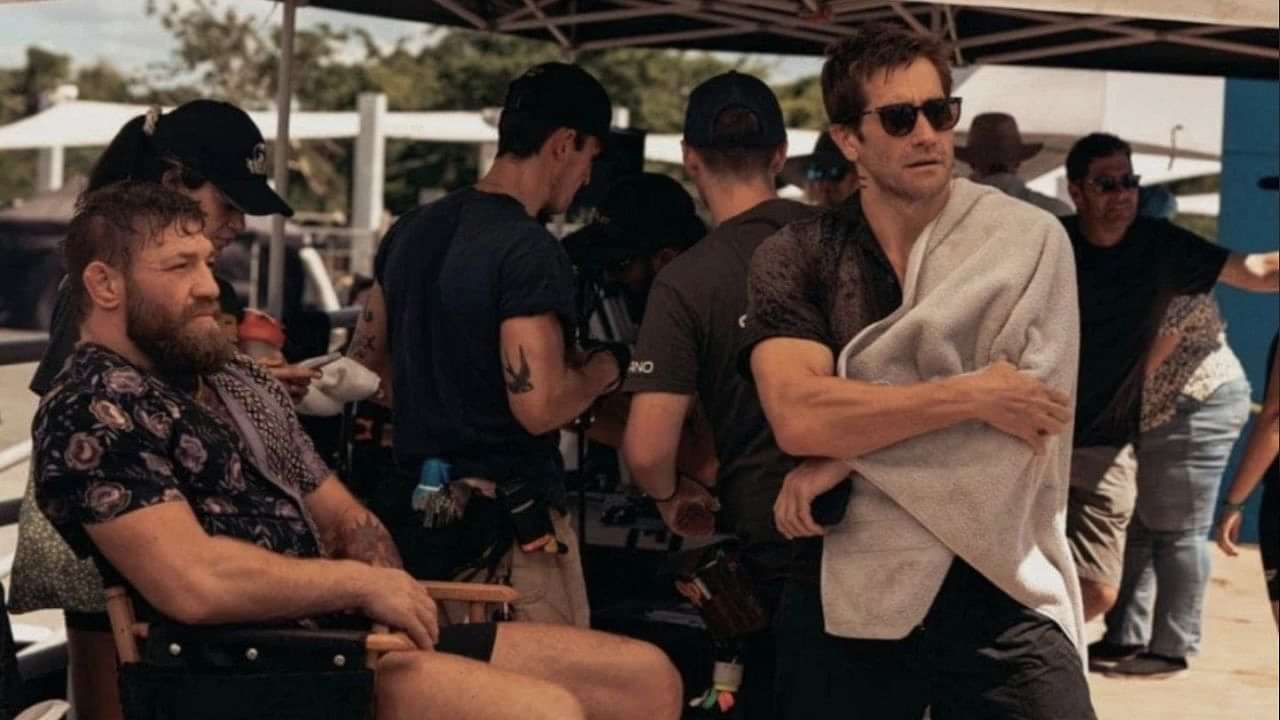 If all goes according to plan, 2023 will be the year for former UFC two-weight world champion Conor McGregor. The Irishman has had a rather quiet past 18 months in terms of his combat sports career.
McGregor was last witnessed in the UFC in 2021 against Dustin Poirier. The Notorious one walked away with another defeat following fractures to his tibia and fibula, handing the spoils to Poirier.
Although a return was in the offing last year, the rehabilitation process was quite tedious and long. As such the 34-year-old turned his attention to the world of Hollywood.
Loading embed instagram https://www.instagram.com/p/ChXdbiWNr66/?utm_source=ig_embed&utm_campaign=loading
It was announced last year that McGregor had earned himself a role in the remake of the vintage 1980s movie 'Roadhouse'. McGregor is set to star alongside famed Hollywood celebrity, Jake Gyllenhaal.
The UFC pioneer has left his supporters in a frenzy as pictures of the Irishman, alongside Gyllenhaal, surfaced online.
Also read: "Weird End to a Legendary Run in the Sport": Fans Left Heartbroken as Khabib Nurmagomedov Leaves MMA Entirely
Conor McGregor captured alongside Jake Gyllenhaal!
The Irish martial artist has been gearing up for a mega 2023. His movie, Roadhouse, is set to be released in early 2023. Throughout the latter half of 2022, McGregor had been providing teasers of his role and the physique he's in for the movie.
His latest still from the sets of the movie has left his fans in awe of his physique and stature. Taking to Instagram, numerous supporters of McGregor left comments on an image of Jake Gyllenhaal and himself in the ocean.
Loading embed instagram https://www.instagram.com/p/CnK7LB9jGsp/?utm_source=ig_embed&utm_campaign=loading





With all due fairness, a large part of the media and fan base of the sport of martial arts are conveniently oblivious to just how paramount of an accomplishment this is for someone from MMA.
A sport that never garnered the attention of high-end groups and was once considered unmanly due to the wrestling activities involved in the sport. Now, we have an appropriate representative of the sport, who has amassed supporters from all walks of life.
Suffice it to say, his movie will be largely watched by the MMA community to see his role in the film.
Also read: Belal Muhammad Mocks British UFC Champion Leon Edwards With Iconic Muhammad Ali Picture
Lightweight championship in 2023 for McGregor?
The filming of his highly anticipated movie is all but concluded. The pertinent question in the minds of his avid supporters is when they can expect the Notorious one back in action.
McGregor himself has stated that he was initially planning on a return sometime within the early periods of the year. However, taking into consideration that he needs to re-enter himself into USADA's testing pool, it could be perhaps longer.
Nonetheless, make no mistake, 2023 will be the year that we see Conor McGregor grace the patented octagon again.
Also read: "Jason Momoa Trembles for His Role": UFC Superstar Conor McGregor Dubbed Aquaman After His Recent Post
---