"214 Million?!..Holy Sh*t": Virat Kohli Out Shining LeBron James Once Stunned Joe Rogan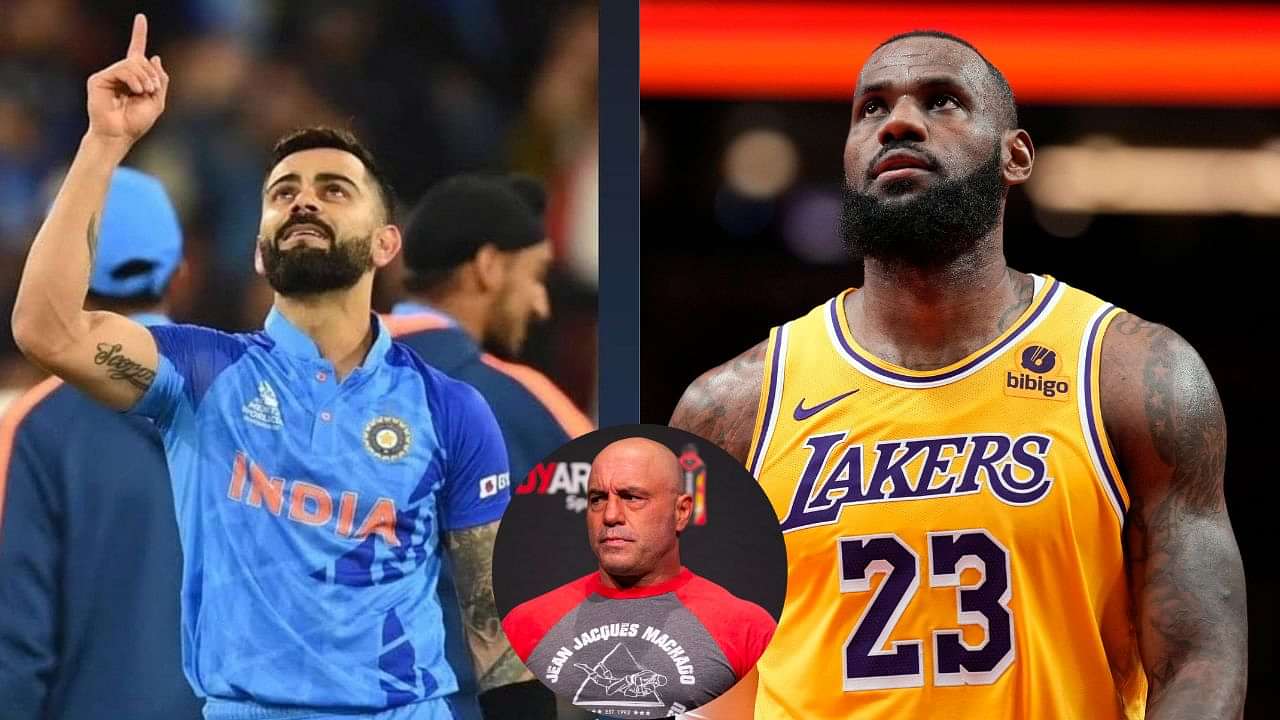 Joe Rogan, for most MMA fans, is synonymous with the UFC. Apart from being a commentator, Rogan is also the host of one of the biggest and most famous podcasts in the world, 'The Joe Rogan Experience'. Rogan often invites guests from different walks of life in order to learn more about what is going on in the world. Through this Rogan is often mind blown about the new learnings.
The same was the case last year during his interview with MMA film maker, Will Harris. Rogan released an episode with Harris on the 21st of September 2022. In the episode Rogan and Harris mostly covered things related to MMA. However, Rogan through discussion with Harris learnt about how big the sport of cricket is and how popular its biggest stars are. Upon learning the same, Rogan said,
"214 million (Virat Kohli's Instagram followers) holy sh*t. Two hundred and fourteen million."

In the podcast, Harris mentioned Indian cricketer Virat Kohli. He asked Rogan to compare Instagram followers of Kohli and LeBron James. At the time of the recording Kohli had 214 million Instagram followers. LeBron on the other hand had 132 million followers.
As things stand today, Kohli's followers have increased to a whopping 263 million followers. James on the other hand has 158 million followers. This further goes to show how popular cricket and its biggest names are.
A closer look at Cricket and superstar Virat Kohli 
For most Americans, Cricket is not a sport they are familiar with at all. The sport originated in the United Kingdom, from where it was mainly passed on to the Kingdom's colonies at that point in time. Which explains why the sport is so popular in countries such as Australia, India and Pakistan.
It is the most popular sport in India which is the most populous country in the world as things stand. Cricketers achieve god-like status in India among fans and Virat Kohli is the biggest name in Indian cricket.
He recently had a terrific World Cup season and bagged the Player of the Tournament award. Even though India lost against Australia in the Finals, Kohli recieved praise for his performance in the tournament.
Loading embed instagram https://www.instagram.com/p/Cxwybv7N_Vc/?utm_source=ig_embed&utm_campaign=loading
Needless to say, the popularity of the sport is growing even further in the growing population of India. With that said, Virat Kohli is only going to get bigger by the day.
---