Vince McMahon gets into a big fight with Brock Lesnar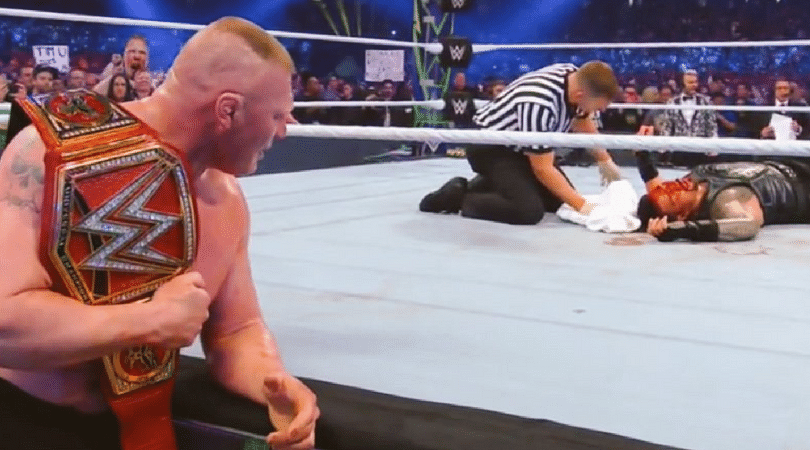 The 34th edition of Wrestlemania was a huge hit and miss as the first half of the event managed to deliver with the second half dragging it down.
While the event comprised of several surprises, one of the most peculiar one was the finish between Brock Lesnar and Roman Reigns where the Beast Incarnate extended his reign with a win at the main event.
Several expected the Big Dog to emerge as the new Universal Champion considering Lesnar's volatile future with the company, the huge build up which elevated Reigns was proved futile in the end as the Grand Slam champion was dominated by Lesnar throughout the fight.
Post the events at the Grandest Stages Of Them All, a disturbing speculation has made the news, as apparently Brock Lesnar was involved in a altercation with none other than Vince McMahon.
Sources claim that Lesnar had words for those at backstage and was involved in a war of words with the Chairman which included a lot of yelling. To add to that, Lesnar had to be restrained in order to avoid things getting physical.
Lesnar's trend of in loving in controversies post a bloody match continued, as the star was previously involved in a scuffle with Chris Jericho after Summerslam 2016.
Lesnar's future with the company remains under the cloud as the Universal Champion is yet to sign a new contract with the WWE.
UFC chairman Dana White had earlier revealed that Lesnar is under contract with both the companies. The decision to keep the title on Lesnar and now with this unwanted controversy, it will be highly intriguing to see what's next in store for the Beast with the company.
---