Virat Kohli : Yuvi was the first in line for a comeback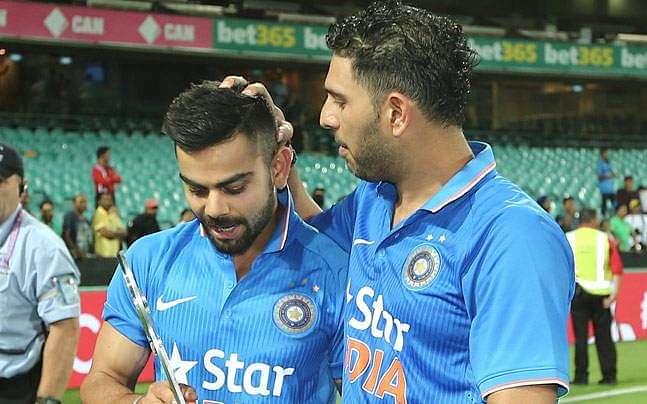 Addressing the media ahead of the first India-England ODI at Pune, new captain Virat Kohli revealed some information about Yuvraj's inclusion into the Indian team. Back after a hiatus of three years from ODI cricket, what made Virat Kohli pick Yuvi ahead of other players? Read on to figure out!
Right mix of exuberance and experience
Virat Kohli spoke in detail about the importance of maintaining a right mix between youth and experience. This gave impetus to his decision of bringing back Yuvraj Singh. The flamboyant southpaw had last played for India against South Africa in December 2013.
Speaking on his decision, Virat Kohli said, "We cannot leave so much burden on MS alone. There needs to be one more guy. MS has been guiding the youngsters, which is fine if you have 15-20 games to a big tournament. However, if you have only three games, you need to get all your resources in place. That's why Yuvi is back in the team."
Virat also named Ambati Rayudu as a possible contender for Yuvraj's position. However, an injury plagued season turned the tide against him. "We thought of Rayudu as well, but he had been injured and did not have much of game time behind him."
Virat also hopes that Yuvraj can act as a perfect mentor for newcomers in the squad like Hardik Pandya and Kedar Jadhav. Also, taking about players skipping practice sessions, he ruled out the possibility of injuries and said that everyone is available for selection.
On MS Dhoni
Virat Kohli also heaped praise on MS Dhoni. He lauded his composure on the cricket field. "He has been successful because he has managed to find the balance between been offensive and understanding and how to slow things down." Virat also believed that now, MSD could play freely and also resort to some experimentation if needed.
On the Indian squad
On the trilemma about the possible opening combination, he likened the situation to a problem of plenty. He is happy with Ajinkya Rahane finding rhythm in the warmup matches and feels that Shikhar Dhawan needs to be persisted with due to his match winning ability. Moreover, Rahul is also coming off from a double hundred in Chennai.
Talking about the upcoming series and the Champions Trophy in June, he emphasizes on the importance of fielding the best possible side. He also looks ahead to the challenge of taking Indian cricket forward under his reign. "I was delighted to be given captaincy, it is something that I have always liked."
---