Vizag pitch curator opens up about the pitch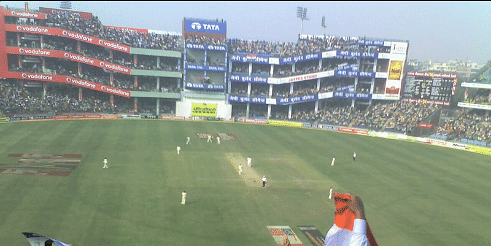 England almost won the first game in Rajkot if not for some stiff resistance by the Indian lower middle order batsmen. A major talking point post the draw was the pitch in Rajkot, which didn't offer any assistance to spin bowling. In that backdrop, the attention has turned towards pitch in Vizag and the Vizag curator has revealed about the pitch conditions for the next game.
In the post-match conference, Virat Kohli was a little critical of the pitch for not shaving the grass off in the Rajkot pitch. It was atypical of the Indian pitches.
He said "I was quite surprised to see that much grass, to be honest. It should not have been the case. Day 3 onward, it slowed down a little bit but no demons as such. Sometimes, the situation becomes such that even on flat wickets, you tend to make mistakes. It looks that it is doing a lot more than it is actually out there."
Vizag Curator's quotes:
The second game of the five match test series starts on 17th November at Vishakapatnam. The BCCI curator Kasturi Sriram has clarified that the pitch won't have much grass and will support spinners from day 2 onwards.
Also Read: Kohli advises Cook about subcontinent conditions after 1st Test match
Kasturi Ram said "There will not be much grass and we should expect the ball to turn from lunch on Day 2. Yesterday, it was cold and today it's drastically hot and humid and wicket appears dry now. We will see how is it on the eve of the match."
Likely Consequence:
This should boost the confidence of Ashwin and co. who fared pretty poorly in the first test. With England not being great players of spin bowling and Ashwin's scintillating form in assistive pitches, this should definitely be a game in India's pocket.
However, the spin trio of Adil Rashid, Moeen Ali and Zafar Ansari who were more effective in the Rajkot test will be smacking their lips and hoping to get the win that just evaded them in Rajkot.
This offers an interesting battle on the cards, and the game is likely to get over well within four days.
---