[WATCH] Alex Iwobi's reaction at being subbed on isn't very encouraging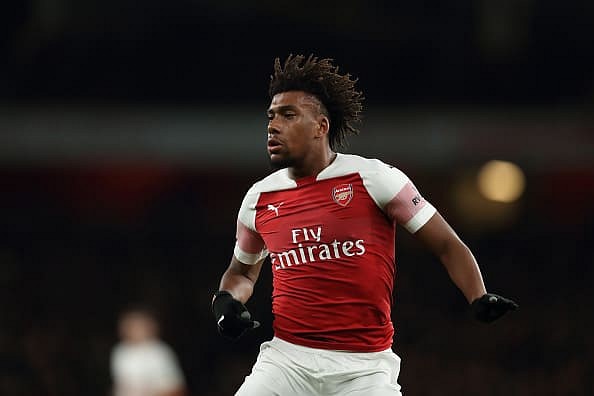 Alex Iwobi's reaction at being subbed: Arsenal were held to a frustrating 1-1 draw against Brighton on the Boxing day fixture.
Arsenal dropped points in a frustrating 1-1 draw against Brighton and Hove Albion at the Amex Stadium. The side is now two points behind Chelsea, and the gap between them and Manchester United has now narrowed to six points.
The in-game decisions by Unai Emery came under scanner in the game, as Mesut Ozil was substituted at halftime, while Alexandre Lacazette was changed with Aaron Ramsey in the 61st minute.
Unai Emery addressed the criticism, and stated that Ozil's substitution was purely 'tactical,' and insisted that Aaron Ramsey played well.
However, a video has surfaced online, which indicates that Alex Iwobi, who came on for Ozil in the second half, didn't know the formation Arsenal were playing with.
Alex Iwobi's reaction at being subbed on:
The attacker was substituted for the former German international at the start of the second half. The decision didn't work in favour of Unai Emery, however, as Arsenal struggled to create opportunities throughout the second half.
A video which surfaced after the game showed Iwobi calling his teammate Granit Xhaka, and asking him about the formation the side would be playing.
Here's the video:
Emery subbed on a player without telling him what formation they are playing in lmfaooo pic.twitter.com/KKr6mnPl24

— A (@__AJ72) December 26, 2018
Mesut Ozil made his second consecutive start for Arsenal in the league, after a significant lack of game time since the end of the international break last month.
Mesut Özil doesn't deserve this. You take Mesut Ozil off at half time for what? Honestly for fucking what? We had one shot in the second-half? Why? Because Mesut Ozil wasn't there to create. Unai Emery got it all wrong once again, all fucking wrong. pic.twitter.com/TDcha8YCOV

— now.arsenal (@nowarsenaI) December 26, 2018
This is not the first time when Unai Emery stated 'tactical reasons' for withdrawing Mesut Ozil from the game. After the defeat against Spurs in the Carabao Cup quarterfinal earlier this month, Unai Emery gave a similar reason for not including the midfielder in the squad.
In the post-match conference after the draw against Brighton, Emery admitted that his ideas for the second half weren't perfectly executed on the pitch.
Emery on why he took off Lacazette: "I think that Aaron Ramsey deserved to play, he deserved to take responsibility also because he wants to help us. I think Aaron Ramsey played a good match today in this moment" #Arsenal

— Gurjit (@GurjitAFC) December 26, 2018
Emery: "We are in our process & are improving. We're wanting to take one stability in offence & defence. Its a difficult moment for us because we have injuries but its an opportunity for other players & I want to look at other players playing in big games, like today & Liverpool"

— Gurjit (@GurjitAFC) December 26, 2018
"In the second half we couldn't do our ideas on the pitch for imposing ourselves and this imposing positioning can give us more options in attacking moments to score. We created less chances in the second half," Emery said.
---