WATCH: Ball gets lost after Jason Roy's pull lands at boundary cushions; Mitchell Santner and Tom Latham involve in search process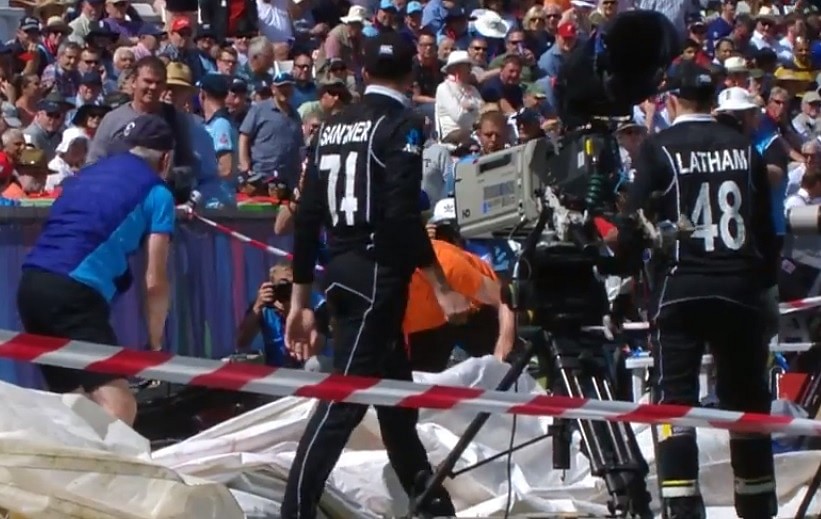 Ball gets lost after Jason Roy's attempted pull lands at boundary cushions with Mitchell Santner and Tom Latham searching for it
In a hilarious turn of events, during the 4oth match of the ongoing ICC Cricket World Cup 2019 between England and New Zealand at the Riverside Ground in Durham a 'lost ball' became the cause for the stoppage of play for a brief period. It is the same Riverside Ground where during the South Africa vs Sri Lanka encounter, the bees had interrupted the match for a while.
It all happened after the 4th delivery of the ninth over. New Zealand pacer Matt Henry bowled a well directed short delivery at the English opening batsman Jason Roy. Fortune was on Roy's side as the ball hit the top-edge of his bat in his bid to play the impulsive pull.
The ball went over the head of Kiwi wicket-keeper Tom Latham and landed behind the advertisement hoardings and got somewhere tucked inside the rain covers.
The Search Operation begins
The ball boy quickly began searching for the ball but to no avail. When the search took more than the anticipated time, the Kiwi all-rounder Mitchell Santner joined the ball hunt. But, again to no avail.
Perhaps empathising with the helplessness of Santner and the ball boy, wicket-keeper Tom Latham too jogged towards the boundary fence to assist them. But, moments after Latham reached there, the ball boy finally managed to find the white leather.
#ICCCricketWorldCup2019 lost ball…. pic.twitter.com/gaqItfdkDl

— Tallulah Rose (@SheisTallulah) July 3, 2019
What was more funny was the fact that a bunch of camerapersons had all gathered up to capture the rare moment instead of being a helping hand. In fact, the umpires were busy selecting the ball to be used in case the 'mission fails'!
WATCH: Ball gets lost after Jason Roy's shot for a boundary; Mitchell Santner and Tom Latham search for it
---