WATCH: Sheldon Cottrell replies with amazing gesture towards couple of young fans emulating his Cottrell salute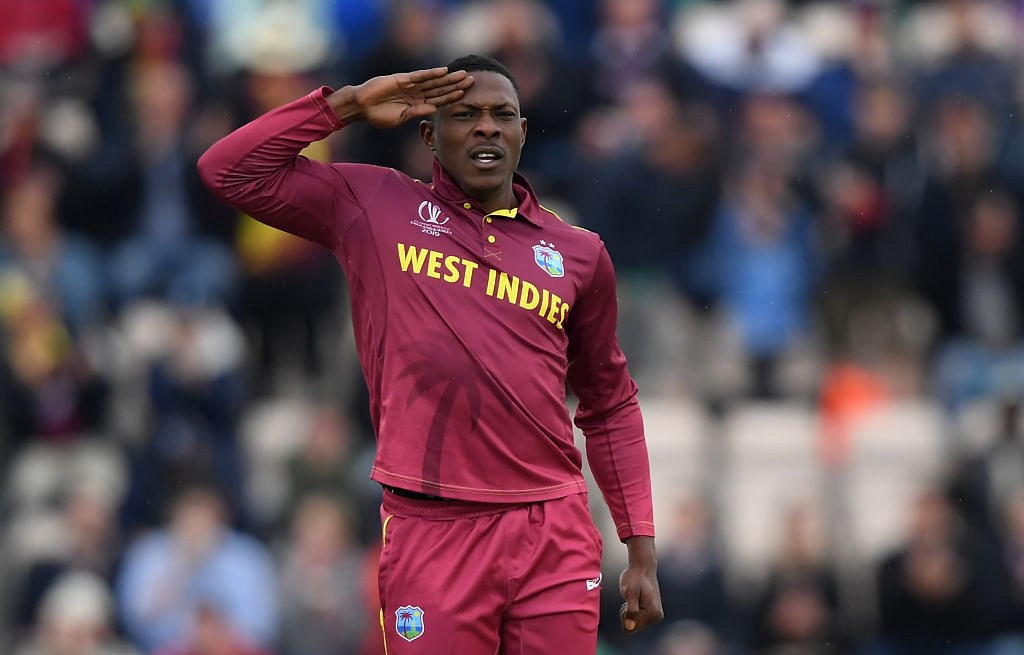 Sheldon Cottrell replies with an amazing gesture towards a couple of his young fans on Twitter trying to imitate his famous salute
The West Indian left-arm pacer Sheldon Cottrell has owned the spotlight not only for his good performances with the ball in hand, but also for his famous 'salute' which he comes up with upon taking a wicket.
The Cottrell salute, as everybody calls it has led the Cricketing fraternity to emulate the same, courtesy the enticing effect in has on people's mind. After picking up a wicket, he quickly runs a few steps backwards, with his back towards the batsman and gives an energetic salute. As the final celebratory step, he then cut his body loose, to swing both his arms in a backward motion, while looking up in the air.
On similar lines, the 29-year-old has had another addition to his fan following, with two young kids from England, emulating his salute celebration. While he has experienced a decent popularity from people of all ages so far, this one holds special significance because of the amazing gesture Cottrell came up with.
What was the amazing gesture?
A video clip of a young boy and a girl is doing rounds on social media, primarily because of the innocence and cuteness with which they are trying to emulate the Cottrell salute in the streets of some place in England.
The person who captured and posted the video on Twitter, did the same with the caption asking the left-arm pacer as to where he would find a West Indian jersey with his name printed on the back.
To the person's surprise, Cottrell did reply to the person's request, and offered his young fans meet him up at the Old Trafford Stadium, Manchester on Thursday, where his team would lock horns against India in their next World Cup fixture.
I'm looking into it for you. Thanks for your support. Would like to invite you to the game in Manchester if your not already attending? #salute (it's a week day tho)", replied Cottrell.
I'm looking into it for you. Thanks for your support. Would like to invite you to the game in Manchester if your not already attending? #salute (it's a week day tho) https://t.co/yL4ymRJcWm

— Sheldon Cotterell (@SaluteCotterell) June 24, 2019
WATCH: The Cottrell salute by his young fans on the streets of England
Thoughts @SaluteCotterell ? Two new fans after watching you at Old Trafford yesterday! #cwc19 pic.twitter.com/CEHlSyM9uG

— alec (@alecb97) June 23, 2019
---
Share this article