When Anfield brimmed with emotions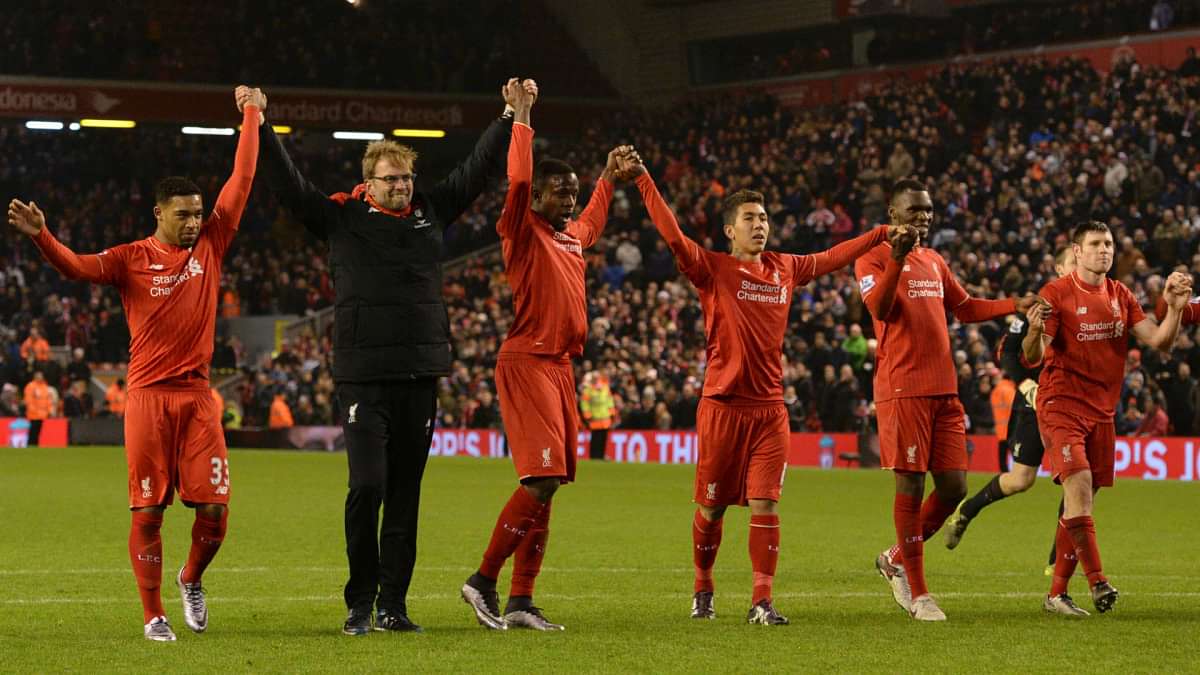 When Anfield celebrated as one!
Europe's elite look at the UEFA Europa league with a certain degree of apprehension. Being played on a Thursday and the length of the tournament are the two primary reasons for it. But when Liverpool and Borussia Dortmund were drawn against each other for the quarter final, all of that changed. These were the teams with the most passionate fan base across the Europe; it was all set to be an exciting tie.
The first leg played its part with Liverpool having a slight advantage with the away goal. Expectations were high from the second leg at Anfield, but nobody ever thought it would turn out to be one of those  "I was there" nights.
Dortmund's manager Thomas Tuchel had stated in the presser that Dortmund won't be shy in expressing themselves and thus they behaved. Four minutes on the clock, Dortmund were in the lead thanks to a swift counter attack finished neatly by Henrikh Mkhitaryan.  Liverpool's away goal advantage was gone. Four minutes hence, Marco Rues provided an inch perfect pass to Aubameyang who ruffled the net at the Kop end. Anfiled- stunned. Silence crept over the famous arena, Dortmund's fans dancing, Kopites petrified.
First half was more about Dortmund's slick football and Liverpool's missed chances. Liverpool created a lot but didn't score any. Jurgen Klopp had stated in the pre-match presser that not the away goal, but the crowd at Anfield is their strength. I guess he is the wisest of all. Liverpool went into the break, not having scored any goal and needing 3 to go through to the semis. At that point, few would have backed Liverpool to go through and even fewer would have imagined the script that was in store.
Half time talk by Jurgen Klopp was regarding the famous Istanbul comeback. Fans started singing " You'll never walk alone" and Anfield was brimming with hope. It was as if some spirit had descended in the stadium. It couldn't be described in the words. Liverpool came out and scored within the first 3 minutes.
Was it going to happen again? Was this going to be another great European nights at Anfield? Images from that famous night in Istanbul flashed across every fans eyes.
But Marco Rues had other plans. He curled it in the bottom right corner latching on to a pass by Hummels. It felt like a dagger went into the heart of Liverpool fans.
It was over, everything seemed to come crashing down. Liverpool again needed to score 3 more to reach the semis. We had scored 3 in Istanbul, but having to score 3 goals to win a leg, against a top European side that hadn't lost a single game in 2016, it wasn't going to happen, was it?
But, Liverpool had different plans. Dortmund had a superior team in terms of players and skills but Liverpool had more desire. They wanted it more. Allen and Sturridge came on as subs.  Coutinho scored in 66th minute.
Still two goals down, an uphill task to say the least. But Anfield believed. 10 minutes later, Sakho scored his first goal in two years. What a time to score. Last 10 minutes, 1 goal required. Doubters had turned into believers, dreamers.
Sport is a cruel thing. It can make you a villain and in a moment's brilliance, it can make you a hero. Dejan Lovren, who for last two seasons had become a target for Liverpool fans, rose up to the occasion. A sweet cross by Milner, at perfect height and pace on the far post met Lovern's head.
What unfolded after that is inexplicable in words. The whole stadium erupted. It was magical. Surreal if you may.
All the players got lost in the crowd, subs ran up the field to their team-mates, Emre Can who had injured his foot and was struggling to walk, ran up to his team. Such stories can be written only in sports.
It is difficult being a Liverpool fan. We have a tendency to do things the hard way and in the process give heart attacks to the fans, but we won't complain. It is the fans that make the club and who drive it forward, who provide it strength to nourish upon. Liverpool fans have been experiencing such magical European nights since decades; this was one of those regular nights on Merseyside.
---