Are the Bella Twins, Now Known as the Garcia Twins, Going to AEW?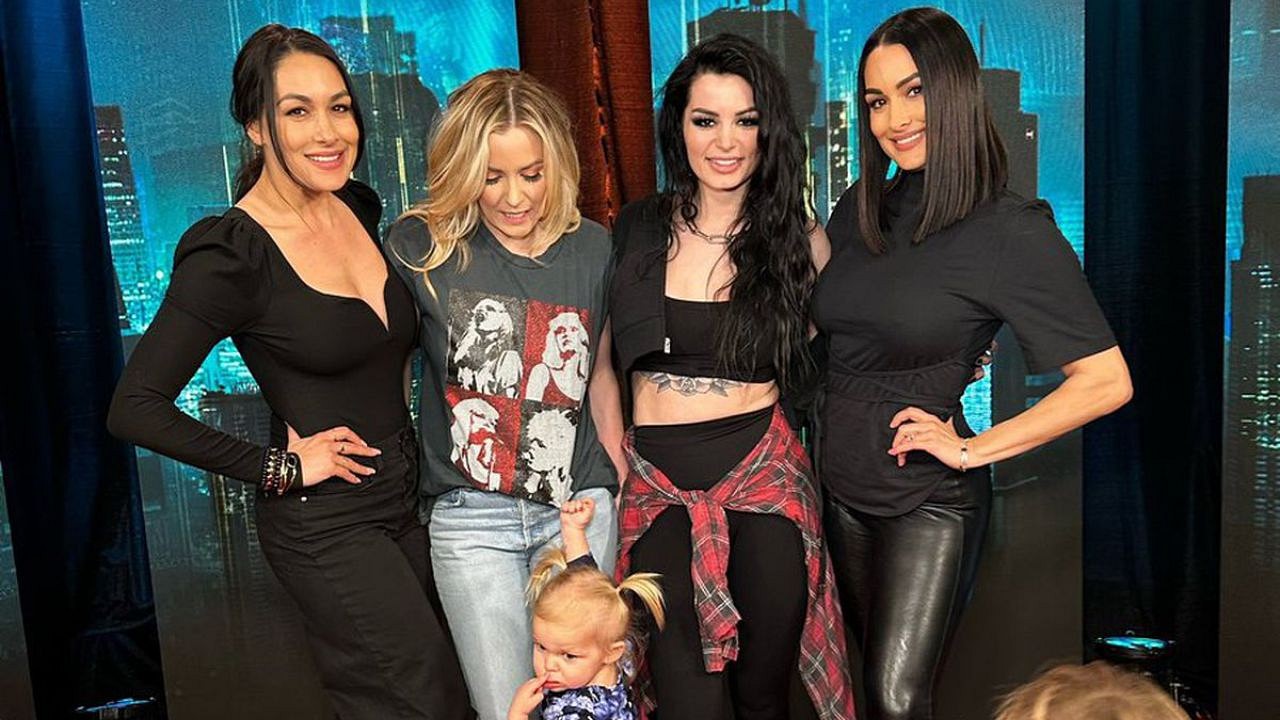 The Garcia Twins, formerly known as The Bella Twins, grabbed the headlines recently after they announced their departure from WWE. It appears as if Brie and Nikki have severed ties with WWE, as their social media has all the WWE references removed. WWE fans have been speculating if the WWE Hall of Famers would join AEW since the duo alluded to starting a "new chapter".
Turns out, the new chapter has nothing to do with AEW. The sisters were recently spotted backstage at AEW Revolution PPV. While fans assumed their appearance to be an indication of moving over to greener pastures, it isn't. Nikki Bella took to her Instagram to pour cold water on the speculation surrounding their potential AEW debut. 
The Garcia Twins are not going to AEW
Speaking on Instagram Live chat, Nikki Garcia addressed the rumors about their potential debut in AEW. Nikki stated that the sisters aren't going to AEW.
She also understood that the rumors stemmed from their appearance backstage at AEW Revolution. A picture of the former Divas Champions with Renee Paquette, Saraya, and Dustin Rhodes has been making rounds on the internet. 
Details on the Bellas Being Backstage at AEW Revolution #AEW #WWE #Revolution #Wrestling pic.twitter.com/3viJApGF3u

— The Superkick (@SuperKickShow) March 6, 2023
"We are not going to AEW. I know, I've seen a lot of that because, I think, we were just there visiting Renee and Paige."
"I haven't had the opportunity to take Matteo backstage to a wrestling event and Matteo loves his uncle Bryan, Brie and I were like, we have to go see Bryan. The kids had so much fun," added Nikki.
Nikki explained that she wanted to take her son, Matteo, to the wrestling event. She added that Matteo loved his uncle Bryan. Bryan Danielson was in the main event that night.
The American Dragon slugged it out with The AEW Champion MJF in a 60-minute Ironman match. His wife and her family were in the building to simply root for Danielson and catch up with old friends. 
Did Brie and Nikki burn the bridge with WWE? 
It's no secret that Brie and Nikki weren't happy with the WWE creative underrepresenting the women's division on the episode of Raw XXX. However, that does not indicate that they left WWE on bad terms.
Speaking on The Nikki and Brie Show that aired on SiriusXM, Nikki explained how tough it was for the twins to drop their WWE monikers. Since their intellectual properties were owned by WWE, the Twin magic was rechristened. 
Get ready to pop that bottle!! 🍾 The first episode of #TheNikkiAndBrieShow is out tomorrow! ❤️👯‍♀️

Subscribe here: https://t.co/mxAWMmPT1W pic.twitter.com/xupw4BoTbC

— Nikki & Brie (@NikkiAndBrie) March 15, 2023
"I have learned so much in and out of that ring, I have traveled all over the world, and I have an incredible fandom."
Hi I'm Nikki Garcia, Hi I'm Brie Garcia. And we're the Garcia Twins. 👯‍♀️ Welcome to our next chapter! 🦋✨🤍✨🦄🤩🥳🫶🏼🫶🏼🍷🥂🍾 pic.twitter.com/w6GQM0P7Zi

— Nikki & Brie (@NikkiAndBrie) March 14, 2023
Nikki added that she and Brie were "grateful" for their stint with the wrestling promotion as it helped them gain popularity over the years. She even gave credit to the promotion for helping the sisters achieve so much during their time and build an enormous fan base. 
Click here for more wrestling news.
---
Share this article