The Rock Hated John Cena in Real-Life For "Violating" His Trust On WWE TV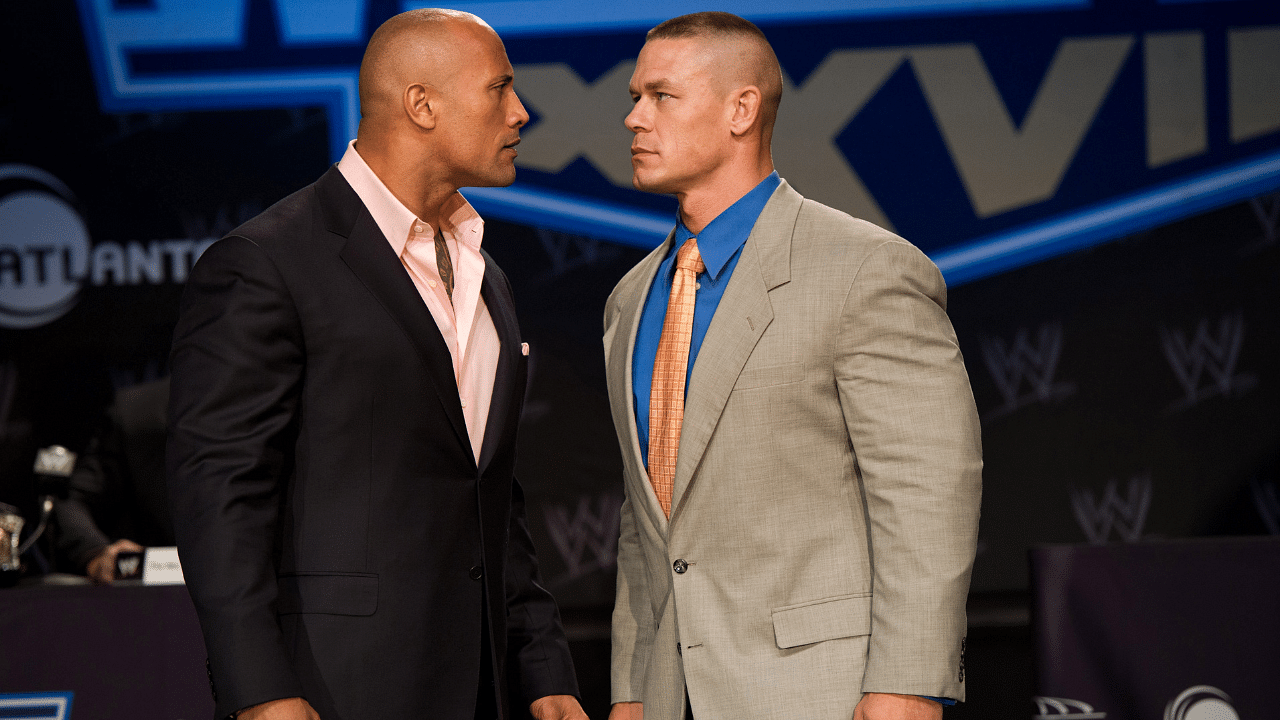 In 2012, wrestling fans saw the icon from the Attitude Era, The Rock, go to war with the poster boy of the PG Era, John Cena. The duo had back-to-back WrestleMania matches out of which, WrestleMania 28 was billed as a "Once in a lifetime" match. On February 27, 2012, a returning Dwayne "The Rock" Johnson was confronted by John Cena. The two legends went into a war of words during their segments on TV. 
However, things took a personal turn when John Cena joked about The Rock writing promo notes on his wrist. Everybody who knew what The Rock did was surprised, as writing promo notes is not allowed by the promotion. The incident turned their on-screen rivalry into a real-life rift. John Cena recalled the segment during an edition of A&E WWE Rivals. 
John Cena recalls calling out The Rock for writing his promo on his wrist
Speaking on an edition of A&E WWE Rivals, John Cena revealed that he was told by someone backstage,90 seconds before Cena made his way to the ring, that The Rock wrote notes from his promo on his wrist. Cena decided to use this as an advantage in their promo.
During one of their famous promos on March 5th, 2012, John Cena even took a dig at The Rock by writing The Rock's height and weight on his wrist. 
Loading embed tweet https://twitter.com/Muhamma25516708/status/1632100236326731776?ref_src=twsrc%5Etfw
"Rock doing his thing with me going out to interrupt him. And 90 seconds before my music hit, someone to not be named said, 'yo, do you see that?' I said, 'see what?' [the other person said] 'I think Rock has something written on his wrist. Everyone was like, 'yooo!' because that's just not allowed," Cena said.
Loading embed tweet https://twitter.com/WWEonAE/status/1632126168047443970?ref_src=twsrc%5Etfw
Cena's attack on The Rock in the promo led to infighting between the two wrestling legends. Cena's actions were also deemed a "violation" of his wrestling partner's trust by former WWE writer Brian Gewirtz. According to him, it is what caused a "disconnect" between the two athletes. 
Natalya confirms the real heat between The Rock and John Cena
Further in the episode, former Diva's Champion Natalya recalled being present backstage during the ongoing tension. According to her, the duo resented each other so much that they could not even share a room let alone see eye-to-eye. 
Loading embed tweet https://twitter.com/WWEBumpsNSells/status/1629878871301533697?ref_src=twsrc%5Etfw
"You come out of a promo segment and you think everybody is gonna be fine but they're like no, they can't even talk to each other. They can't be in the same room. And I was like, 'woo!" But it was making for great television," she said.
Nevertheless, The Rock and John Cena have enormous respect for each other at present. John Cena even attributes his transition from wrestling to Hollywood to The Rock.
Click here for more wrestling news.
---