The Undertaker Recalls Vince McMahon And John Cena Ganging Up On Him Before WrestleMania 34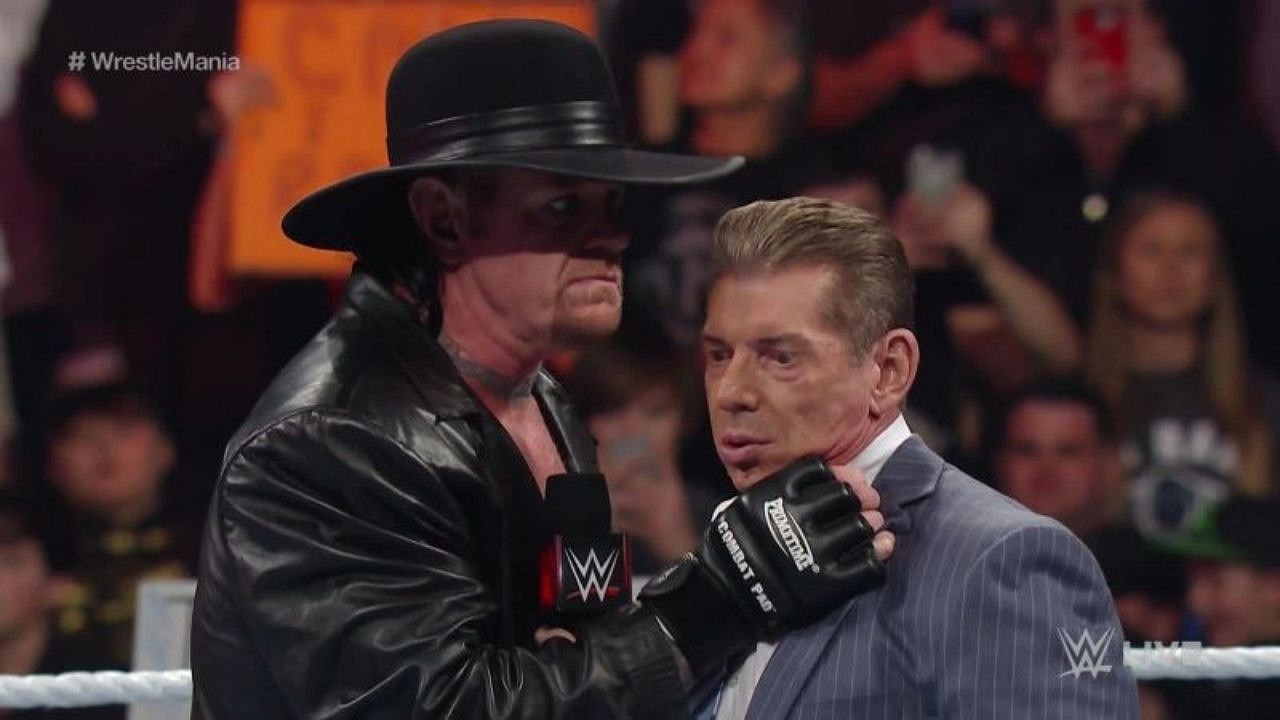 The Undertaker faced John Cena at WrestleMania 34 in what was supposed to be one of the biggest matches in WWE history. However, the dream match was nothing less than a bummer as Taker squashed Cena in minutes. Recently, The Phenom recalled the infamous encounter while speaking on Insight with Chris Van Vliet. The Hall of Famer claimed he nearly walked out of that match because of Vince McMahon and John Cena.
At WrestleMania 33, The Deadman suffered his second WrestleMania defeat at the hands of Roman Reigns. Though, more than the loss, The Undertaker was unhappy with his performance in the match. He was looking for redemption which he thought he would get against Cena. Little did he know what his boss had planned for him that day.
The Undertaker almost walked out of WrestleMania 34 after knowing the match will be short
Speaking on the show, The Undertaker recalled Vince McMahon pitching him a match against John Cena at WrestleMania 34. Looking for redemption, he trained like an animal for weeks, expecting a 45-minute war. From diet to rehab, The Deadman claimed he was "so unbearable at home".
However, the real shocker came when he was informed that the match wouldn't last more than 5 minutes. The Undertaker remembered immediately rejecting Vince McMahon's idea for him to go and squash John Cena at WrestleMania 34.
The Phenom told his boss that he either wants a 30-minute match or he would walk out. But the decision had already been made. As a matter of fact, even the Cenation Leader wanted to get squashed. The reason behind the booking decision was that John Cena had done a lot of trash talk about him.
The Undertaker tried to convince them by saying it was their first ever one-on-one at a pay-per-view. In the end, he gave up as Vince McMahon and John Cena ganged up on him on that decision.
Everyone believed that The Undertaker versus John Cena at WrestleMania 34 was short because of the former's hip issues. Well, if it was for him, fans would have seen a 45-minute war. However, it was Vince McMahon and John Cena's idea to book a squash match.
The Deadman eventually found his redemption in a Boneyard match against AJ Styles in 2020
The Undertaker's match against Roman Reigns at WrestleMania 33 was supposed to be the last match of his career. But because of how the match went, he didn't retire. Taker wanted to end his wrestling career on a satisfactory note.
Finally, on Night 1 of WrestleMania 36, The Phenom wrestled his last match in the WWE ring. The Undertaker found his redemption by defeating AJ Styles in a Boneyard Match. He retired after that and was inducted into the Hall of Fame by Vince McMahon in 2022.
For More Wrestling News, Click Here.
---
Share this article