The Undertaker Felt Humbled After LeBron James Paid a Unique Homage to Him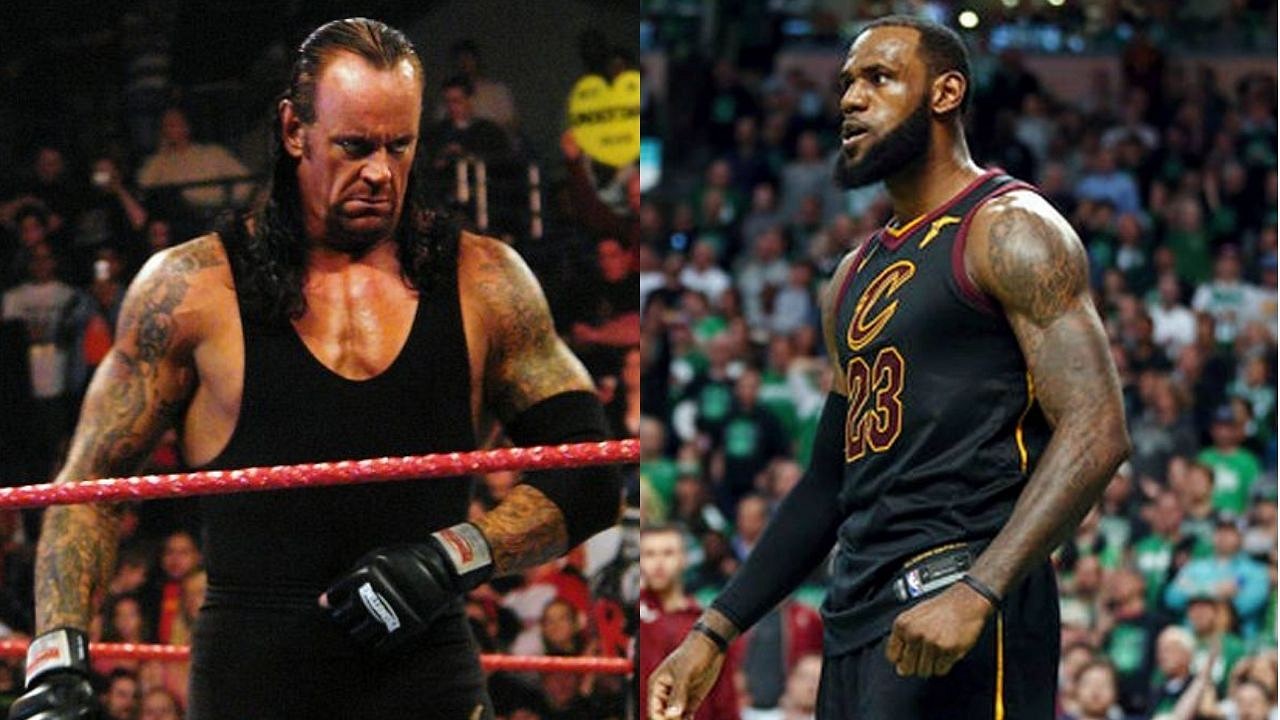 The Undertaker is probably one of the most respected WWE wrestlers of all time. In fact, he is also someone who has received a lot of appreciation from celebrities outside pro wrestling. Over the years, fans have seen UFC fighters, NBA icons, and many more paying homages to the WWE legend. In 2017, Los Angeles Lakers star LeBron James honored The Undertaker with a special edition of Nike shoes. The black sneakers called LeBron 14 GS 'The Undertaker' had purple coloring and lightning straps and were exclusively for big kids.
Last month, The Phenom appeared on Complex's Sneaker Shopping, where he showcased his love for sneakers. The Hall of Famer shared many anecdotes, including playing college basketball in leather Dr. J's. The Deadman also expressed his thoughts on LeBron 14 GS 'The Undertaker' sneakers.
"It's a cool feeling" – The Undertaker on how he felt after seeing LeBron James' tribute
On the show, The Undertaker expressed his happiness seeing the NBA icon LeBron James in the sneaker world. And a man like him paying homage was a humbling feeling for the WWE Legend. He adored the idea of kids wearing their "little LeBron Undertakers".
As to the LeBron 14 GS 'The Undertaker', the WWE Hall of Famer seemed pleased with the product. He noted the sneakers turned out nice.
"Anytime you see some kind of homage paid to yourself, it's kind of humbling to know that kids are out there wearing their little LeBron Undertakers. It's a cool feeling. Those shoes turned out nice.." Undertaker said.
Well, it seems The Undertaker was pleased with Lebron James' tribute. Both men are legends of their game and seeing them, appreciating each other, is a great sight.
On the show, he also talked about Puma releasing a limited edition of shoes inspired by him. In 2017, the footwear brand made and sold 23 pairs of Undertaker sneakers at a price of $499.
According to The Undertaker, the limited edition by Puma was classic and cool. However, despite being the inspiration, the WWE legend didn't get a single pair.
The Hall of Famer made a rare appearance on WWE television last month
The Undertaker delivered an outstanding last match against AJ Styles before hanging up his boots in 2020. Right Now, The Phenom is enjoying a well-earned retirement life. However, fans got to see his "American Badass" version on last month's RAW is XXX episode.
The episode saw The Deadman appearing in his old gimmick after almost two decades. The Hall of Famer was featured in an important segment with LA Knight and Bray Wyatt.
For More Wrestling News, Click Here.
---
Share this article