Triple H Reportedly "Very Happy" With Patrick Mahomes for Flaunting WWE Title Everywhere After Super Bowl Win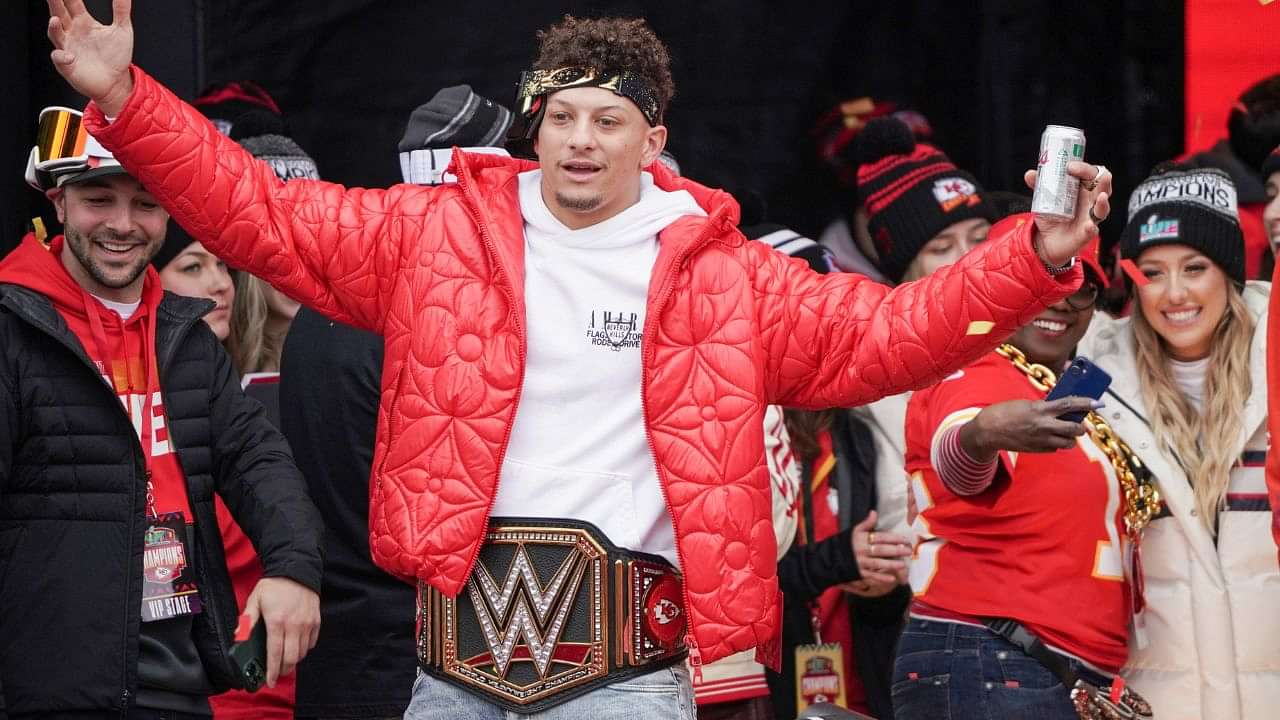 Triple H has a reputation for gifting custom WWE belts to the teams and stars of other sports. From Cricket to NBA to Super Bowl, the Head of WWE Creative has sent many such presents in the past. Earlier this month, the Kansas City Chiefs received a custom WWE belt after they became the 2023 Super Bowl champions. Well, Triple H is delighted with the publicity WWE received from Patrick Mahomes, who actually wore the gift everywhere.
On February 13, the Kansas City Chiefs thrashed the Philadelphia Eagles (38-35) to win their third Super Bowl LVII title. The celebration got even bigger when the 2023 MVP Patrick Mahomes received a gift from WWE.
Triple H, the Head of WWE Creative, had sent the 2023 Super Bowl LVII winners a custom WWE championship. After that, Mahomes was spotted wearing the gift at several public appearances.
Triple H is very happy with Patrick Mahomes for publicizing the WWE title everywhere
Fightful Select's Sean Ross Sapp has reported that Triple H is very pleased with the exposure Super Bowl gave to his recent gift. According to the sources he spoke to, WWE liked Patrick Mahomes for sporting the gifted championship everywhere. He said:
"WWE sources we spoke to were very happy with the publicity they received from the Super Bowl, specifically Patrick Mahomes wearing the belt everywhere."
Patrick Mahomes, a super-hot name in the NFL, wearing the WWE title everywhere during and after the Super Bowl, is a big deal. It would have given the pro wrestling company a lot more mainstream exposure. Who knows, the Kansas City Chiefs quarterback might receive many such gifts from WWE in the future.
Loading embed tweet https://twitter.com/WWEonFOX/status/1625012522398134273?ref_src=twsrc%5Etfw
The Grim Reaper celebrated his 2nd Super Bowl win wearing the gift he received from Triple H
While the Kansas City Chiefs quarterback was leading his team to a victory, a WWE title was waiting for him in the locker room. After winning his second Super Bowl and becoming this year's MVP, Patrick Mahomes wasted no time and strapped the WWE title on.
Chief's star quarterback was seen wearing the title while celebrating his victory. In fact, he rocked that championship belt proudly on many occasions after that as well.
Loading embed tweet https://twitter.com/btsportwwe/status/1625978933794537472?ref_src=twsrc%5Etfw
Nevertheless, Mahomes is a big name in the NFL and WWE is well-known for featuring celebs on their shows. In the past, several major stars from other sports have appeared on WWE TV. If Triple H wants and Patrick is also willing, a future WWE appearance is not out of question.
For More Wrestling News, Click Here.
---