Patrick Mahomes Vs Jalen Hurts: Career Stats Comparison Ahead of Super Bowl LVII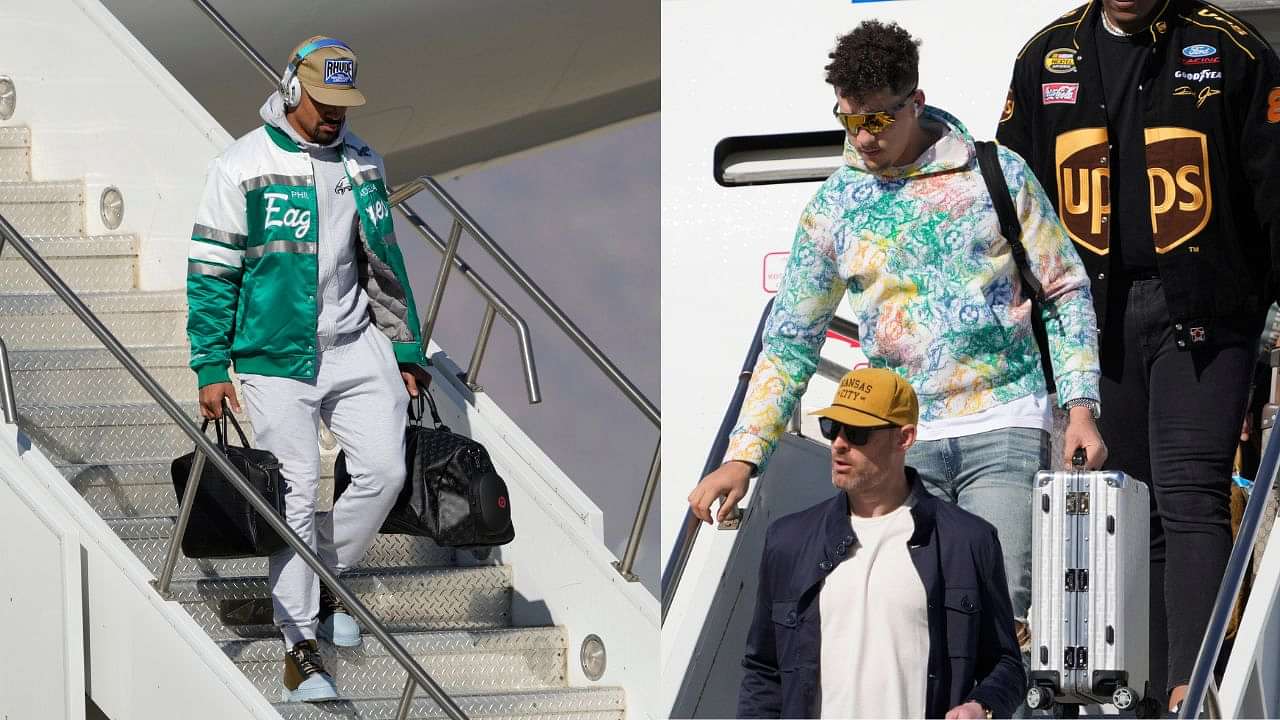 As all eyes freeze on the Super Bowl, Patrick Mahomes and Jalen Hurts will be the main men in action. The two quarterbacks are headed to Arizona and will have a whole bag of skills up their sleeves. The University of Phoenix Stadium will have the fortune to host a matchup that will probably go down as one of the biggest QB rivalries for years to come. With Jalen Hurts announcing his arrival to the league in style, he has joined the likes of Patrick Mahomes and the other great young quarterbacks of the league.
As the two quarterbacks prepare for this year's grand finale, Mahomes' experience will back him. The Chiefs' QB will be playing his third Super Bowl while Hurts has had just 3 playoff games to his name yet. Though these stats put Mahomes as a favorite, the skill and athleticism of Hurts will be at an all-time high, wanting to prove his presence in the league. 
Patrick Mahomes has had a few more years in the league than Jalen Hurts. The Chiefs drafted him in 2017 while the Eagles drafted Hurts in 2020. This also reflects in the age difference between the two. However, at 24 Mahomes never made it to the Super Bowl. His first Super Bowl was played when he was 6 months beyond his 25th birthday. Jalen Hurts will be 24 and some months old when he steps on the field in Arizona.
Also Read: Patrick Mahomes Recalls How He Was Reassured by Tom Brady About His Work Ethic
Patrick Mahomes Vs Jalen Hurts over the career
Having played fewer games than Mahomes, Hurts has a career record of 27-18-1. This puts him at a winning percentage of 58.9% Mahomes on the other end has an outstanding record of 64-16. This gives him a winning percentage of a whopping 80%. 14 of Hurts' 27 wins came just in the 2022 season as the Eagles are 14-3 for the year. With the exact same record, even Mahomes had 14 wins this season, having lost only 3 games.
2022 season in numbers
Patrick Mahomes, however, has had an unreal season in terms of numbers. Having thrown for over 5000 yards, the Chiefs QB has made 41 touchdowns and has been picked 12 times. Jalen Hurts, on the other hand, has thrown for 3700 yards, making 22 touchdown passes. He was intercepted just 6 times during the season.
With numbers like these, both quarterbacks have justified their presence at this year's Super Bowl. Patrick Mahomes and Jalen Hurts will continue their supremacy on Sunday and the Super Bowl will just be a trailer for what the NFL is going to witness for years to follow.
Also Read: Jalen Hurts Stylishly Smoking a Cigar After Decimating the 49ers is Everything the Philly Fans Ever Asked For
---