Watch: Bad Bunny Referees An Impromptu Match Between Rey Mysterio And James Corden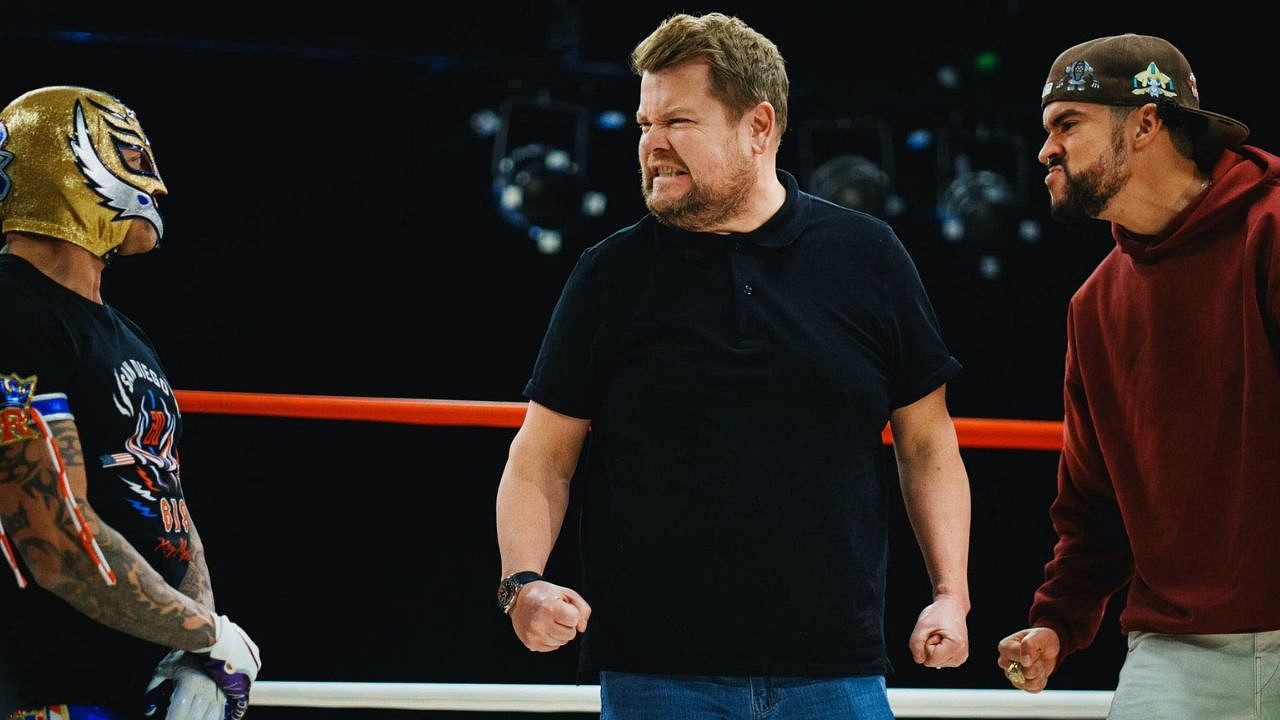 Benito Antonio Martinez Ocasio, famously known as Bad Bunny, is one of the most prominent WWE celebrities. Aside from being a Puerto Rican rapper, Bad Bunny is an occasional wrestler. He wrestled his first match in WWE at WrestleMania 37. Bunny teamed up with Damien Priest and locked horns with The Dirt Sheet. Since then, the Puerto Rican rapper fell in love with pro wrestling.
The 29-year-old celebrity officiated a match between Rey Mysterio and James Corden. WWE recently announced Rey Mysterio as this year's first inductee into the Hall of Fame class of 2023.
The former World Heavyweight Champion is also rumored to face his son Dominik Mysterio at the Grandest Stage. Ahead of WrestleMania, Mysterio gave James Corden a taste of wrestling. 
Rey Mysterio wrestles James Corden with Bad Bunny as the special ref
The latest episode of James Corden's Carpool Karaoke featured Bad Bunny as the guest. The duo belted out songs in the car on their way to a wrestling ring.
Bad Bunny did not shy away from showing Corden some wrestling moves, putting him in a chin lock. But Bad Bunny wanted Corden to experience wrestling the right way. And so, he introduced him to the soon-to-be Hall of Fame, Rey Mysterio. 
Andy Vermaut shares:Bad Bunny Puts James Corden in a Chinlock on The Late Late Show: Watch: The global superstar also brought in Rey Mysterio for an impromptu match with the late night host.

Bad Bunny Puts James Corden in a Chinlock on The… https://t.co/L5XUmWm4fv Thank you. pic.twitter.com/EEG0tKRlJU

— Andy Vermaut (@AndyVermaut) March 15, 2023
At the start of the impromptu match, Bad Bunny and Mysterio were already in the ring. Corden made his entrance to Cher's Believe song, donning a mask and a cape, Luchador style!
The show host hilariously did a death roll into the ring and took his cape and mask off. At the bell, Rey offered Corden a handshake but Corden fell for the oldest trick in the book. Rey delivered a cheap shot and did a sunset flip, picking up the win. 
.@sanbenito judges a wrestling match between @reymysterio and James 🤼 #BadBunnyCarpool pic.twitter.com/cOZYMPYQke

— The Late Late Show with James Corden (@latelateshow) March 15, 2023
The special referee, Bad Bunny seemed quick on his feet calling the match in seconds. 
Bad Bunny will host WWE Backlash PLE in May
After WrestleMania is done and dusted, WWE Backlash will emanate from Puerto Rico on May 6th. Puerto Rico is also the home of the two-time Grammy winner, Bad Bunny. WWE unveiled Bad Bunny as the host of Backlash. Interestingly, this would mark the first time that a WWE event would be held in Puerto Rico since 2005.
WWE announces Bad Bunny will host Backlash premium live event in Puerto Rico on May 6 🔥 pic.twitter.com/KnboyCOnIB

— B/R Wrestling (@BRWrestling) March 8, 2023
Bad Bunny's last appearance on WWE TV was during the Royal Rumble 2022. It remains to be seen if the rapper participates in an impromptu match at Backlash.
Click here for more wrestling news.
---
Share this article