5 Reasons why Brock Lesnar is better than Goldberg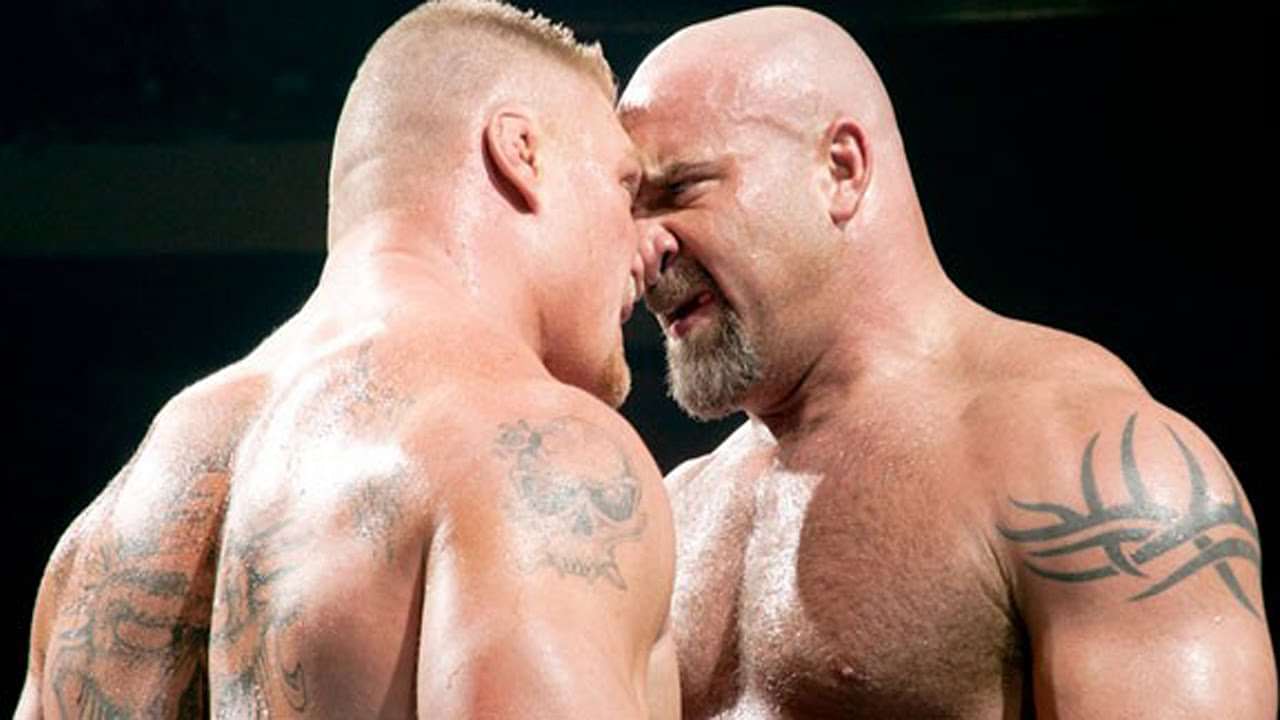 Monday Night Raw recently saw the explosive return of 'the Myth' Goldberg after a hiatus of 12 years. He will now do battle against his last competitor before he left the WWE, Brock Lesnar. The Beast Incarnate is on a roll and would like to avenge the loss at WM XX. The Sportsrush elucidates 5 reasons why Lesnar is better than Goldberg.
1. Longevity
Brock Lesnar started his career very early in 2002 at the age of 25. He sent ripples across WWE with his aggression and sheer brute force. Consequently, this helped him earn the title of 'The Next Big Thing'. A decade and a half later, from the next big thing to the beast incarnate, Lesnar hasn't lost his sheen.
Lesnar still has atleast a decade of wrestling left him, if not more. His workout and strict regimen is awe-inspiring and he displays this aplenty in the ring. Who can forget the 16 German Supplexes to John Cena in the WWE title match at SummerSlam 2014.

2. All-round fighting skills
Lesnar's accolades are not limited to the WWE ring only. A NCAA Divison 1 Heavyweight Wrestling Champion, IWGP Heavyweight Champion and the UFC Undisputed Heavyweight Champion. That is a resume any fighter would be proud of!
Brock Lesnar quit WWE in the 2002 to diversify his skills. He travelled to New Japan Pro-Wrestling and the octagon in UFC. Also, he conquered all of them and win the biggest prize. No wonder he carries the catchphrase "Eat,Sleep,Conquer,Repeat!"
Also Read : McGregor KO's Alvarez; claims second title

3. An overall package
Goldberg was indomitable and boasts of one of the best streaks in wrestling folklore. However, one hardly knows about it like Undertaker's Wrestlemania streak. This is mostly because of the image he possesses. Yet another reason why Lesnar is better than Goldberg!
In WWE, one needs to build a great gimmick. Lesnar alongwith Heyman give fans the best worth of their money. He is branded as this runaway beast who rampages everything in his past. Even though Goldberg carries a similar persona, Brock Lesnar surely is more relevant in this aspect.

4. Promo delivery
Continuing forward the previous point, Lesnar's mouthpiece/advocate Paul Heyman seals the deal. Lesnar, without speaking a word delivers shivers down one's spine through Heyman. This is something which certainly adds to Brock Lesnar's aura.
Along similar lines, Goldberg was not too well known for his promo delivery and mic skills. Being a babyface (hero) in most of his career, he had to sell through his power and dominance. However, the Beast Incarnate has the additional advantage of the genius called Paul Heyman

5. Impact on WWE's TV programming
Brock Lesnar came back to a thunderous pop to F5 John Cena on the day following Wrestlemania 28. It was clear that he had returned to target the top guy and reclaim his throne as the legitimate badass. He would later go on to become WWE Champion and also infamously break the Undertaker's undefeated streak.
On the other hand, Goldberg's return is obviously short-lived and is a stopgap arrangement to generate ratings. Owing to his age of 49 and ring rust, this will perhaps be the only bout that he will be a part of. Hence, this does not relate to any long-term foresight for the WWE. This is another reason why Lesnar is better than Goldberg.
---