Andre Gomes set to move from Barcelona after El Clasico snub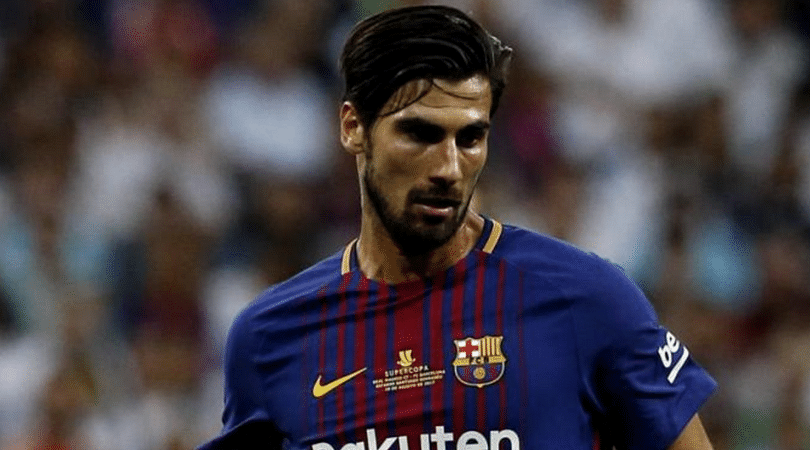 Barcelona star André Gomes is all set to leave Spain this summer after being excluded from the squad for the Clasico.
Barcelona managed to register a draw at the Camp Nou last night despite being down to 10 men against a spirited Madrid side.
Overcrowded Barca midfield
Ever since club management approved the signing of Andre Gomes and Denis Suarez, the midfield has been overcrowded. Before it was just Rafinha Alcantara, Arda Turan and Sergio Roberto who were backing up the starting midfield trio of Ivan Rakitic, Sergio Busquets, and Andres Iniesta.
Denis Suarez has performed well whenever he was given a chance to by the manager, but that was not the case with Andre Gomes. Gomes, 24, has failed to sparkle for Barca and has been linked with a move away for the most part of the year.
Gomes has struggled for game time and is short on confidence and hence wants to move on. It also looks like it is the right time for the Catalans to cash in on him in order to regain some of their expenditure on him. The inflated prices in the transfer market will also help Barcelona in this regard especially because many clubs are before him.
According to some reports, Premier League Giants Liverpool are all set to rival Tottenham Hotspur for Barcelona fringe star Andre Gomes's signature this summer. Portuguese starlet is a major transfer target for both the clubs. The Portuguese have a very little or no impact at the Camp Nou since joining them from Valencia in 2016 and has also found that he is not in the plans of the current manager Ernesto Valverde.
Few weeks ago in an interview with local daily Gomes dismissed the transfer talk and insisted he was happy at the Nou Camp.
"Right now I do not think about that. I am enjoying myself and living the dream that all children want to live." he said.
The player also opened up on the pressure that comes in your way when you struggle at Barcelona.
"The first six months were pretty good but then things changed. Maybe it's not the correct word but it turned into a bit of a hell, because I started to feel more pressure. With pressure I feel fine, but with pressure on myself, I don't. The feeling that I have during games is bad." he added.
Gomes did seem like the player who could provide that oomph to the Barcelona midfield, but since arriving at the Nou Camp he has somehow lost his mojo and hence hasn't been used a lot by Barcelona.
Hopefully he becomes the player that he's supposed to be. But elsewhere, maybe.
---
Share this article