Angelique Kerber : "It's just the best feeling ever"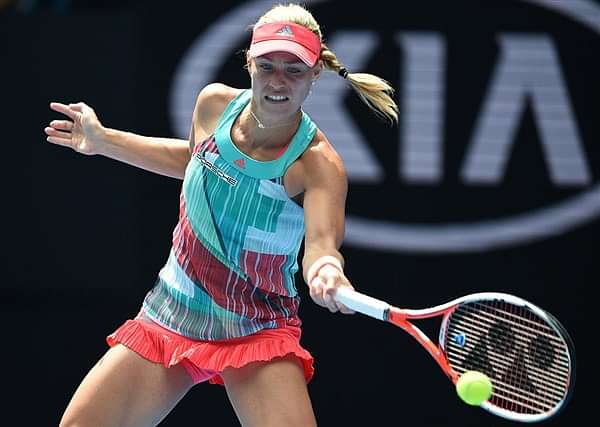 Angelique Kerber had a rather unexpected run to the Flushing Windows semifinals in 2011 as the world number 92. This year however, she was no outsider. As she stepped onto the Arthur Ashe arena today, she had already achieved the numero uno position in women's tennis by surpassing Serena Williams in the WTA Rankings.
One more goal lay in sight for the German. And did she accept it with glee! There was double delight in store as Kerber overcame the giant-killer Karolina Pliskova in a pulsating encounter under hot and muggy conditions. She won 6-3,4-6,6-4 in a match spanning 2 hours and 7 minutes."To being here with my second trophy, It's just the best feeling ever" she said.
Kerber's improvement over the past 5 years has been nothing short of exceptional. "I was really trying to improving a lot of things. First of all, of course, my fitness and then to being more aggressive and go for it when I have the chance." In regards to today's performance she also added that she resolved to remain calm in the third set as this had also given her the title in the Australian open. "Okay, stay positive. Believe still in your game".
Even though Karolina beat her in the last encounter in the Cincinnati final last month, Kerber kept her calm and swept away the last eight points of the match to lift the trophy. "Actually, I don't know if it's unreal. I'm really trying to take every single moment with me"
A Steffi Graf fan, Kerber was delighted when she wished her luck before the finals. This definitely came in handy when she fought it out during the difficult stages of the match against a fiesty opponent. "Of course I know that Karolina is a tough opponent. She beat Serena two days ago," she remarked praising her power and ace-hitting ability. Kerber, herself took on calculated risks and went for many down the line winners. This definitely paid dividends.
"I think I did a great job. It was my first final. Still was close to winning" Pliskova said reflecting on her performance in the tournament in which she shocked the tennis fraternity by defeating Serena Williams. She also added while congratulating Angelique Kerber on her phenomenal achievement "Great to see some other girls winning the title, not only the same person."
It was definitely a match worth the finals of the US Open. We at the Sportsrush congratulate Angelique Kerber on her amazing achievement!
---