Camel Mob in Minecraft 1.20: Everything You Need to Know about the Mob!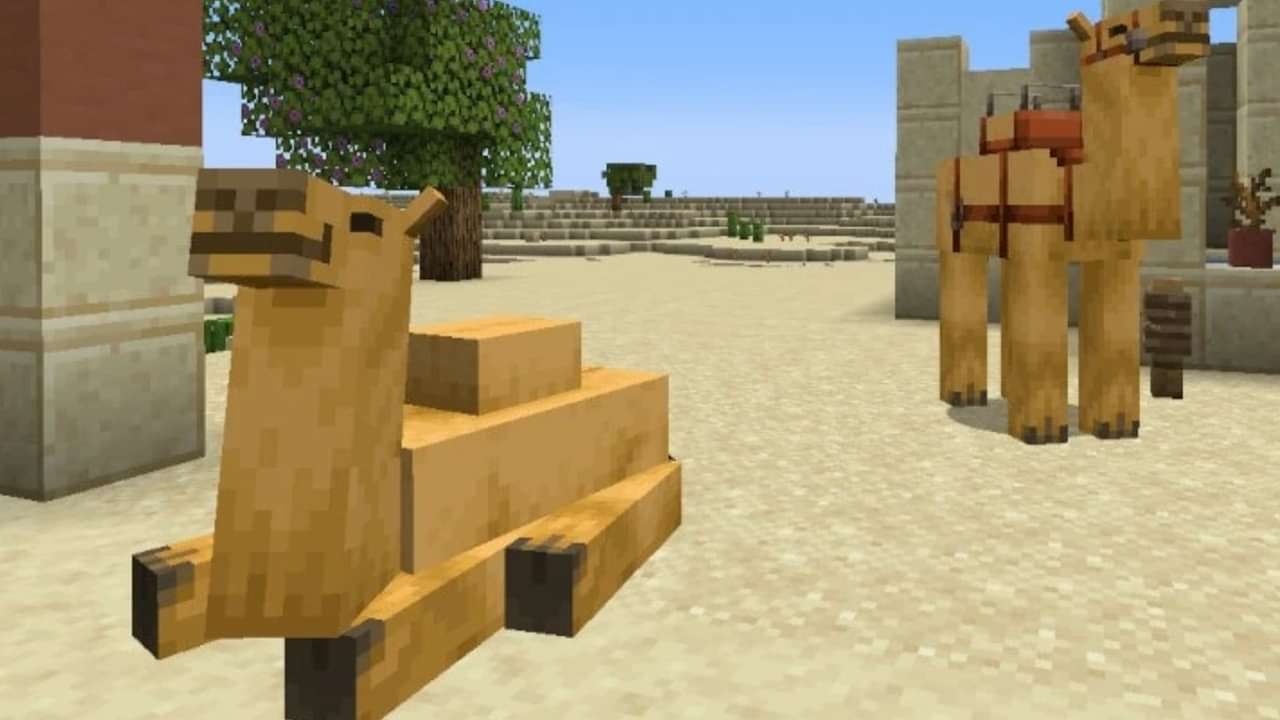 Camel mobs are the newest mob addition in Minecraft. Minecraft Live has concluded and they will be added in the next big update which is 1.20. They will be available in the Desert Biomes and are going to be rideable. 2 players can sit and ride the camel. In addition, you can breed them using cactii. There are many things these creatures can do. Thus, we have compiled a list of things your pet camels can do in the game post-update. Note: The 1.20 update will release sometime in Spring.
Also Read:  The Finals Beta Key: How Can you Play the Newest FPS Sensation?
Here are Some Things About the Camel Mob in Minecraft Update 1.20
Camels are going to be a really useful mob for people looking to travel stylishly in the game. That being said, let us cover the features that are the most important in terms of travel.
1. These Camels Can Eat Cactii to Breed
Since these animals come from the desert, it is a given that they would only when consuming foods that come out of the desert. The desert biome gives rise to Archeology as well. You can use this cactus to make green dye as well. Just like other animals, you will need to keep the camels next to each other and feed them cacti to make them breed. This will spawn a baby camel.
2. The Abilities
These camels are MADE to travel. That is why utilizing their movement to travel faster is going to ensure an ecstatic travel experience. These camels can easily replace horses since they can sprint for a limited amount of time. This ability is useful for evading enemies.
In addition, the dash ability is like a long jump, it can quickly move you from one location to another. In flat terrains and surfaces, their speed increases over time. On climbable terrains, their speed decreases. They can also heal them over time. 
3. Two Players can Ride Them
If you are looking to buckle up and ride with a friend, then camels are the best option for you! They can be ideal for people who are duoing in the game. One can ride the camel and navigate it through the desert while the other person attacks the mobs. Of course, you will need a saddle to ride the camel. Details about this will be confirmed at a later date by Mojang.
The Camel Comes to Minecraft in Update 1.20
That is all you need to know about the camel mob for now. There are going to be many changes to the mob before it is out for the public to see in the next update. Until then we can only speculate. For more Minecraft related content, stay tuned at The SportsRush!
Also Read: Genshin Impact Momoka latest leaks: Name, passive, release date, ability and weapons
---