Chelsea's Transfer Window Targets For This Summer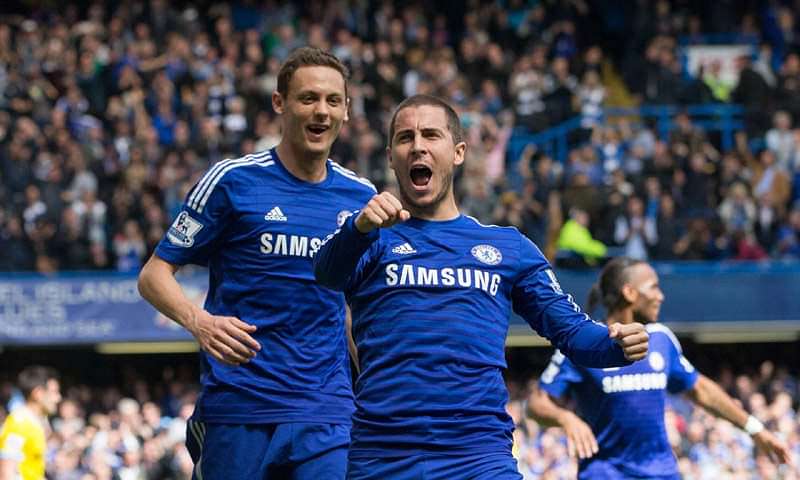 At the start of the 2015-16 season, not many expected Chelsea to be fighting for the Premier League Title. Not even the most optimistic fans expected Chelsea to cruise to the Premier League title with a record 13 game winning streak and a record number of games being won in a 38 game season. Chelsea (and Conte) have surpassed the wildest expectations of the Chelsea fans but must be even more wary given the current history of the club.
The previous 2 title winning seasons have seen Chelsea fall mightily from the grace. After winning the League in 2009-10 and 2014-15, the Chelsea squads have managed to accumulate a total of just 71 points and 50 points respectively in the immediate seasons. The 2010-11 and 2015-16 seasons saw the manager that started the season not surviving till the end of the season, as well as the club going trophy-less in both these seasons. While there were several other factors contributing towards the under-performance, the respective summer transfer windows should be taken as a major factor.
In 2010-11, Chelsea saw a string of aged warriors depart as their contracts expired (Joe cole, Michael Ballack, Juliano Belleti, Deco and Ricardo Carvalho). It was understandable that the board wanted to let go off these veterans and get some young blood in, but the latter never materialised. The only first team acquisitions were Ramires (who initially found the physicality of the league quite hard) and Yossi Benayoun (who was nothing more than a squad player).  The winter transfer window saw 2 of the most controversials major signings in the history of the club with Torres and David Luiz coming in. Nonetheless, even those 75million pounds panic splurge was too little and too late to save a floundering season.
2015-16, started on a bright note with the Chelsea board looking to get targets like Paul Pogba, John Stones to build on a good squad. Unfortunately, the club spent all summer chasing ghosts and ended up recruiting a very average Papy Djilobodji and Baba Rahman in terms of reinforcements. The season never recovered from that.
The 2017 summer transfer window is quite important for Chelsea football club for several reasons, first and foremost of them being Conte. Conte has infamously walked away from 2 jobs already due to lack of acquisition of appropriate transfer targets. The 2nd of the reasons being that despite winning the league, the Chelsea squad needs some major work to be done on it. Lastly, with the departure of John Terry and Asmir Begovic, the squad is down to only Cahill, Cesc Fabregas and Moses as Home grown players who are guaranteed to be first-teamers/part of the first-team squad.
Some of the areas where replacements/reinforcements are needed are:
Back up GoalKeeper
With the 10million pound departure of Asmir Begovic, a back up goal keeper would be a top priority. Few of the possible names are:
Jamal Blackman : Eduardo has already signed a new one-year contract and unless Conte is willing to take a massive risk by having the 23 year old loan-king Jamal Blackman as the back up to Thibaut Courtois, then there seems to be no way for the Chelsea youth team player into the first team squad. It would not be a surprise if the youngster seeks a permanent move from the club rather than another year out on the loan circuit.
Willy Caballero : This almost seems like a done deal. Caballero will be seeing out his contract at Manchester City and will be replaced by the 35million pound Ederson. The 35 year old will most likely join Chelsea on a free. The signing is a decent one with Caballero not being a great keeper but definitely proving himself as a decent back up to Joe Hart or a more than capable replacement to the hapless Claudio Bravo.
Right Wing Back
Victor Moses was a massive surprise package. The Nigerian started the season brilliantly but tapered off towards the end of the season and ended the season on a hopeless note with getting sent off in the FA cup final. Chelsea would be needing a 2nd Right wing back either an upgrade or a competition for Moses.
Ola Aina : The local in house option. Aina has shown glimpses that he has the talent to be a future first teamer. But the 20 year old youngster needs some experience and game time. Ideally, a Championship or a Chelsea B (read Vitesse) loan would do the youngster much better than sitting on the bench for most of the season.
Alex Oxlade Chamberlain: The good but the improbable option. The OX has one year left on his contract and is rumoured to want to leave. With Clubs like Liverpool and City interested in him too, Chelsea will find it difficult to get the 23 year old youngster off Arsenal. While he would not be an upgrade on Victor Moses, he certainly would be a more than appropriate replacement.
Andrea Conti: No. Conti is not a typo. Kante-Conte-Conti would be fun as it would drive most commentators crazy. Other than that too, he would suit Chelsea. Conti already plays the RWB role at Atlanta scoring an insane 8 goals and getting 5 assists. The player was one of the best defenders in Serie A. Though Chelsea would have to fight off AC Milan for the 23 year old. One of the most important aspects would be his height. At 6'2, he would provide cover to Cesar Azpilicueta as a lot of teams tried to exploit Chelsea's lack of height on the right hand side.
Left Wing Back
Just like on the right, Chelsea need a back-up/upgrade on the left. The wing back positions are the most important positions in the 3-4-3. It was not a co-incidence that Moses missing the Palace game and Alonso missing the United game saw Chelsea lose both games.
Baba Rahman: Its hard to not have a loan player or maybe 2 for each position when you loan out about 30 odd players a season. Baba Rahman was found out in the Premier League in the 2015-16 season. In an interview at the start of the last season, he admitted that Conte wanted him to work on his defence to gain entry to the first team squad. The loanee seemed to be doing a decent job of that at Schalke (playing as a LWB) before a massive injury ruling him out for the latter half of the season. Anterior Cruciate Ligament injuries are never easy to come back from (see Zouma), but I hope the youngster gets a decent opportunity to prove himself in the pre-season.
Alex Sandro: Chelsea is apparently looking to buy the 27 year old Juventus player. Apparently the Club has had a bid of 55 million euros rejected but latest reports say that Sandro is keen to get the transfer done and triple his salary which is a surprisingly meagre 50k euro per week. Juventus is keen to keep the player, by offering a new contract and doubling his salary. This could end up pretty much with Chelsea chasing shadows like last season. Sandro is one of the best left backs in the world, and would be a great acquisition. But its left to see how far Chelsea is set to go for him and test Juve's resolve to keep him.
Mendy: Hard to keep Mendy out of news these days. The Monaco left back is one of the most sought after left backs after proving his worth in the Ligue1 and Champions league. There are another 5-6 top clubs looking for his signature and Chelsea would be hard pressed to buy him.
Center Backs
John Terry has finally left the club. Chelsea will be hard pressed to find a leader of his quality as well as a defender of his quality. While Cahill has done his bit in providing the leadership, Chelsea would still need to get some replacement
Andreas Christensen: The 20 year old Center Back has completed his 2 year loan spell in Monchengladbach, being a consistent fixture in their back 3. Good and Composed on the ball, the youngster's positional sense is immaculate even though he is subjected to moments of loss of concentration which is expected for a 20 year old. The youngster definitely has the potential to be a world beater and Chelsea will be looking to integrate him slowly but steadily in his first team and replace the 31 year old Cahill and 30 year old Luiz. Moreover, the youngster is homegrown and Chelsea would not want to lose him.
Leonardo Bonucci: Conte is a fan and for the 2nd season in a row, Chelsea is being linked to the Italian defender. One of the best defenders in the world, Bonucci would apparently cost Chelsea about 50million pounds which would be a massive investment for a 30 year old. Players like Bonucci's quality are hard to come by and his arrival would definitely mean the end of Christensen's Chelsea career. Bonucci would also give Chelsea the leadership that sometimes is lacking in the back-line.
Virgil Van Djik: Just like Mendy, its hard to keep VVD out of news these days. He would apparently cost Chelsea or any other team 60million to buy a player who definitely has shown quality to be a very good addition but hard to see who he would replace among the current back 3 of Cesar, Luiz and Cahill.
Nathan Ake: The 20 year old youngster was called back from Bournemouth after being Mega successful. Can provide cover at Center Back, Left Center Back and Left wing back. Can definitely play in the cup games to gain the experience as he has excelled at every loan he has been to.
Kurt Zouma: He was one of Chelsea's best center back in 2015-16 but sadly had his season cut short because of the Anterior Cruciate Ligament. Oppurtunities have been tough to come by for the youngster and possibly a loan spell would suit him to get the game time to come back from the massive injury.
Center Midfield
In Chelsea's losses to Spurs, United and Arsenal, there was a constant theme: no link up play between the Midfield and the forwards and the Midfield getting dominated. While Kante and Matic provide the perfect energy and breaking off the play, they generally lack the "on the ball play" to break defences and also suffer when pressed.
Corentino Tolisso: Would have been the perfect replacement and it was not at all a surprise that Chelsea wanted this gem before Bayern gazumped the deal. Can play the box-to-box, the deep lying playmaker as well as the conventional RCM role. Has a brilliant passing range and Conte would be gutted to have missed out on this player as he could have moved to his more favoured 3-5-2.
Bakayoko: Seems like the perfect Conte player. A lesser version of Yaya Toure currently and with the potential to reach those heights. At 6'3 he would also provide the Chelsea mid with the required aerial presence (Nemanja Matic for all his height and girth makes Shaun wright Phillips look like Didier Drogba in the air). Decent passing range with an unbelievable knack for being at the right place at the right time. Bakayoko had the 3rd highest interceptions in the Ligue1. Would prove to be a brilliant partner for Kante and provide Chelsea's pressing a lot more threat.
Nathenial Chalobah: The 22 year old youngster has seen his career go downhill after winning the Championship player of the season a couple of years ago. Couple of poor loan spells meant that he would be sold soon, but Conte gave the youngster an opportunity he was due for a long time. He has shown he has the quality but would need time and trust that Conte cant probably give him. Can still do a job as the 4th/5th CM.
Lewis Baker: Back from a 2 year loan spell at Vitesse. He was one of the best player at Vitesse in that spell and Chelsea would do good to use his 2 footed gift as well as his set pieces and decent all round play.
Forwards/Strikers
Romelu Lukaku: The 70million pound striker has been rumoured to be on his way back to Chelsea just 2 years after being sold to everton for 28 million pounds. Lukaku was unlucky not win the Golden Boot after Harry Kane (read Hurricane) blew him away in the last 2 games of the season. Nonetheless, the 24 year old Striker has proven his worth in leading the line. There is no hiding from the fact that his first touch still needs to improve massively for him to be regarded more as a well rounded striker rather than a poacher, but the improvement in his game in the last couple of years show that Lukaku is on the path to breaking some Premier League records. Which better club to do it in than his boyhood dream Club?
Sanchez: This signing would make Chelsea a Champions League threat overnight. The chances of this happening are next to nil but Chelsea should move mountains to make this dream come true and take themselves to the next level.
Ideally and Realistically, the 2017-18 Chelsea squad could look something very close to this:
Goal-Keepers: Thibaut Courtois, Willy Caballero, Eduardo
Left Wing-backs: Marcos Alonso, Baba Rahman
Center Backs: Cesar Azpilicueta, Gary Cahill (HG), David Luiz, Nathan Ake (HG), Andreas Christensen (HG), Kurt Zouma
Right Wing-backs: Andrea Conti, Victor Moses (HG)
Center Midfielders: N'golo Kante, Bakayoko, Lewis Baker (HG), Nemanja Matic, Nathenial Chalobah (HG)
Forwards: Romelu Lukaku (HG), Michy Batshuayi, Eden Hazard, Willian, Pedro, Cesc Fabregas (HG)
Adding the likes of Lukaku (70million pound), Bakayoko (40million pound), Conti (30million pound), Caballero (Free), Christensen (Return from Loan) and Baker (Return from Loan) would give Chelsea the appropriate squad depth which was missing from the squad last season. The massive 140 million pound transfer fees can be off-set by some of the outgoing players like Cuadrado (20million pounds), Christian Atsu (6million pounds), Asmir Begovic (10million pounds), Diego Costa, Dominic Solanke as well as some of the other loan army products like Bertrand Traore, Pasalic, Van Ginkel, Tomas Kalas, Lucas Piazon and Omerou, all of whom are rumoured to be wanting a move away from the club.
Adding world class talents like Alexis Sanchez, Alex Sandro, Bonucci would be a massive step in taking Chelsea Premier League Challengers to Premier League favourites as well as Champions League competitors. If Chelsea refuse to acknowledge the need to improve the squad over the summer, we could be subject to a very familiar story of the Champions falling hopelessly off their throne.
---