Feroz Shah Kotla IPL records: Who has scored the most IPL runs in Arun Jaitley Stadium?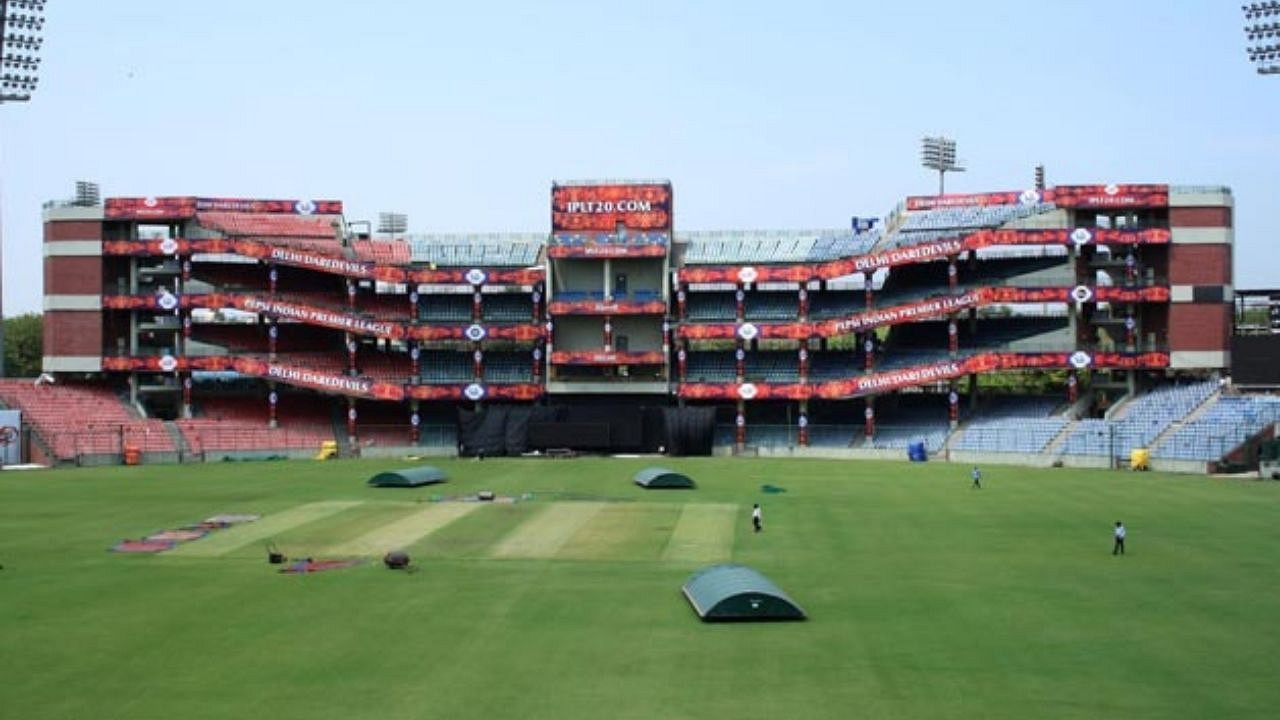 Feroz Shah Kotla IPL records: The iconic Feroz Shah Kotla Ground is one of the two grounds which are hosting the second leg of IPL 2021 league stage.
With the Narendra Modi Stadium in Ahmedabad hosting a couple of matches in the ongoing 14th season of the Indian Premier League, it will now be followed by the Arun Jaitley Stadium in Delhi as the two stadiums will host the second leg of the league stage before the proceedings move to Kolkata and Bengaluru.
Feroz Shah Kotla, which had first hosted a T20I between Afghanistan and England during the ICC World Twenty20 2016, has hosted a total of six T20Is till date.
Out of these six, India have played in the last two – hosting New Zealand and Bangladesh during bilateral series in 2017 and 2019 respectively.
Onto our next leg in #IPL2021.#OrangeOrNothing #OrangeArmy pic.twitter.com/Qji6Qemttr

— SunRisers Hyderabad (@SunRisers) April 26, 2021
With an IPL franchise (earlier Delhi Daredevils and now Delhi Capitals) since its inaugural season in 2008, Delhi has been more of a turning track in the last few years. Fans must expect a similar trend in IPL 2021 as well for run-scoring won't be a mean task at the Feroz Shah Kotla.
Feroz Shah Kotla IPL records
As far as the IPL records in Delhi are concerned, it goes without saying that Delhi Capitals players have the most runs and mosts wicket as the same is a consequence of them playing the most at the Arun Jaitley Stadium in the biggest T20 league.
Most IPL runs in Delhi
| | | | | | | | | | |
| --- | --- | --- | --- | --- | --- | --- | --- | --- | --- |
| S. No. | Batsman | Matches | Innings | Runs | Best | Average | SR | 50s | 100s |
| | | | | | | | | | |
| 1 | Virender Sehwag | 33 | 33 | 933 | 95* | 30.1 | 165.72 | 7 | |
| 2 | Shreyas Iyer | 29 | 29 | 855 | 93* | 32.88 | 127.04 | 7 | |
| 3 | Rishabh Pant | 24 | 24 | 769 | 128* | 34.95 | 160.8 | 5 | 1 |
| 4 | Shikhar Dhawan | 21 | 21 | 719 | 92* | 39.94 | 130.97 | 8 | |
| 5 | David Warner | 27 | 27 | 683 | 107* | 29.7 | 125.55 | 4 | 1 |
Most IPL runs in Delhi by a non-Delhi Capitals batsman
| | | | | | | | | | |
| --- | --- | --- | --- | --- | --- | --- | --- | --- | --- |
| S. No. | Batsman | Matches | Innings | Runs | Best | Average | SR | 50s | 100s |
| | | | | | | | | | |
| 1 | Virat Kohli | 9 | 9 | 428 | 99 | 71.33 | 149.65 | 5 | |
| 2 | Chris Gayle | 7 | 7 | 367 | 128* | 73.4 | 167.58 | 2 | 1 |
| 3 | Suresh Raina | 11 | 11 | 351 | 82* | 43.88 | 146.25 | 2 | 0 |
| 4 | Rohit Sharma | 11 | 11 | 314 | 73 | 31.4 | 135.34 | 2 | |
| 5 | Ambati Rayudu | 9 | 9 | 237 | 62 | 29.63 | 139.41 | 2 | |
Most IPL wickets in Delhi
| | | | | | | | | | |
| --- | --- | --- | --- | --- | --- | --- | --- | --- | --- |
| S. No. | Bowler | Matches | Innings | Balls | Runs | Wickets | Average | Economy | SR |
| | | | | | | | | | |
| 1 | Amit Mishra | 45 | 45 | 936 | 1125 | 58 | 19.4 | 7.21 | 16.14 |
| 2 | Umesh Yadav | 29 | 28 | 600 | 866 | 31 | 27.94 | 8.66 | 19.35 |
| 3 | Morne Morkel | 18 | 18 | 426 | 559 | 25 | 22.36 | 7.87 | 17.04 |
| 4 | Zaheer Khan | 14 | 14 | 321 | 408 | 17 | 24 | 7.63 | 18.88 |
| 5 | Imran Tahir | 11 | 11 | 216 | 264 | 17 | 15.53 | 7.33 | 12.71 |
Most IPL runs in Delhi by a non-Delhi Capitals bowler
| | | | | | | | | | |
| --- | --- | --- | --- | --- | --- | --- | --- | --- | --- |
| S. No. | Bowler | Matches | Innings | Balls | Runs | Wickets | Average | Economy | SR |
| | | | | | | | | | |
| 1 | Lasith Malinga | 8 | 8 | 166 | 202 | 13 | 15.54 | 7.3 | 12.77 |
| 2 | Dwayne Bravo | 8 | 8 | 141 | 190 | 12 | 15.83 | 8.09 | 11.75 |
| 3 | Bhuvneshwar Kumar | 6 | 6 | 144 | 480 | 10 | 18 | 7.5 | 14.4 |
| 4 | Ravindra Jadeja | 11 | 9 | 162 | 194 | 8 | 24.25 | 7.19 | 20.25 |
| 5 | Harbhajan Singh | 10 | 10 | 201 | 269 | 8 | 33.63 | 8.03 | 25.13 |
---