Euro 2016 Fantasy Guide: Fantasy tips for Gameday 7, 16th June 2016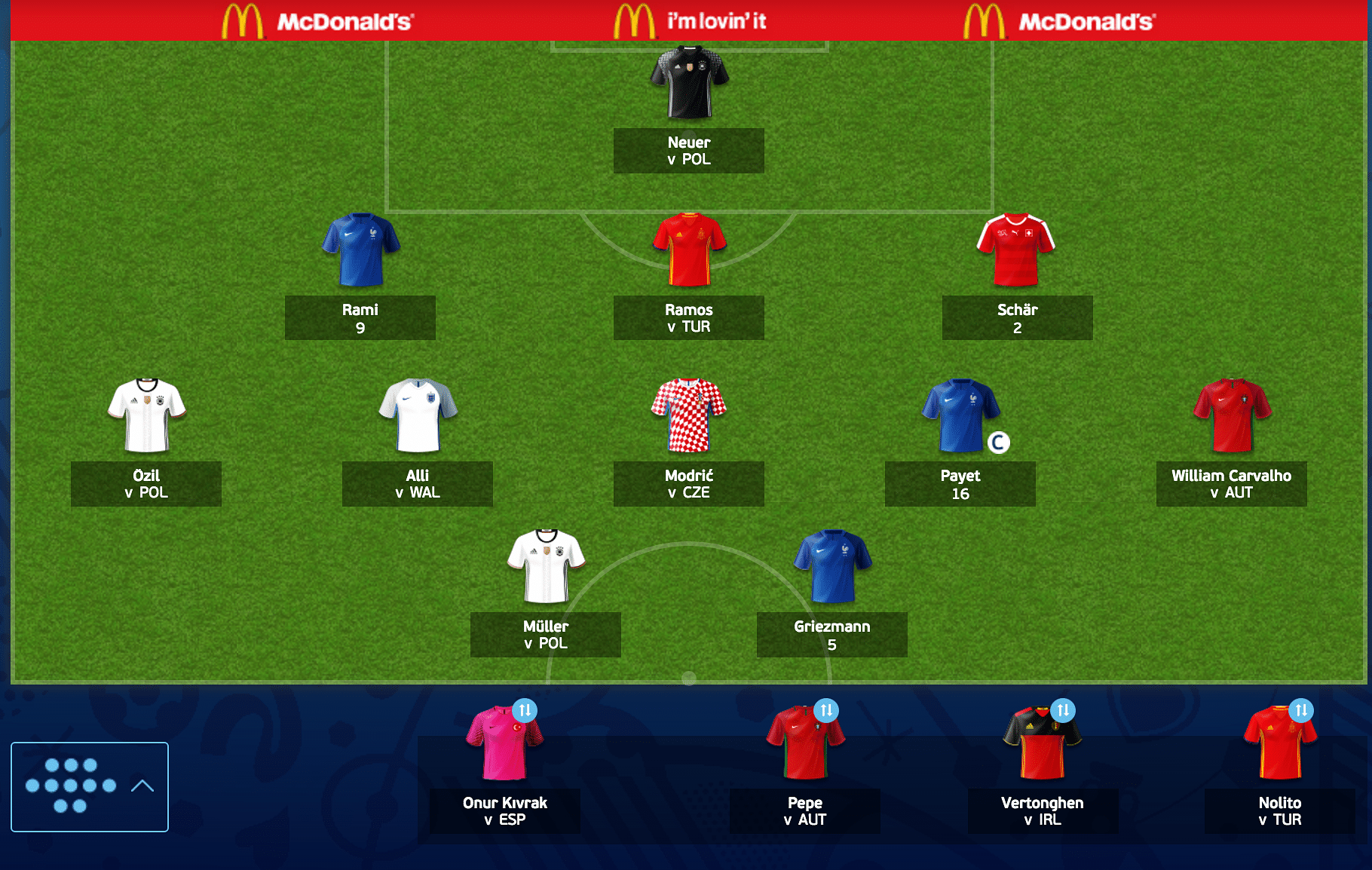 The second round of fixtures started with an exciting clash between Russia and Slovakia where Slovakia prevailed, thanks to a superb strike from Hamsik.
Switzerland who were expected to beat Romania put on a very lackluster display, thereby delaying their qualification for the knockout stage.
In the last game of the day, France and Albania played one of the most boring matches in this edition of the Euro Championship, until the 90 th minute.
Griezmann, who was left out of the starting 11, rose to the occasion and sent France into frenzy by scoring a late winner. And when we all were about to shut our TVs and go to bed, Payet made us stay awake for a little longer. In the 96th minute Payet scored another beautiful goal to put the icing on the cake and take France to the knockout stages of the European Championships
Now, sometimes when you put all your eggs in one basket, it leads to self-destruction. But when you are sure that the basket that you are using is bound to reap benefits, you shouldn't think about the proverb too much.
Rami, Payet and Griezmann; all three of them contributed to France's win last night and thus it was a happy happy 'Fantasy' day.
Let's get to business now!
Gameday 7(16th June 2016)
Fixtures for today:
England vs Wales
Ukraine vs Northern Ireland
Germany vs Poland
Now, I already have Dele Alli, Manuel Neuer, Mesut Ozil and Thomas Muller in my starting XI in my side for tonight's game.
Again, I have 3 German players and some might argue against that approach as a German loss tonight could mean a huge setback for my Fantasy team. But logically and practically that shouldn't happen as Germany are a far more superior side than Poland and should coast to win tonight.
So, do not hesitate while taking 3 players from one team, provided their fixture is an uncomplicated one.
I won't be making any substitutions for the games today as all the players in my corpus of 15 are already in my starting XI
Captain: Dmitri Payet
Payet had a great game last night but was almost going to return empty handed until the 96th minute, where he scored a lovely goal. With him providing me with 8 points(16 as captain), I think I am going to stick with him
If you want to change your captain for today, go for Ozil!
---