Euro Fantasy Tips: Final, France vs Portugal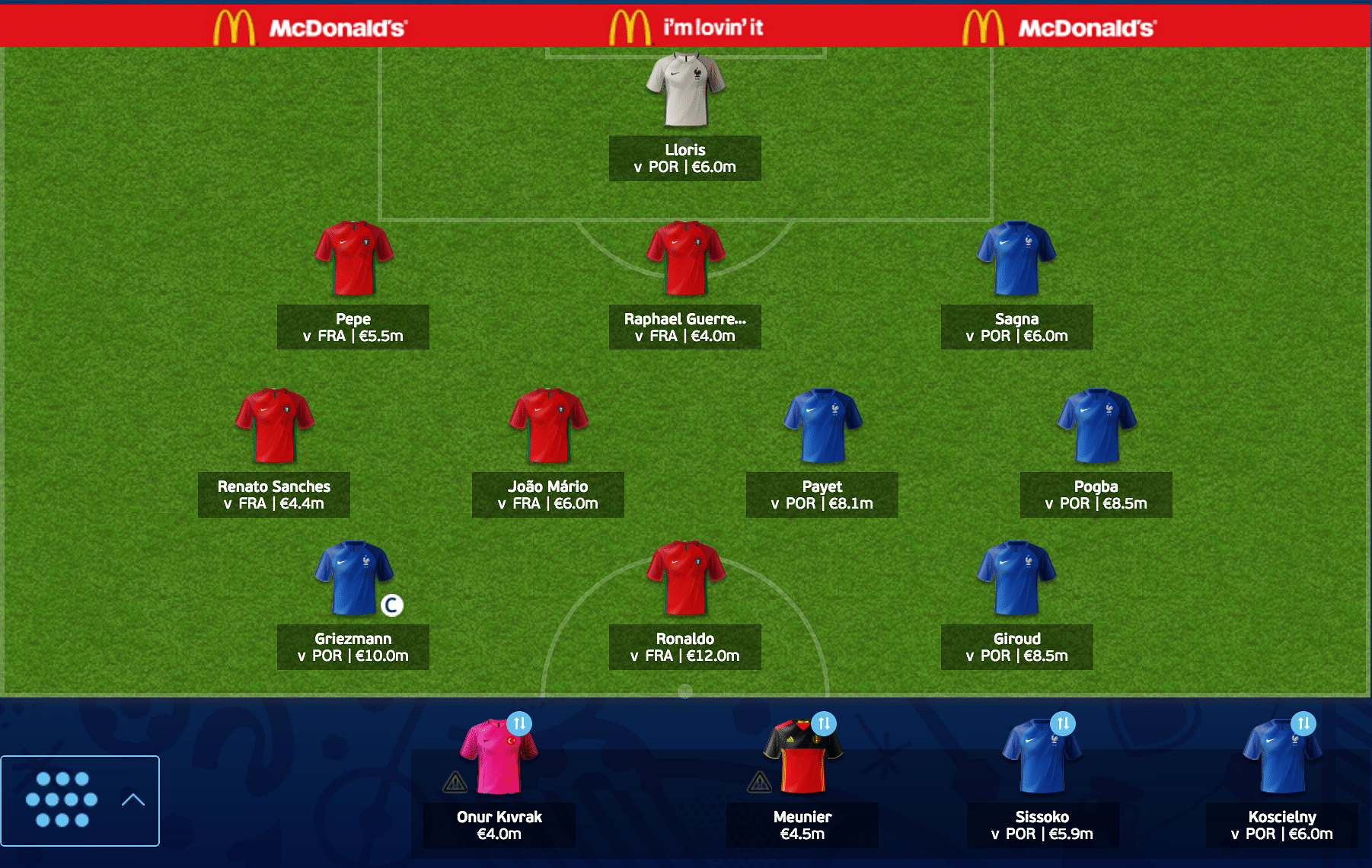 Euro Fantasy Tips: Final
After one month of grueling football, it all boils down to these final 90 minutes (or possibly 120), where heroes will be created whereas someone will have to face the brunt of an entire nation.
The final is also the last chance for Fantasy managers to somehow get that final push towards mustering a prize in this year's Fantasy Championship.
Now, you have 6 free transfers for the final and thus you should be able to substitute out all the players that have been eliminated during the semis. So, if you showed a lot of trust in the German players, you do have a lot of transfers to make up for it.
We have been using the substitutions to good effect all through the tournament, but this game is all about your starting XI. You do not get to mend your mistakes here, so chose your starting XI wisely and do not invest too much on the players on your bench.
Let's get to business now!
Read on for the Fantasy Tips

France vs Portugal Final
Now, I already have Hugo Lloris, Bacary Sagna, Adil Rami, Renato Sanches, Paul Pogba, Dmitri Payet, Antoinne Griezmann and Cristiano Ronaldo in my side.
Goalkeeper
I am going to stick with Hugo Lloris as my keeper for tonight. He has been simply exceptional for France all through the tournament making a few exquisite point blank saves to help France reach this far. He'll have to be at the top of his game in order to keep Ronaldo at bay but with the form Lloris is currently in you could bank on him to do that.

Defender
Bacary Sagna has been a rock at the back, preventing wingers to cross the ball into the box by making sure he cramps them for room. He is also pretty effective going forward as he managers to overlap his wingers and put in plenty of crosses into the box, which makes him eligible for at least one assist tonight. Stick with him.
Adil Rami hasn't featured in the last two games but as I have 6 players to transfer out (players from Germany and Wales), I will stick with Rami and hope that he gets a start today. The team sheets will out at 11:30 pm (IST), so do check if he is in, and if he is, draft him into your starting XI.
Also Read:5 Things to expect from France vs Portugal
But if you want to bolster your midfield, you might have to transfer Rami out as you can't have more than 8 players from one team. I get in Pepe instead of him s he is a big game player and will be making his way into the starting XI today.
Laurent Koscielny is the first defender that I transfer into my team for tonight. He is definitely getting transformed into one of the best central defenders in the world and has marshaled his defense line like a real champion. Also, he is a threat during offensive corners and thus could score a goal tonight. Get him in!
I get in Raphael Guerreiro as my backup defender in case Adil Rami doesn't play. He is a very active full back who loves to get forward and use his pace to his advantage. Also, the fact that he comes in for just 4 million euros gives my team a lot of balance.

Midfield
I already have Dmitri Payet and Paul Pogba in my starting XI. These two players have provided those incisive balls for Girou and Griezmann to feed off and are the main reason why France has been able to score a lot of goals. You just have to stick with them because if France run away with the game tonight, it's going to be these two individuals who'll be making the most impact.
Renato Sanches too remains put as he has been the major driving force in midfield for Portugal. His wonder strike in the quarter finals ensured that Portugal remained in the game, thus showing the world that despite his tender age, he is ready for the big stage.
Also Read: France vs Portugal- Preview
Joao Mario is the first midfielder that I get in. His exploits on the right wing have been more than decent for Portugal and though he hasn't really set the Euros on fire, his bit and pieces contribution has ensured that Portugal have remained competitive in this tournament. He is the best attacking midfielder on offer and thus I get him in!
Sissoko should find his place in the starting XI one more time as Matuidi looks all set to play as a defensive midfielder instead of Kante. Pogba will also play a little deeper and Sissoko should be deployed in a more attacking role.

Forwards
Antoinne Griezmann and Cristiano Ronaldo are already there in my team and I wouldn't be transferring them out because these are the two shining lights of their respective teams. Do not transfer them out because no matter who scores, these two will certainly be on the scoresheet.
The choice is now between Nani and Giroud, for the third striker. I go in with Giroud as he will be receiving better service from midfield and thus will be getting more clear cut chances through the game.
Captain: Cristiano Ronaldo/Antoinne griezmann
It's a straight shootout between these two gentlemen and it is anybody's call as to who will be on the scoresheet(or how many times) tonight. Griezmann has been in brilliant form but Ronaldo is the best player in the world for a reason. You need to pick what you are after, form or general aura of the player.
---