Euro 2016 Fantasy Guide: Fantasy tips for Gameday 8, 17th June 2016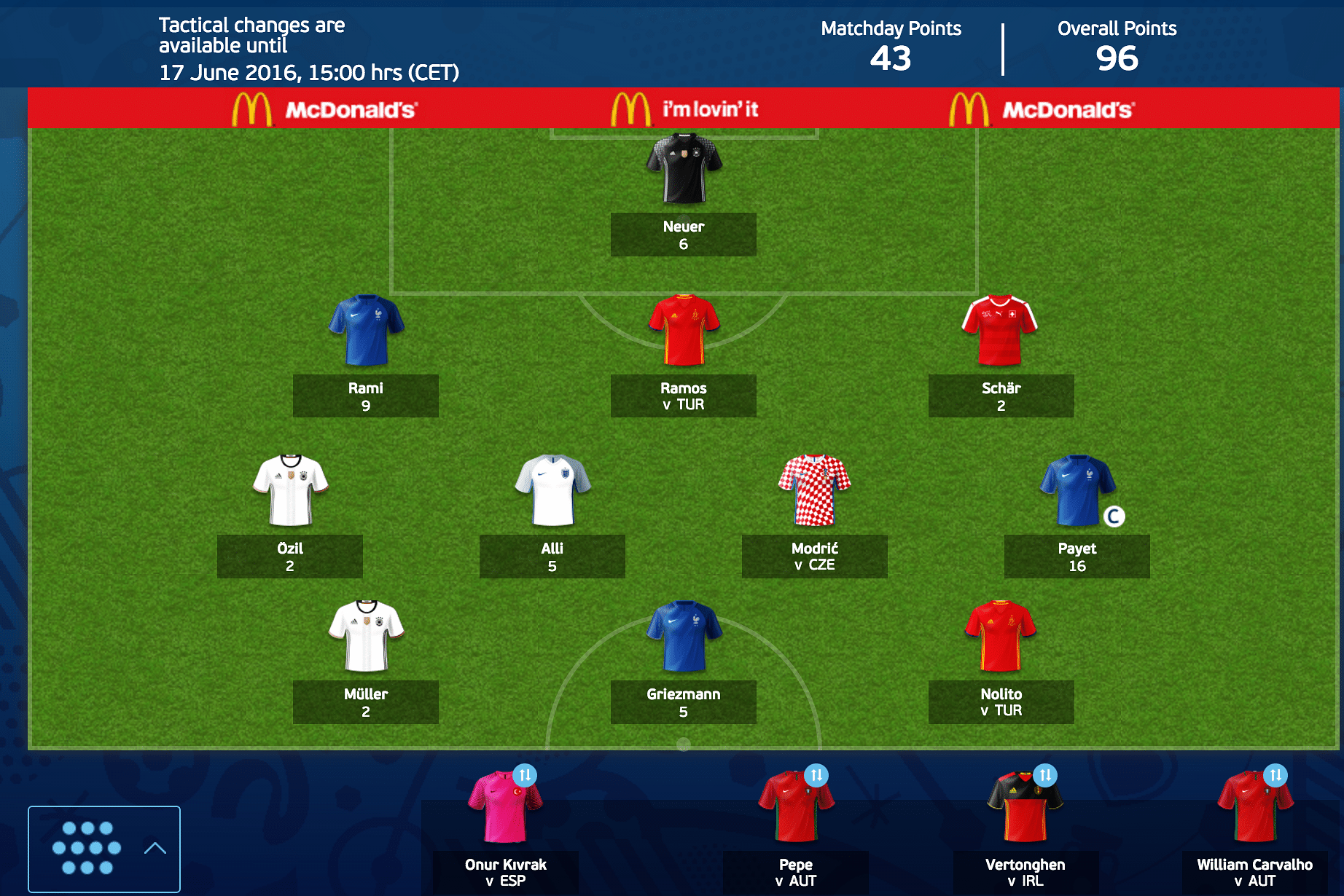 On a day where England finally managed to step up and take all three points against Wales, Germany just couldn't manage to break the deadlock against Poland and looked short of answers and options when going forward.
Northern Ireland on the other hand managed to totally outclass Ukraine, thanks to some really smart tactics from Martin O Neill.
On the Fantasy front Dele Alli and Manuel Neuer provide me with points but Ozil and Muller disappointed me big time. Ozil was still looking very lively but the finishing touches just weren't there from Muller and Co.
Let's get to business now!
Gameday 8(17th June 2016)
Fixtures for today:
Italy vs Sweden
Czech Republic vs Croatia
Spain vs Turkey
Now, I already have Sergio Ramos and Luka Modric in my playing XI for the games tonight!
With Muller not having done anything of significance and William Carvalho set to play his match tomorrow, I will have to make a few substitutions so as to get the best out of my corpus of 15.
I would bring in Nolito into my starting XI for his game against Turkey late at night. Nolito looked promising against Czech Republic and with Iniesta and Fabregas feeding him with balls, he should have decent number of chances to score against a mediocre Turkish defence.
Now, don't substitute out Muller in order to bring Nolito in as William Carvalho might not play a very big role in Portugal's encounter tomorrow.
So, I bring in Nolito for William Carvalho.
Captain: Dmitri Payet
I'll still stick with Payet as my captain because I don't want to risk loosing 8 sure shot points.
If you want to be a little adventurous, you could make Ramos your captain as he is almost guaranteed to give a clean sheet and he might chip in with a goal as well
Other Impact Players today
Zlatan Ibrahimovic, Chielleni, Persisic, Andres Iniesta, Morata
 Happy team picking!
---