Euro 2016 Fantasy Scout: Fantasy tips for Gameday 11, 20th June 2016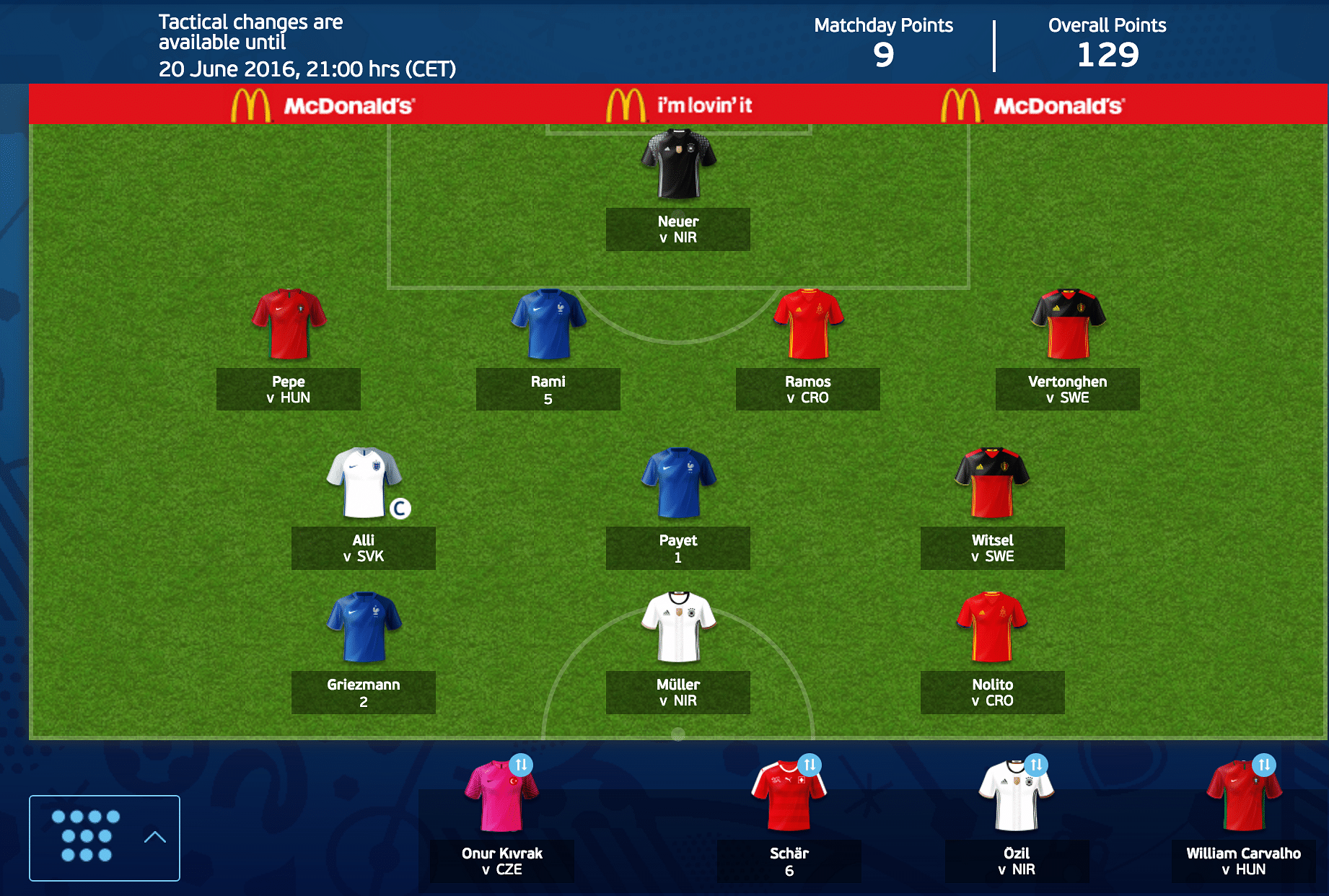 Euro 2016 Fantasy scout
Albania produced a shock win against Romania last night to knock them out of the tournament and will now have to wait for other results before they can know about their fate in this competition.
In the other game yesterday, France were frustrated by a stout Swiss defence and the game ended in a 0-0 draw.
On the Fantasy front, I made a huge blunder by not confirming my starting XI before the game and hence Schar, who provided a clean sheet last night, was left on my bench. Rookie mistake, something that I'll have to make up for in some way or the other in the future games.
Always, always have players from the games on the day in your starting XI and do not forget to confirm your team or you'll end hating yourself.
Other than that, only Rami gave me some significant points yesterday as Payet and Griezmann failed to create any sort of impact.
Let's get to business now!
Gameday 11, 20th June 2016(Euro 2016 Fantasy Scout)
I already have Dele Alli in my team for tonight's game.
Now, as I don't have any players from the two games today on my bench, I won't be making any changes to my starting XI
Also Read: Euro 2016 Wales vs Russia: 5 Key Players to watch out for
Captain: Dele Alli
As Payet didn't do anything of note last night, I am forced to change my captain. Dele Alli seems like a good replacement, but there are reports of him not getting a place in the starting lineup of Hodgson's team. If he doesn't start, I hope he is called upon later in the game and makes some sort of impact
Also Read: Euro 2016 England vs Slovakia- 5 Key Players to watch out for
Other Impact Players
Gareth Bale, Aaron Ramsey, Kanu, Sturridge, Vardy, Dier, Hamsik
Happy team picking!
Do follow the Euro 2016 Fantasy Scout for fantasy tips!
---