Euro Fantasy Scout: Fantasy tips for Gameday 13, 22nd June 2016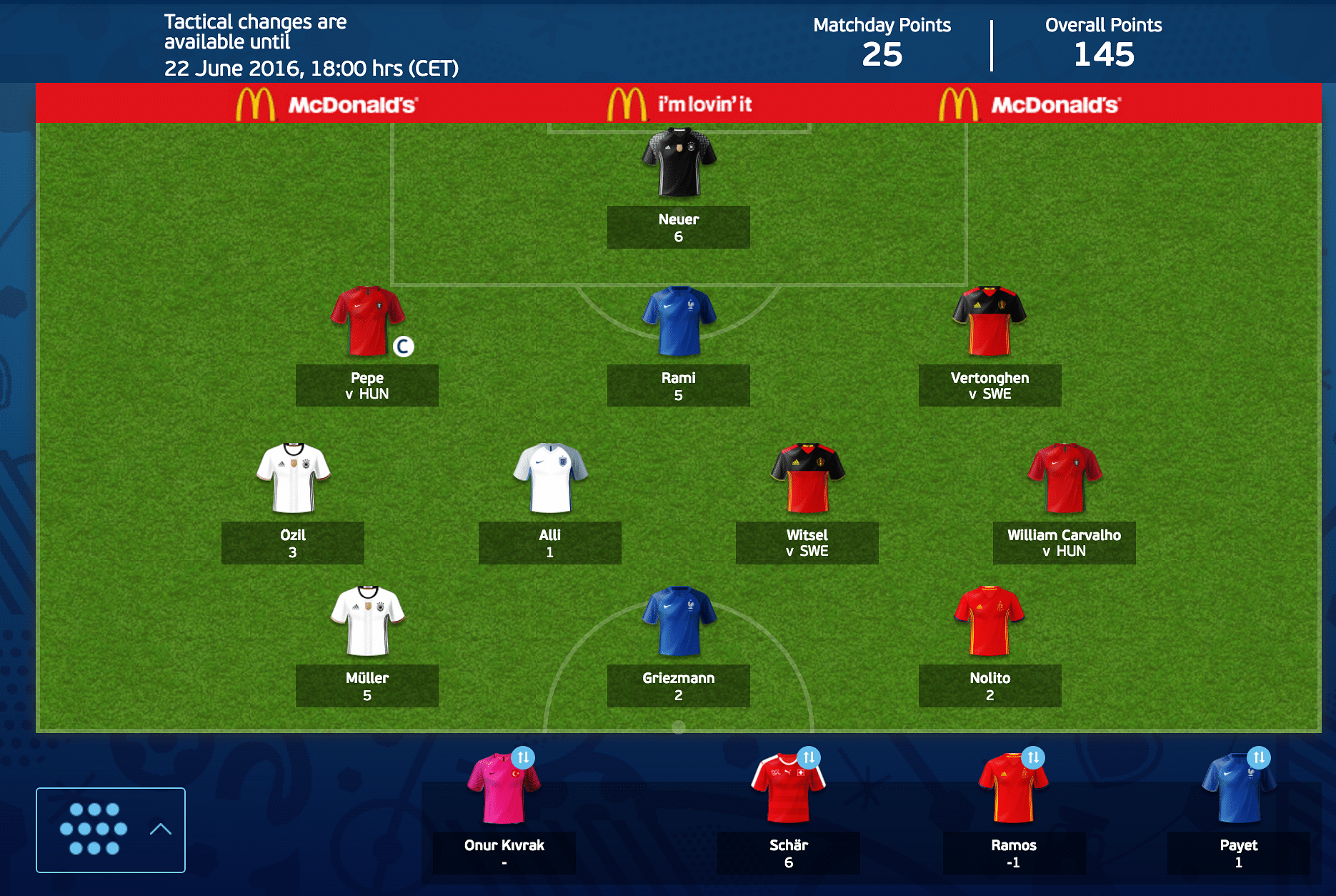 Euro Fantasy Scout
The highlight of last night's four encounters was Spain's first loss in the Euro Championship's for 12 years. Morata opened the scoring but Croatia hung in there and struck back with two beautifully constructed goals to top their group and provide football fans all over the world with a mouth watering round of 16 clash between Italy and Spain.
Germany, Poland and Turkey cruised to easy victories. Germany and Poland received passes to the knockout stage of the tournament, but Turkey will have to wait for today's results to see if they can make the cut.
Also Read: Hungary vs Portugal: 5 Key players to watch out for
On the Fantasy front, except Neuer and Muller all other players were below average and didn't do much on the field or even if they did, their efforts did not translate into Fantasy points. But with a strong bench in place, I expect to salvage some points tonight!
Let's get to business now!
Gameday 13th, 22nd June 2016
Fixtures for today:
Hungary vs Portugal
Iceland vs Austria
Italy vs Republic of Ireland
Sweden vs Belgium
Now, I already have Pepe and Vertonghen in my starting XI for tonight's games.
Sergio Ramos was almost going to shower us with bucket loads of points when he stepped up to take the penalty. But who would have thought that being selected for a penalty would ultimately turn out to be detrimental for us.
The first substitution that I make is bringing in Alex Witsel for Sergio Ramos. Witsel scored in the last game for Belgium and had a delightful game. He should be able to provide at least 5 points tonight.
The next player that I bring in is William Carvalho. He comes in for Dmitri Payet, who made a brief appearance in the game against Switzerland.
Captain for today: Pepe
With Ozil just giving me 3 points(6 points as captain), I am changing my captain to Pepe.
Amongst the choices that I have, Pepe seems the best pick as Portugal play Hungary and should be able to get a clean sheet.
Vertonghen could get a clean sheet as well, but Zlatan's threat looms large and thus I opt against him. Witsel and Carvalho are brilliant players too but a 'Pepe clean sheet' seems the most likely option for tonight.
Other Impact Players
Zlatan Ibrahimovic, Romelo Lukaku, Kevin De Bruyne, Chielleni, Eder, Cristiano Ronaldo
Happy team picking!
Keep following the Euro Fantasy Scout
---