EXCLUSIVE: Harmeet Desai talks about his love for Table Tennis, UTT and his ultimate dream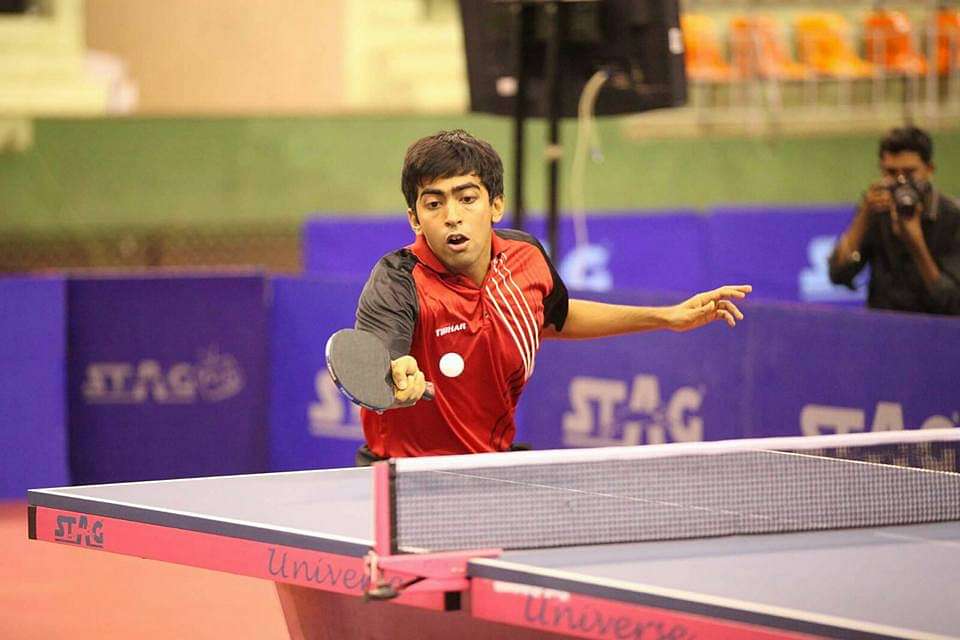 In a nation that lusts for cricket, Harmeet Desai decided to marry Table Tennis, a sport that has recently picked up in India, thanks to that stray T.T table in almost all college hostels and corporate offices.
When he arrived on the Gujarat Table Tennis circuit at the age of 6, what caught the eye of many was how quickly and easily he judged the spin of the ball, something that is of paramount importance in Table Tennis. He had all the shots in the book, and even at that tender age, he yearned to perform, yearned for glory.
He had worked tirelessly in order to look like a complete natural at the sport. He started sweeping through the Gujarat Ranking tournaments and later burst onto the national scene.
The transition was as seamless as possible, because Harmeet had always practiced for the big league. He was were he was meant to be.
Ever since then Harmeet has inched a little closer to his ultimate goal, that of playing the Olympic Games. His exploits in International tournaments are taking him closer to his goal and he has recently broken into the top 100 in the world as well(currently ranked 81)
He is currently playing the Ultimate Table Tennis League, India's first franchise based Table Tennis league, conceptualised in order to help domestic players grow, and to give the Indian audience a few Indian Table Tennis heroes to look up to.
Harmeet will be representing DHFL Maharashtra United in UTT and will be playing his first game against Oli-Max Stag Yoddhas.
The SportsRush got in touch with Harmeet recently, where we discussed about Harmeet's early Table Tennis career, his growing love for the sport, the Ultimate Table Tennis league and his ultimate professional goal.
In a cricket frenzy nation, how did you find the courage to take up Table Tennis as a profession?
It was a love at first site with table tennis for me. Since then it has become a part of my life. It was the passion that kept me going all the time. I couldn't imagine my life without it and had never thought that what I would gain from it. It was my decision at the age of 6-7 to take it up seriously.
My parents also have a really big role to play in where I am today. They always supported me and encouraged me to follow my heart. I have no regret for the decision I had made then.
The game has helped me in more ways than one. It has given me the opportunity to make the country proud. It has helped me to be a better human being. I could travel to more than 40 countries to represent India.
Can you tell us a little about your early career? Who was your coach? How did you make that big break? When did you realise that you wanted to play Table Tennis all your life?
My father had bought a table at home when I was just 6 years old. And he was my first coach. When I played my first ever state tournament, I played the finals in the under 12 event at the age of 6-7. It was record breaking feat which was a really big break in my career.
What has been the greatest moment of your TT career so far? And if you could also tell us your lowest point, and what did you learn from it?
The greatest moment I my career was when I won 2 gold medals at the commonwealth championships held at Surat in 2015. It was really a special feeling to win it at home.
The lowest point in my career was in 2014 when I had a match point to win a medal in the commonwealth games in Glasgow. I learnt a lot from the loss and it has made me really stronger. I hope that I can win a medal in 2018 commonwealth games in Australia
How is the Indian Table Tennis scene? How much can Ultimate Table Tennis contribute towards it?
The Indian Table tennis is on a roll right now. The Indian team has reached its highest ranking ever of 14. And I think with the league coming in, it will create opportunities for everyone to improve and take the Indian Table tennis to the next level.
What is Harmeet Desai's professional Table Tennis goal?
My goal is to win a medal in the commonwealth games and Asian games next year.
One piece of advise that you would like to give to young Table Tennis players of our country?
I think that one must follow their heart in any field they choose. And work towards their dream with dedication, determination and hard work. It will definitely help them to reach their goals.
---